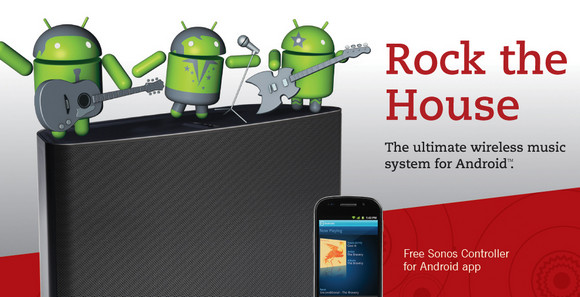 If you're down with that multi-room audio action thang and you like to walk the earth with an Android phone in your pocket, we bring glad tidings: Sonos has finally announced the release of an Android controller app.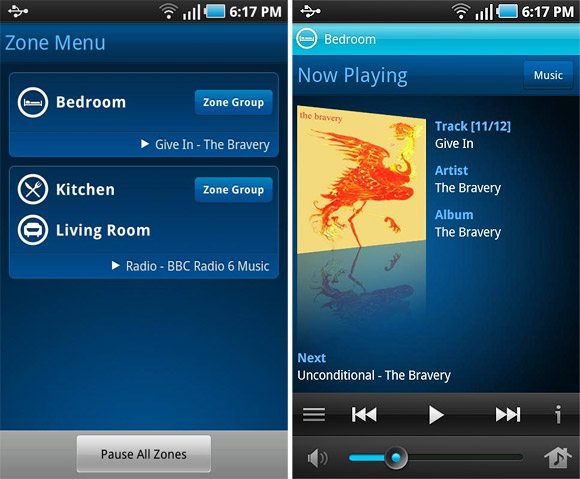 Apple love
Apple fans are also getting a fresh wave of love, with a new Sonos system update bringing Apple AirPlay support. This lets users send a track from their iOS device to multiple ZonePlayers throughout the house simultaneously or play different songs in different rooms.
The Sonos Android controller is available now from Android Market and the Sonos 3.4 system update is also ready for your downloading joy.
Here's the press release:
NOW PLAYING ALL OVER THE HOME:

APPLE AIRPLAY MUSIC SOURCES ON SONOS

Sonos offers the only true, multi-room Apple AirPlay experience

with an Apple AirPort Express

SANTA BARBARA, CA – April 19, 2011 – Sonos, the leading developer of wireless multi-room music systems for the home, today introduced Sonos System Software 3.4, a free software update that adds more music and more features to the Sonos music experience.  Sonos 3.4 makes it easy to play Apple AirPlay® music sources all over the home, and adds support for Apple iPad™ and Apple iPhone® multitasking and Sonos Controller for Android™.

"The cool AirPlay feature for music is sending a song from an iOS device to a speaker or receiver," said John MacFarlane, founder and CEO, Sonos, Inc.  "Today Sonos improves the AirPlay experience with party mode so a music lover can send a song from his iPhone or iPad to all the rooms in a home with perfect synchronization."

Apple AirPlay Music Sources on Sonos

Now you can stream songs from your iPhone, iPad or iPod touch® all over your home on Sonos.  Connect an Apple Airport Express® via line-in to any Sonos ZonePlayer and enjoy the only true, multi-room Apple AirPlay experience.

Party Mode: Only on Sonos can you send a song from your iOS device to multiple ZonePlayers throughout your home and enjoy that song in every room, simultaneously.
Different songs in different rooms, Sonos-style: Only on Sonos can you play different music from your iTunes® library in different rooms of the home. And it's been that way since 2005.

For more information about how to play Apple AirPlay music sources on Sonos, recommended setup and more, please visit www.sonos.com/AirPlay.

Other Sonos 3.4 features include:

Faster wireless control on your iPhone and iPad with iOS multitasking support. Find and play your music even faster with multitasking updates available on the free Sonos Controller for iPhone and Sonos Controller for iPad. Both are available for download from the iTunes App Store.

More control with support for Sonos Controller for Android. Transform your favorite Android smartphone into a full-fledged Sonos Controller with a free app you can download from Android Market™ today.  Sonos Controller for Android features innovative music voice search so you can find any artist, album or track by simply speaking into your phone. For more details, see additional press release at http://pr.sonos.com or visit www.sonos.com/android.

Full details of the Sonos 3.4 software release can be found here: http://sonos.com/support/software_update.aspx