Aimed at aspiring superstar DJs, bedroom mixers and club jockeys, Numark's entry level CD Mix 1 combo is a convenient package offering dual CD transports and a basic mixer.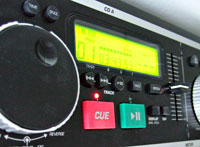 The all-in-one unit is a breeze to operate, with its no-nonsense controls making it easy to professionally mix tracks, with additional features onboard for the more adventurous.
The wedge shaped unit houses two matching CD players, each offering the basic cue, track skip, play/pause controls, with advanced features letting wannabe Fatboy Slims fiddle about with the pitch, search backwards and forwards through songs at variable speeds and program a sequence of tracks.
A large pair of LCD screens above each of the CD's controls offers useful information on the modes selected and time remaining/elapsed for the playing track.
Herds of wildebeest
Mentalist DJs wishing to bring da house down with a banging set of beatmatched tunes can avail themselves of the BPM display feature which, combined with the pitch feature, should help avoid the embarrassment of a 'train wreck' mix.
This is when a new track is faded in slightly out of synch with the previous one. The resultant unholy cacophony of mismatched beats is often likened to the sound of a herd of wildebeest rampaging across the dance floor. Not cool.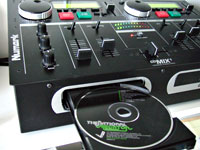 Although it has to be said that the beatmatching facilities on the CD Mix-1 are unlikely to thrill 'ardcore drum'n'bass heads looking to mash it up bigstyle, it's certainly a good place to start on.
Sliders galore
For controlling output, the Numark comes with four sliders for adjusting microphone levels (for making those all-important dedications), channels one and two and a master output control.
A row of three tone controls lets you tweak the EQ levels with a matched row of coloured LEDs indicating output levels.
Both mix channels have a toggle switch for selecting CD or turntable input with a switchable cue channel for preparing the next tune – DJs will appreciate the provision of twin output sockets for headphones.
On the road
If you're only going to be playing weddings, small bars and events, then the CD1's should be fine, but we found that when faced with stampeding, drunken hordes of punk rockers on a bouncy dancefloor, the decks skipped – or more often, catastrohically paused – all over the shop.
At our lively Offline club nights, we often had to resort to physically suspending the decks in the air to stop the baying mob turning on us mod-dance, with the lack of anti-shock and buffering causing real problems.
We used the decks for nearly two years and they survived tsunamis of beer, drunken oafs crashing headlong into the sliders, and several drops on to the floor, so they're certainly fairly rugged.
Time did take its toll on the CD1s though: first the headphone socket broke (but that was fairly easy to fix with a bit of solder) , and then the plastic CD tray fell off.
The switches managed to limp on despite being bent into weird and wonderful shapes, and we lost one of the plastic sliders, so had to mix using the bit of metal sticking out.
Eventually, we retired them after over three years of tough service, after the one CD player refused to play any more punk rock.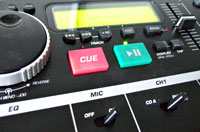 Our verdict
We found the CD Mix1 to be an exemplary performer overall. The CD controls were responsive with no discernible lag and the sound quality was impressive for an entry unit.
The CD decks managed to play any CD we threw at it (including CD-Rs), with a handy CD auto-fader start feature making basic mixing a piece of cake – even for drunken wedding DJs.
Hooking up some turntables and blasting some vinyl through the Numark revealed some decent quality phono pre-amplifiers onboard – our old 45s sounded great!
With a street price around £240, the Numark CD Mix 1 represents remarkable value for money and, to be honest, a whole load of fun – but be aware that this is strictly amateur kit.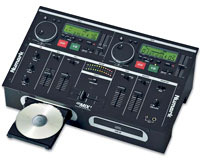 Hook it up to your home system, your hi-fi or zillion watt soundsystem and you're off!
Specifications:
Dual CD player and mixer combination
+/-12% pitch control with pitch bend wheel
True continuous play, track sequence programmable
External inputs for 2 line, 1 mic, 2 phono
Fader start
Balanced output, master EQ, stereo/mono control
Power Requirements DC 12V, 2.5A
Dimensions 17 1/2″(W) x 10″(D) x 6 3/16″(H)
445mm(W) x 255mm(D) x 157mm(H)
Weight 11.5lbs. 5.2Kg
Overall rating: 88%