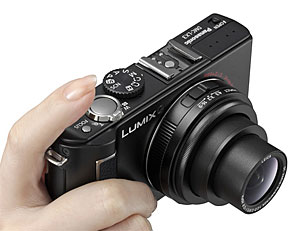 Panasonic has posted a major firmware update for its Lumix DMC-LX3 digital compact camera – one of our favourite cameras.
Now up to Version 2.0, the update brings additional functions and feature improvements including a 20% AF-speed increase at the wide-angle position, new white balance bracketing, expanded exposure compensation,  a High Dynamic scene mode, 1:1 aspect-ratio shooting and improved white balance performance.
Full details after the click.
Considering the camera is now fourteen months old, we can only applaud Panasonic's continuing support for this excellent snapper.
It's become our regular, carry-everywhere camera since its release,and you can see the sort of pictures its capable of in our photo galleries on urban75. Above is a photo taken during a trip to Red Hook, New York City.
You can download the update here and read our long term review here.
And if you want to grab yourself one of these lovely cameras, you can buy it from Amazon here.
Press release follows:
Panasonic Updates Firmware of DMC-LX3
for Further Improvement in Functions and Performance

28th September 2009 : A new firmware version is now announced for Panasonic's premium manual compact camera, DMC-LX3. Firmware version 2.0 supports several new functions and improves various performance factors to elevate shooting convenience and fun. The firmware also rectifies several minor issues to enhance operation.

The adoption of new algorithms makes it possible to speed up the AF time by approx.20% to 0.50 sec at wide-end. In addition, a 1:1 aspect ratio recording mode is added as a shooting option in addition to the conventional 4:3, 3:2 and 16:9.

A white balance bracket shot is also now available. The new scene mode High Dynamic is newly incorporated in the scene mode, which helps to capture a scene with moderate exposure even though the scene contains both bright and dark areas together. You can select either of 3 options, Standard, Art, or B/W, depending on the desired effect and personal taste to make the photo look natural to artistic. The white balance adjustment performance is greatly improved especially under fluorescent lights, daytime sunlight and low light.

As well as those mentioned above, the new firmware incorporates attractive advancements for enthusiastic photographers. The exposure compensation range as well as its bracket setting is widened. The fixed composition guidelines are now movable to the intended position with the control of cursor or joystick for free framing. Over exposed parts of the picture are shown not only in the preview but also in playback mode. The lens position of zooming and manual focusing is memorized and will resume at this position.

The photographer's name can be embedded to the EXIF information of the picture and it can be confirmed via the updated PHOTOfunSTUDIO ver.2.1.

Panasonic invites all users of DMC-LX3 to apply the updated firmware. The new firmware will be available worldwide at, at 07:00 BST on 28th of September, 2009.