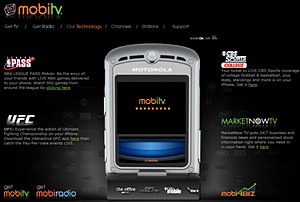 If their recent patchy network coverage is anything to go by, there must be an awful lot of O2 customers watching YouTube videos on their smartphones at the moment.
Talking about the strain on resources that high data content sources can bring to a mobile network, O2 's Chief Tech officer Derek McManus, claimed that: "Watching a YouTube video on a smartphone can use the same capacity on the network as sending 500,000 text messages simultaneously."
Jan Olin, European Managing Director for MobiTV – the live mobile streaming and Video On Demand outfit with 8 million subscribers – commented:
Audience peaks focused around live events drive mobile TV usage, and mobile operators need to be prepared to cater for this demand if they are going to take advantage of the interest around big events such as the World Cup or the X-Factor.

Consumer appetite for mobile applications and services is already stretching the capabilities of mobile networks, which will require operators to consider new methods of content distribution to ensure that subscribers receive a smooth and consistent mobile TV service.

The ability to scale to meet the demand for live TV and VOD, whenever peaks in mobile TV usage occur, provides operators with the capacity to sustain those peaks and generate additional revenues.

Operators can also reduce costs by optimising the delivery of the content to suit network conditions.
McManus reckons that subscribers are less likely to fork out for a mobile TV service that doesn't offer primetime events, and content providers are going to be far more interested in getting jiggy with operators that can deliver live broadcasts and VOD to a wide mobile audience.