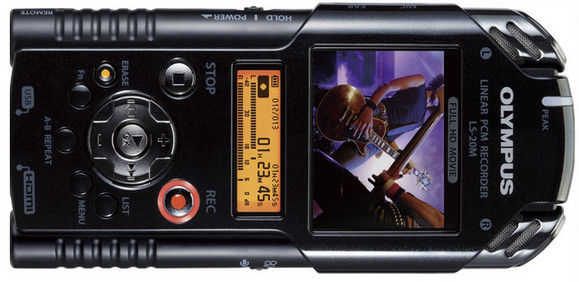 Looking rugged and tough enough to survive gruelling field trips and repeated trips into the mosh pit is Olympus's new LS-20 Linear PCM digital recorder recorder, offering  HD movie recording and "recording studio sound quality."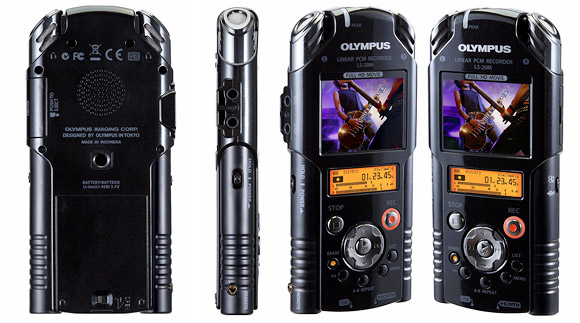 The chunky device comes with two LCDs, with the main 2″ colour screen used to monitor and playback video, while the smaller monochrome one below serving up recording level information, elapsed time etc.
The Olympus backs up its claims of being a pro tool by offering audio recording at 24bit / 96kHz PCM, as well as full HD movie capture at 1920 x1080P (30 fps) backed by image stablisation.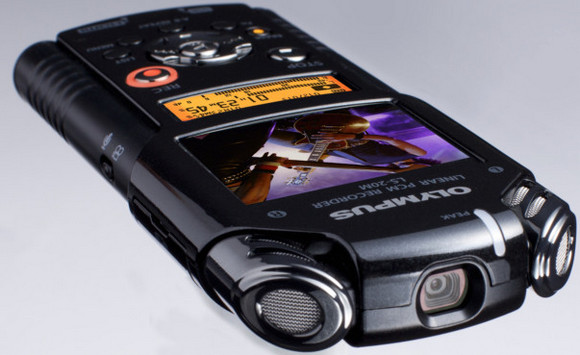 Video tools
To spruce up the sight of a load of dull Herberts onstage, there's four built in video 'Magic Filters' included: Rock, Pop, Sketch and Pin Hole.
There's also 4x digital zoom, White Balance, Exposure Compensation and High ISO settings, spot/multi zone metering and reverse angle recording onboard.
Audio tools
The audio recorder offers adjustable microphone sensitivity, manual/auto recording level, noise cancellation and high sensitivity – and you can define audio that may be a distance away.
Files can be recorded in PCM/MP3 formats, with storage options coming courtesy of a SD card slot (there's a 2GB card lobbed in the box).
The device measures up at 5.3 x 2.5 x 0.7 inch (134.7 x 62.8 x 18.2 mm), and the battery can be charged via  USB cable or the included AC adapter.
The Olympus is currently available from Amazon and priced at £299
Specs:
Recording Format
Voice: PCM (WAV) and MP3
Movie: MOV
Recording Media
SD/SDHC card slot
Recording Time (2GB SD card)
PCM
96kHz 24bit: 55m
44.1kHz 16bit: 3h
MP3
320kbps: 12h45m
256kbps: 16h
Shooting Time (2GB SD card)
1920 x 1080 30fps
96kHz 24bit: 15m
44.1kHz 16bit: 17m
1280 x 720 30fps
96kHz 24bit: 20m
44.1kHz 16bit: 30m
640 x 480 30fps
320kbps 44.1kHz: 1h
256kbps 44.1kHz: 1h
Image sensor
1/4 inch CMOS, 5.32 Mega Pixel
Lens
4.1mm (16:9 at 49mm, 4:3 at 59mm)
LCD
2.0 inch color
USB
Hi speed USB 2.0
Frequency response
PCM 96kHz/24bit: 20Hz-44kHz
Maximum headphone output
3.0mW+3.0mW (at load of 16Ω)
Speaker
16 mm round dynamic speaker
Maximum speaker output
270mW (8Ω load)
Microphone Jack
3.5mm dia
Earphone Jack
3.5mm dia
Power Supply
Lithium Ion Battery / AC adapter
Compatible OS (USB connection)
Microsoft Windows XP/Vista/7  Mac OS X 10.4.11-10.6
Size
5.3 x 2.5 x 0.7 inch (134.7 x 62.8 x 18.2 mm)
Weight
5.4 oz  (154g), including batteries