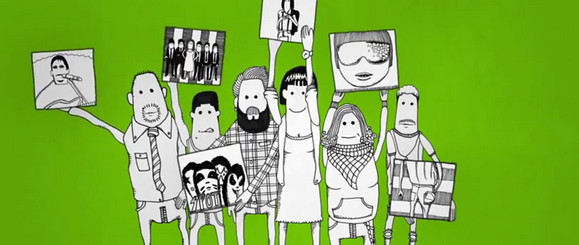 We suspect that it may not be around for long, but Spotify has announced big changes that will put the popular music streaming service in direct competition with Apple's iTunes.
The upgrade – which is rolling out today – lets users click to buy whole playlists which can be transferred to their iPod classic, nano or shuffle without the need to get the hideous slab of software known as iTunes involved in the process.
So, a friend can send you their Spotify playlist over email, and you'll be able to instantly download the collection of songs to your iPod/Android device. Nice.
As little as 50p per track
Spotify's music store will let users to buy "bundles" to pay for MP3 tracks from the catalogue; the bigger the bundle, the bigger the discount, so a "bundle" of 10 tracks will cost £7.99, while a bundle of 100 costs just £50 – just 50p a song.

Spotify + iPod syncing
The changes are brought about because Spotify has added iPod syncing to its armoury offering an enticing alternative to Apple's iTunes – and with Apple soon to launch its cloud-based platforms, we expect Jobs and Co to be very unhappy bunnies today.
App and desktop updates
Spotify are also rolling out new versions of its desktop and Android and iOS apps for all of its users, which will let users wirelessly sync their Spotify MP3 playlists to their computer or phone. At the moment, iTunes doesn't support wi-fi syncing.
Daniel Ek, CEO & Founder of Spotify, said: "From today, Spotify really is the only music player you'll ever need. Our users don't want to have to switch between music players, but they do want to take their playlists with them wherever they go, on a wider range of devices, more simply and at a price they can afford. Now we've made that possible on one of the world's most popular consumer devices."
Gustav Söderström, chief product officer at Spotify, added: "Accessing music on your mobile phone is the future, but today that makes up a pretty small percentage of music fans. We want to open up the Spotify experience to as many people as possible, and in a way where they can get exactly the music they want at a great price. Check it out – we really hope you like it."
Here's the key new features, as listed in their blog.
Manage your iPod in Spotify! For the first time, seamlessly manage any iPod classic, iPod nano and iPod shuffle in Spotify. Simply connect your iPod to your computer via your USB cable and watch it magically appear in the new 'Devices' section of your Spotify sidebar.Sync all the MP3s contained in your Spotify playlists to your iPod, and purchase the rest through…
The all-new Spotify download service! Listening to the music you want to hear, wherever you want it, just got a whole lot simpler – and cheaper.Your playlists are special to you. You've spent untold hours putting together your own mix-tape masterpieces on your computer and want to take them with you, but without the trouble of having to buy each track separately, switching music players or breaking the bank? Then look no further.Spotify's new MP3 download service makes it possible to own your playlists in one easy step. By introducing a range of MP3 bundles, we've been able to offer you some of the most competitive prices available – from as little as 50p per song.
Spotify Mobile app now available to all! iPod integration was your biggest request, but there are also a lot of Spotify Free users out there who are iPhone and Android phone owners. You asked for the ability to buy your MP3 playlists and sync to your phones. So we've got you covered too…As of today, everyone can download the Spotify Mobile iPhone & Android apps to wirelessly sync your MP3 playlists in Spotify from your computer to your phone. Fire up your mobile app and see your phone appear in the 'Devices' section of the Spotify sidebar, ready to rock and roll. No cables required! And did we mention it's now possible to wirelessly sync these playlists to your iPod touch?
[Via]