Only spotty intern reporters from the Lower Grimthrope Weekly Gazette still use tape recorders for interviews because digital is where it's at baby- and to underscore that point, Olympus have just shunted out their latest voice recording gizmo, the LS-5.
The company solemnly swear that you'll be able to, "make high-end audio recordings no matter the time and place," thanks to this baby, with the pint sized ear-in-a-box capable of faithfully recording concerts, probing interviews, passing steam trains or the soothing sounds of nature.
Auto on/off
Boasting Linear PCM recording capabilities and sampling rates of up to 24bit/96kHz, this  mobile mini sound studio comes with 2GB of built in memory, expandable to 32GB (using the SDHC-compatible SD card slot).
The high-sensitivity, noise reduction stereo microphone lets you record in three modes (Normal, Wide and Zoom) with the option to record in  the popular WMA, MP3 and WAV recording formats  for maximum compatibility.
An Auto Recording feature can also be set to automatically start recording when noise levels exceed a given threshold and turn off again when the signal fades below the preset level – handy if you're interviewing a drunk celeb with a penchant for falling asleep.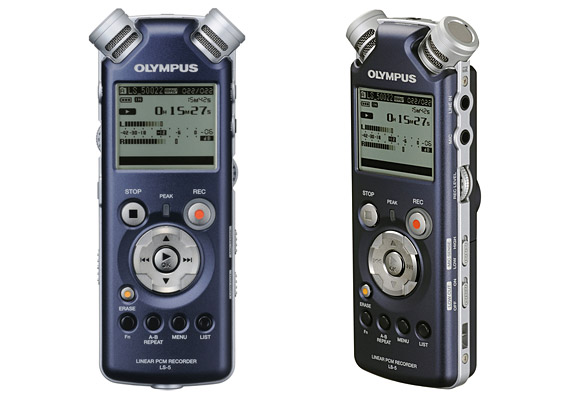 Reverb
There's also five reverb modes –  Normal, Studio, Club, Hall, Dome – to add a bit of life to mumbling bores (or perhaps inject an amusingly inappropriate reggae influence to your interview with the Right Hon Smythe-Tory-B'stard MP) ,
There's automatic or manual record level adjustments, and a large, backlit display (1.8 inches) keeping you informed as to w'g'wan.
The Olympus LS-5 is available now, with pricing hovering around the £199.99 mark.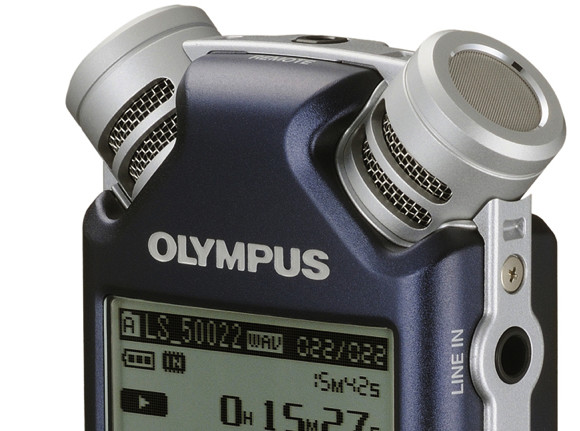 Feature list:
Elegant, compact metal design
Up to 24bit/96kHz sampling rate & PCM recording
High-quality built-in microphones
WAV/WMA/MP3 recording formats
3 modes: Normal, Wide, Zoom
5 reverb modes: Normal, Studio, Club, Hall, Dome
4 playback modes (Euphony mobile): Normal, Natural, Wide, Power
Automatic or manual record level adjustment (manual with switchable limiter)
Switchable recording monitor
Low Cut-Filter
Large, backlit display (1.8 inches)
Long battery life time
2GB internal memory
SD / SDHC card slot
Built-in stereo speaker
Function Button: Justifiable speed-dial button for the most needed function
Optional AC adapter
Optional infrared remote control
Full specs:
Classification
Product Class
Linear PCM Recorder
Mobile / Stationary
mobile and stationary
Storage Media
Internal / Removable Media
Internal + Removable
External Memory
SD / SDHC card (512 MB – 32 GB)
SD / SDHC card
Yes
microSD / microSDHC card
No
Internal memory
2 GB
USB functionality
USB HID
Yes
USB Audio Class
Yes
USB Speed
USB 2.0 High Speed
USB storage class
Yes
Display
Display Backlit
Yes
Display colour
White
Display Type
Full Dot Matrix Display
Display Size
30.1 x 35.4 mm / 1.83 "
Device operation
Programmable button
0
Main Switch
Push
HOLD switch
Yes
Power switch
Yes
Recording Modes
Recording format
WAV / WMA / MP3 , PCM
PCM (WAV) format
This high-quality, non-compressed recording format gives you better-than-CD sounds. Choose from the following modes to get the best combination of quality and recording time:
96 kHz 24 bit
0 h 55 min
96 kHz 16 bit
1 h 25 min
88,2 kHz 24 bit
1 h
88,2 kHz 16 bit
1 h 35 min
48 kHz 24 bit
1 h 55 min
48 kHz 16 bit
2 h 55 min
44.1 kHz 24 bit
2 h 5 min
44.1 kHz 16 bit
3 h 10 min
Mono
6 h 20 min
Recording time is expandable with optional SD / SDHC card (e.g. more than 12 h with 8 GB card, 44 kHz 16 bit).
Recording time is expandable with optional SD / SDHC card (e.g. more than 139 h with 8 GB card, 128 kbps).
Recording time is expandable with optional SD / SDHC card (e.g. more than 272 h with 8 GB card, 64 kbps).
Recording times shown above are approximate values for reference. Maximum recording capacity per each file is limited of approx. 4 GB due to file system restrictions. For WMA format the maximum recording time is approx. 26 hours 40 minutes. Available recording time for SD/SDHC memory cards refer to the Olympus official web site (http://www.olympus-europa.com).
MP3 format
The ever-popular MP3 format is great for distributing music online – and the LS-10 lets you record directly in a choice of MP3 modes for different recording times:
320 kbps
14 h 10 min
256 kbps
17 h 45 min
128 kbps
35 h 35 min
WMA format
Need to record for even longer? The LS-10 supports the versatile WMA format, which offers the following recording times:
160 kbps
27 h 50 min
64 kbps
69 h 35 min
Playback Modes
Playback format
WAV / WMA / MP3 , PCM
Frequency response
96 kHz (PCM)
20 – 44.000 Hz
88,1kHz (PCM)
20 Hz – 42 kHz Hz
48 kHz (PCM)
20 – 23.000 Hz
44.1 kHz (PCM)
20 – 21.000 Hz
44,1 kHz mono
20 Hz – 21 kHz Hz
320 kbps (MP3)
50 – 20.000 Hz
256 kbps (MP3)
50 – 20.000 Hz
128 kbps (MP3)
50 – 17.000 Hz
Mono
50 Hz – 13 kHz Hz
160 kbps (WMA)
50 – 19.000 Hz
128 kbps (WMA)
50 – 19.000 Hz
64 kbps (WMA)
50 – 15.000 Hz
Frequency response
70 – 20.000 Hz
Record function
Continuous Recording
Yes
Direct recording
Yes
Erase all files
Yes
Erase single files
Yes
Partial Erase
Yes
Handsfree recording function via optional footswitch
No
Index
Up to 16 in one file
Insert
No
Low-cut filter
Yes
Manual Rec level control
Yes
Noise canceling function
No
Overwrite
No
Rec Monitor
Yes
Timer recording
No
VCVA recording
Yes
Verbal annotations (up to 32 per file)
No
Voice filter
No
Zoom Mic. Setting (DVM)
Yes
Playback function
Alarm playback
No
EUPHONY
Yes
Fast play
No
Playback Speed Control
No
Repeat playback
Yes
Reverb
Yes
Slow Play
No
Data organisation
File move
No
Folder Audible
–
Folder music
128
Folder Podcasts
–
Folder voice
5
Time/date info
Yes
Files per folder
200
Workflow function
Author ID Setting
No
Pending File
No
Priority setting
No
Worktype ID Setting
No
Other Features
Audible support
No
beep signal (system sound)
Yes
Configurable Firmware
No
Podcast support
No
Remote Control
No
Voice feedback / guidance
No
Software
corresponding Audio software (type)
Audio Management Software
corresponding Audio software (name)
Sonority
Interfaces Input
PC interface
USB Cable
SD / SDHC interface
no function
Microphone sensitivity
High (- 59dBv) Low (- 39dBv)
Microphone jack
3.5 ø mm mini-jack, impedance 2 kΩ
LINE IN jack input
– 6dBv
LINE IN jack
3.5 ø mm mini-jack, impedance 78 kΩ
Interfaces Output
Max. working output
200 mW + 200 mW (8 Ω speaker)
Maximum headphone output
3 mW + 3 mW
Speaker Diameter
Stereo (two built-in ø 16 mm round dynamic speaker)
Earphone jack
3.5 ø mm jack, impedance 8Ω or more
Power Supply
Alkaline battery life
Recording: 23 h (PCM 44.1kHz 16 bit)
Device standalone recharge function via AC adapter
No
Device standalone recharge function via USB
No
Docking station with recharge function
No
External power supply
AC-Adapter 5V / 300 mA
Ni-MH battery life
Recording: 22 h (PCM 44.1kHz 16 bit)
Power Supply
AA batteries (LR6 or ZR6) or two Ni-MH rechargeable batteries
Dimensions
Weight
165 g (incl. battery)
WxHxD
48 x 131.5 x 22.4 mm
Housing material
Metal
Housing colour
Blue metallic
Languages
Menu languages
English, German, French, Spanish, Italian, Russian
Hardware Security
Device Locky by Fingerprint
No
Device lock by PIN code
No
Lock single files
No
Operating Systems & Requirements
Windows
Operating system: Microsoft Windows 2000/XP/Vista (Free USB port)
Macintosh
Operating system: Mac OS 10.2/10.3/10.4/10.5 (Free USB port)
[Olympus]