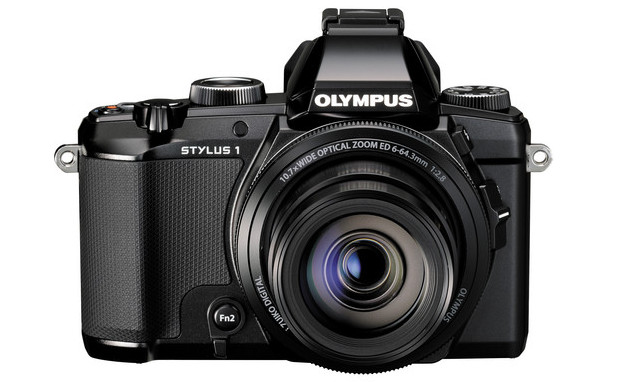 Keen to cash in on the success of their retro styled Olympus OM-d Micro Four Thirds camera, Olympus have announced the launch of a similarly-styled premium compact camera called the Stylus 1.
Sporting dSLR looks, the Stylus 1 boats a hefty 28-300mm equiv i.Zuiko Digital 10.7x optical zoom lens, offering a notably speedy constant f/2.8 aperture.
Inside is a 12 megapixel BSI 1/1.7inch CMOS sensor, and there's a full range of auto/manual controls onboard plus 11 Art Filters and 5 different frame/art effects.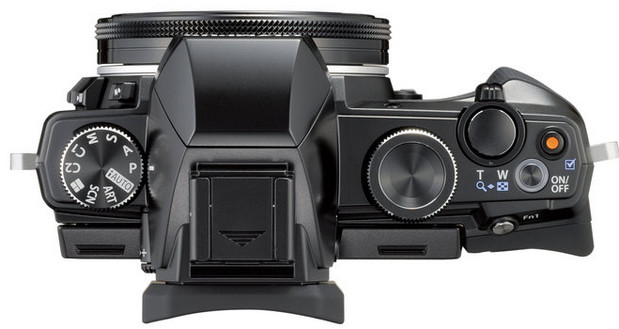 An Analogue / Digital Hybrid Control Ring around the lens offers swift adjustments, with other features including built in optical image stabilisation, 3 inch tilting touch screen with 1040k dots, dual-axis electronic level, Fn1, Fn2 function buttons, Wi-Fi and remote operation.
Video capabilities come in the shape of 1080p Full HD Movie with sound and high-speed movie recording (120fps/240fps), ISO 100- 12800 and 7 fps continuous shooting.
Measuring 116mm x 87mm x 56.5mm, the camera uses the same 1.44million dots electronic viewfinder as seen on OM-D, the Olympus Stylus 1 will be priced at £549.99, and be available in classic black from late November 2013.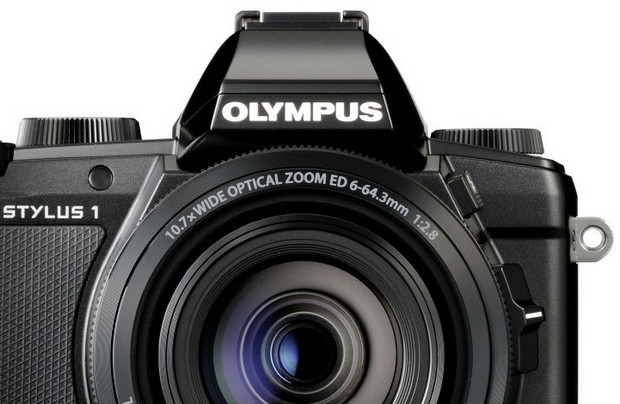 Here's the Olympus press guff:
From Olympus: 
Ambitious photographers demand excellent picture quality. One look at the STYLUS 1 spec sheet and you know you've found it. Despite a casing depth of just 52mm, it has a brand new 28-300mm* high-power i.ZUIKO DIGTAL lens that offers a constant 1:2.8 aperture from wide to telephoto shots, with a 10.7x optical zoom.

Olympus designed this lens to work seamlessly with its large-format BSI CMOS sensor, as well as the TruePic VI image processor that is already familiar to users of its high-end OM-D E-M5 system camera.

Other tried-and-tested OM-D features include the rock-solid handling and grip that comes from the D-SLR-style casing and layout. For accurate and professional framing, there is the large, 1.44 million dot electronic viewfinder, Fast AF for near-instant, precision focusing via touch screen and built-in WiFi for real-time smartphone access – likewise all OM-D-proven.

The STYLUS 1 has superb dynamic range and low-light capability, plus the same Hybrid Control Ring for manual or digital control of key settings that has proved so successful on the Olympus XZ series.

New leader, new lens

Compact users shouldn't have to compromise on the single most crucial component of any camera – the lens. So for the STYLUS 1, Olympus developed a remarkable piece of optical engineering. The ultra-slim, 'fullrange', constant-aperture 1:2.8 10.7x (28-300mm*) high-power i.ZUIKO DIGITAL lens has the versatility and quality for everything from wide to telephoto shots. The large-diameter lens features a powerful, built-in VCM image stabilization mechanism that virtually eliminates camera shake and blur.

Unlike lesser rivals, deliberate defocusing generates bokeh approaching D-SLR standards and the lens' brightness enables high-shutter speeds even in dark scenes. Another significant advantage of the lens is only apparent when it's not in use – it retracts fully into the camera body (behind an automatic lens cap), so the STYLUS 1 fits easily into a coat pocket. Bulkier cameras can't match that.

What you see is what you get

What the lens is to image quality, the viewfinder is to ease of use. Unlike most compact cameras, for eye-on-camera shooting the STYLUS 1 has an electronic viewfinder. It's the same very large, fast-response, high-definition model as the O-MD E-M5, that puts the EVF on many entry-level D-SLR style cameras to shame. 1.44 million dots, a level gauge and shadow highlighting make shot and pre-shot setting selection a joy.

With VCM image stabilization mechanism readings visible in the viewfinder, it's a lot easier to shoot sharp at long focal lengths. Automatic backlight control ensures accurate reproduction of dark and bright parts of the scene and there is no noticeable time lag. The STYLUS 1 automatically detects your eye behind the viewfinder and shuts off Live View on the tilting LCD.

Compact dimensions, D-SLR style

The STYLUS 1 measures just 116mm x 87mm x 56.5mm, which is less than half as deep as several bulkier rivals. Despite its diminutive dimensions, it looks every inch a professional camera. The front grip makes the classic black design easier to hold steady, leaving you free to focus on creative expression.

The intelligent layout of the controls also makes the camera easier to operate. For example, you can operate the Hybrid Control Ring and zoom lever with your left hand and concentrate on the shutter release with your right. A lack of clutter and attention to design details such as button size, shape and surface texture is an inspiration to anyone who aspires to pro-standard creativity.

Control is king

The STYLUS 1 offers the ideal blend of effective, hands-on controls and intuitive, high-tech aids like finger-triggered Fast AF and Touch AF Shutter via the LCD. The customizable analogue / digital Hybrid Control Ring on the front lets you assign the parameters you adjust most frequently (e.g., aperture, shutter speed, exposure time and program shift) to the ring or subdial on the top of the camera.

This way you can adjust them manually without taking your eye off your subject – in the style of a pro. In analogue mode, the ring turns smoothly for zooming and focusing. In digital mode, you can assign functions to a single menu and click through it with the Fn2 button.

Camera loves smartphone

Built-in WiFi combined with OI.Share software makes your camera one with your smartphone, which becomes a portal for image sharing. Pairing is quick and easy: one touch of the WiFi field on your camera display reveals a QR code, which you scan with your smartphone before opening the app. You then effectively mirror the LCD on your phone – to focus and release the shutter remotely via WiFi (in P, A, S, M modes) directly on the phone's touch screen.

Accessories: 

Eye cup for electronic viewfinder – The EP-11 eye cup cuts out peripheral light for improved visibility in bright conditions.
Full-body jacket – This smart jacket protects your camera against damage and comes with a tailored cover.
1.7x teleconverter lens – Extend the focal length of your camera to 510mm with this high-grade lens via the CLA-13 converter adapter, and retain the outstanding brightness of a constant 1:2.8 aperture. Ideal for shooting distant subjects and animals unobserved.

For more information, take a look at the Olympus website.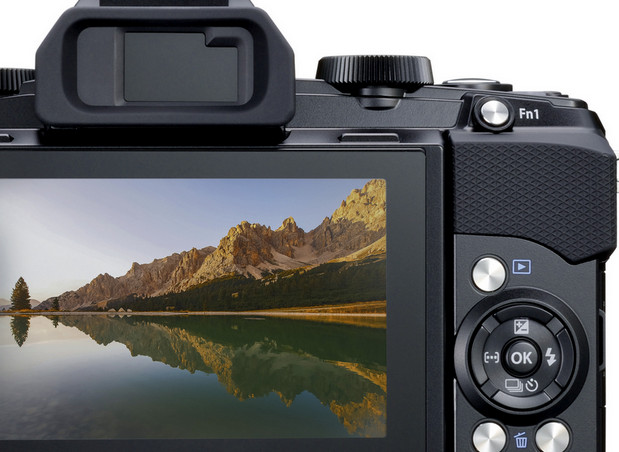 Olypmus Stylus 1 Specifications
Manufacturer
Olympus
Lens
Max Aperture
f/2.8
35mm equivalent
28mm – 300mm
Optical Zoom
10.7x
Image Sensor
CCD pixels
12Mp (Megapixels)
Pixels (W)
3968
Pixels (H)
2976
Sensor Type
Back-lit CMOS (B.S.I.)
Sensor Size
1/1.7inch
Sensor Size (width)
7.3mm
Sensor Size (height)
5.5mm
Aspect Ratio
LCD Monitor
LCD Monitor
3in
Screen resolution
1.04 million dots
Touch Screen
Yes
Focusing
Min Focus
5cm
Focusing modes

Autofocus
Manual
Spot
Face Detection
Multi
Centre
Touch AF
AF Tracking

Exposure Control
Shutter speeds shortest
1/2000sec
Shutter speeds longest
30sec
Exp modes

Program
Aperture-Priority
Shutter-Priority
Manual
Scene modes
Program Variable

Metering

Centre-weighted – Average
Spot
TTL
ESP Light Metering

ISO sensitivity
100 – 12800
White balance

Manual
Outdoors/Daylight
Cloudy
Incandescent
Fluorescent
Shade
Flash

Exposure Comp
+/-3
Shooting Options
Continuous shooting
7fps
Video
Movie mode
Yes
Video Resolution

1920×1080
1280×720 720p
640×480 VGA
320×240 QVGA

Video FPS
30p
Stereo Sound
Yes
Optical Zoom with Video
Yes
Other Features
Image Stabilisation
Yes
Interface
HDMI
Yes
USB
USB 2
Wi-Fi
Yes
Storage
Card Type
File Type
Power Source
Battery Type
BLS-5 Li-Ion battery (included)
CIPA Rating
No Data
Box Contents
Box Contents
No Data
Dimensions
Weight
402g
Width
116.2mm
Height
87mm
Depth
56.5mm