Lenovo has shown that it likes to think a bit differently from the pack, announcing two new tablets , the Yoga 8 and 10 inch machines which look decidedly different to any other tablets currently on the market.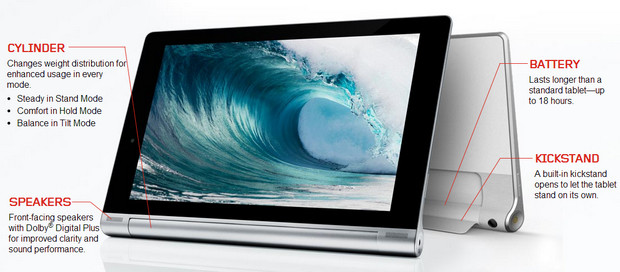 Priced at $249/£199 for the 8-inch and $299/£250 for the 10-inch, both Android 4.2.2 tablets come with an innovative cylinder grip at the bottom, which also doubles up as a kickstand.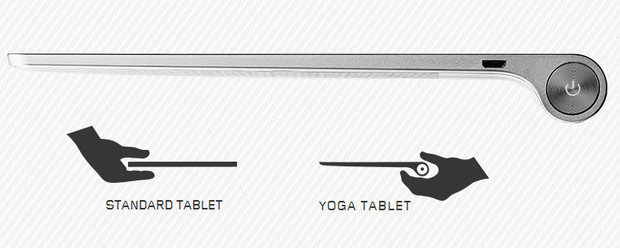 The appearance may be stand-out, but the specs are distinctly more conservative with the Yoga Tablet 8 and Tablet 10 coming with quad-core 1.2GHz MT8125 MediaTek CPUs and 1,280×800-pixel-resolution IPS screens.
The tablets come with Dolby Digital Plus DS1-powered front-facing speakers, Micro-USB port for charging, 5-megapixel back camera and a 1.6-megapixel front camera for video chats.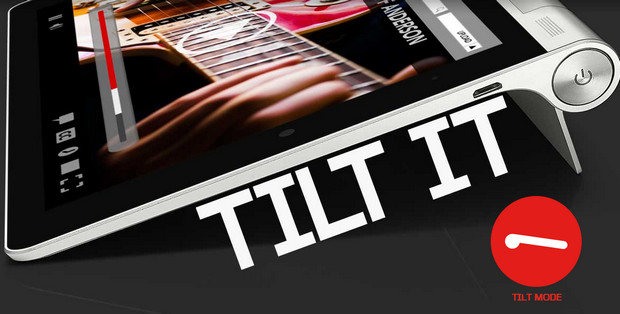 There's also a handy microSD storage expansion slot onboard, plus a headphone jack, with Lenovo claiming a mighty impressive 18 hours of varied use via the 600mAh battery on the 8-incher and the 9,000mAh for the 10-incher.
The tablet is due out now and accessories like a $70 keyboard dock and a $30 cover case twill be available in four different colours.
We're not entirely convinced on this cylinder grip idea, although we can see how it make the tablet much easier to grip.
The big battery life appeals too, although we reckon Lenovo are going to struggle to make a dent in a market currently dominated by the Nexus 7 and iPad mini.
Check out the official product page here.