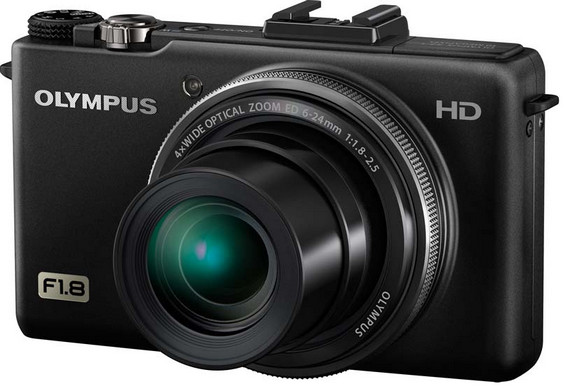 We were pretty much stoked the second we clapped our eyes on the sleek lines of the Olympus XZ-1 compact camera, and the first review posted has declared the enthusiast snapper to be a real winner.
Photo site Digital Photography Review has run the 10MP camera through its paces in a lengthy test, with the camera emerging triumphant and the reviewer declaring it to be, "the best photographers' compact currently available." High praise indeed!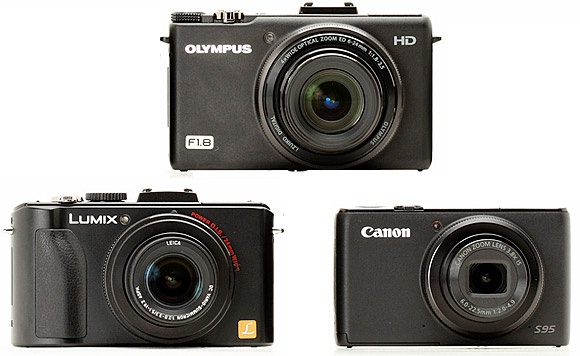 Look at the specs on that
There's certainly a lot to love about the camera by browsing the the specs alone (see below for full listing), with the F1.8-2.5 Zuiko lens – the fastest zoom lens on any current compact –  serving up a useful 28-112mm lens range and an "unbeaten combination of range and brightness."
The lens was said to produce  impressively sharp snaps with good corner sharpness at wide apertures, backed by good exposure metering and a "great" colour response.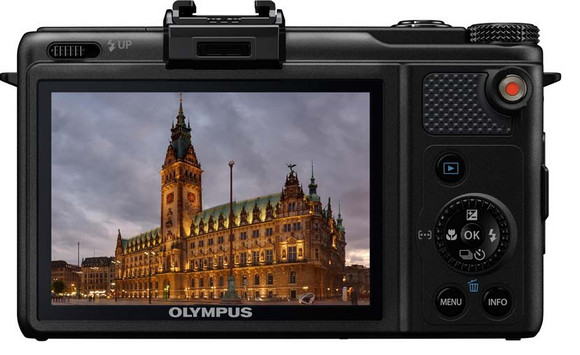 Great image quality
Image quality was deemed to be considerably better than most compacts (and on a par with rival high end snappers like the Canon S95 and Lumix LX5), and thanks to its big, bright beautiful super-fast f1.8 lens, the XZ-1 won't have to trouble the high ISO settings too often.
The praise flowed for the XZ-1's low light performance and the slew of manual options on-board, although the simple control system came at the expense of a missing AEL/AFL button and no direct access to ISO or white balance settings.
Battery charging over USB is certainly a nice touch, as is a dedicated movie button, and overall DPReview thought that the camera did a great job of balancing flexibility with pocketabilty.
Here's their final word:
The XZ-1 is a joy to use, quick and easy to control and small enough to make sure you have it when a photographic opportunity arises. In fact, many people considering a mirrorless interchangeable lens camera may find they're better served by the XZ-1, if they're not serious about buying additional lenses.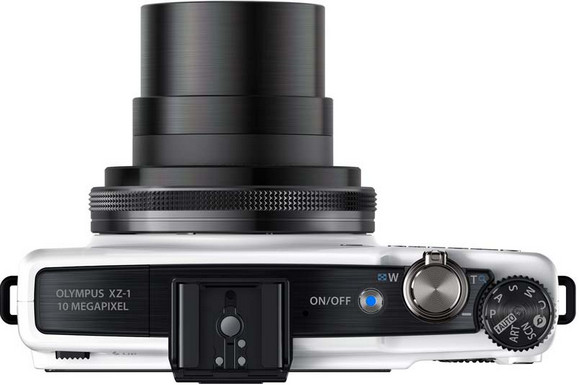 Sold on this fab fella? Buy it here!
The XZ-1 is currently listed on pre-order on Amazon for a very competitive £399 (in black or white finishes) with a delivery date set for March 31st 2011.
We reckon they're going to sell like hot cakes!
Olympus XZ-1 Digital Camera – Black (10MP, 4x i.Zuiko Wide Optical Zoom)
Olympus XZ-1 Digital Camera – White (10MP, 4x i.Zuiko Wide Optical Zoom)
Full technical Details:Model:XZ-1
Colour:White/Black
Body material:Aluminium / Plastic
Image Sensor:Type:1 / 1.63 " CCD sensor
Effective pixels:10 Megapixels
Aspect area:4:3
Full resolution:11.3 Megapixels
Engine:Type:TruePic V
Image Stabiliser:Type:Sensor shift
Modes:Two-dimensional
Effective compensation range:Up to 2 EV steps
Shutter speed range:2 – 1 / 2000 s (not available when Bulb mode is selected)

Lens:Focal length:6.0 – 24.0 mm
Focal length (35 mm equivalent):28 – 112 mm
Maximum aperture:1.8 – 2.5
Optical zoom:4 x
Live View:AF Type:Contrast detection system
Displayed information:Exposure adjustment preview, shooting information, 100 % field of view, face dectection preview, Perfect Shot preview, 7 x / 10 x magnification possible, MF / S – AF, AF frame display, AF point display, Histogram
Monitor type:OLED
Monitor size:7.6 cm / 3.0 "
Resolution:610,000 dots
Focusing System:Method:Contrast Detection AF system
Focus areas:11 points / Automatic and manual selection, 225 points / Manual selection in Magnified View Mode
AF lock:Yes, locked by first position of shutter release button in single AF mode
AF illuminator:Yes
Modes:Manual focus, Single AF, AF Tracking, Face Detection AF, Macro mode, SuperMacro mode
Light Metering:Method:TTL open aperture light metering
Zones:324 zones Multi-pattern Sensing System
Detection range:0 – 17 EV Digital ESP, centre-weighted average metering, spot metering
Modes:ESP light metering, Spot metering, Centre weighted metering
Exposure System:Exposure compensation:+ / – 2 EV (1 / 3 steps)
Modes:Programme automatic, Shutter priority, Aperture priority, Manual, i-Auto, Scene modes, Movie, Art Filter, Custom shooting, Low light
Number of scene modes:18, Portrait, e-Portrait, Landscape, Night Scene, Night Scene with portrait, Indoor, Sunset, Self-portrait, Sports, Documents, Panorama, Fireworks, Beach and Snow, Underwater Macro, Pet, Cuisine, Multi-exposure, Underwater Wide
Art Filters:Pop Art, Soft Focus, Grainy Film, Pin Hole, Diorama, Dramatic Tone
Multi-Exposure:Max. number of frames:2 frames (shooting)
Frame assistance:Live View
Sensitivity:Auto:ISO 100 – 800
Manual:ISO 100 – 6400 (adjustable in 1 / 3 EV steps)
Shutter:Self timer:12 s / 2 s
Shutter Speeds:Shutter speed range:1 / 2000 – 60 s
Bulb mode:1 / 2000 – 60 s up to 16 minutes
White Balance:AUTO WB:Yes
One-touch white balance:1 custom setting can be registered
White balance adjustment:+ / – 7 in each A – B / G – M axis (in Auto WB, preset WB mode & one-touch WB)
Custom WB:1 setting can be registered at Kelvin temperature (2000 K – 14000 K)
Preset values:Tungsten, Fluorescent 1, Fluorescent 2, Sunlight, Flash, Overcast, Shade, Underwater Auto
Recording Formats:RAW:12 bit
RAW & JPEG:Yes, parallel recording:JPEG:Yes
Aspect ratio:4:3 / 3:2 / 16:9 / 6:6
Sequence Shooting:Speed:2 fps
RAW mode:8 frames:Sequential shooting mode:7 fps / 20 frames (approx.) in HQ JPEG mode
Sequential shooting mode (high speed):15 fps (without mechanical shutter movement)
Image Processing:Colour space:sRGB
Sharpness + Contrast:5 levels
Saturation:5 levels
Black & White filter:Yellow, Orange, Red, Green
Black & White toning:Sepia, Blue, Purple or Green in Black & White mode
Picture mode:Vivid, Natural, Muted, Black & White
Gradation:4 levels (auto, high key, normal, low key)
Image editing:RAW data edit, Red-eye reduction, Sepia, Resize, Correction of saturation, Shadow Adjustment, Trimming, e-Portrait
Movie Recording System:Recording format:AVI Motion JPEG®
Movie Mode: HD 1280 x 720 (16:9) / SD 640 x 480 (4:3)
Frame rate:30 fps
Max.recording time:14 min (SD) / 7 min (HD)
Max. file size:2 GB
Compression ration:1 / 12
Sensitivity:ISO 200 – 1600
Image Stabilisation mode:Yes, Digital Image Stabilisation
Sound Recording System:Internal microphone:Mono
External microphone:Optional:Recording format:Stereo PCM / 16 bit, 44.1 kHZ, Wave Format Base
Image footage:30 s
Image Size:RAW:3648 x 2736 compressed
Large:3648 x 2736Fine (compression: 1 / 4), 3648 x 2736 Normal (compression: 1 / 8)
Middle:3200 x 2400 Normal (compression: 1 / 8)
Small:1280 x 960 Normal (compression: 1 / 8)
View Images:Modes:Index, Calendar, Zoom, Slide Show, Movie
Auto rotation:Yes
Histogram in playback mode:Yes
Shooting information:Off / On
Image protect mode:Yes
Internal Flash:Type:Pop-up
Modes:AUTO
External Flash Control:Type:TTL Auto for Olympus dedicated flash, Auto or Manual
Modes:Auto, Red-eye reduction, Slow synchronisation with red-eye reduction, Slow synchronisation, 2nd curtain and slow synchronisation, Fill-n for exclusive flash, Manual
Built-in Flash and Wireless Flash Control from the Camera Body:Compatible external flash:Olympus FL-50 R, FL-36 R
Control method:Triggered and controlled by built-in flash light
Number of channels:1 channel
Group setting:1 group (Available when used together with cameras compatible with the Olympus wireless RC flash system)
Menu languages in camera:39 languages (Japanese, English, French. Spanish, Portuguese (BR + PT), German, Italian, Russian, Czech, Dutch, Danish, Polish, Swedish, Norwegian, Finnish, Croatian, Slovenian, Hungarian, Greek, Slovak, Turkish, Latvian, Estonian, Lithuanian, Ukrainian, Serbian, Korean, Simple Chinese, Traditional Chinese,Thai, Arabic, Bulgarian, Romanian, Persian, Indonesian, Hebrew, Malay, Vietnamese)
Power Supply:Battery:LI-50B Lithium-Ion Battery
Sleep mode:Available (20 sec, 1 min, 3 min, 5 min)
Live View shooting:Approx. 320 images (50 % with Live View)
Interface:Media:SD memory card (SDHC, SDXC compatible), Class 6 is recommended for Movie shooting
HDMI™:Yes, Mini connector (type C)*
USB 2.0 High Speed:Yes
Combined V & USB output:Yes, NTSC or PAL selectable
*"HDMI", the HDMI logo and "High Definition Multimedia Interface" are trademarks or registered trademarks of HDMI Licensing LLC
Dimensions (W x H x D):110.6 x 64.8 x 42.3 mm
Weight:275 g (without battery and card)