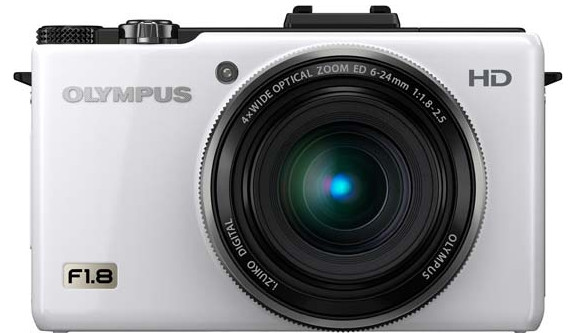 Olympus have rolled out their flagship compact digital camera, the Olympus XZ-1, and are hoping that it will catch the eye of keen amateurs and professional photographers looking for a second camera.
The XZ1 comes with a 10 Megapixel 1/1.63″ HS CCD high sensitivity sensor, but what really catches the eye is the super fast f/1.8-2.5, 4x wide-angle i.ZUIKO DIGITAL lens, offering a modest zoom range of 28-112mm (35mm equiv).
"The XZ-1 features one of the world's brightest built-in lenses on a digital compact camera to enable you to shoot high-quality still images and HD videos in any shooting environment, including difficult low-light conditions," table-thumped Katie Roseman, product manager, Olympus Imaging America Inc.
"This camera will give you the versatility needed to take on any challenge without weighing you down."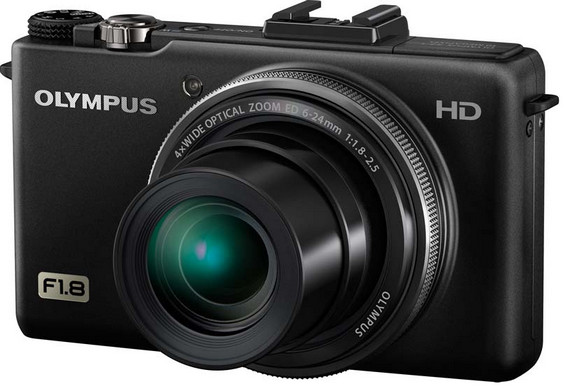 Lens ring operation
Around the back there's a 3-inch OLED screen, while the camera offers full manual controls, Live Guide and i-Auto for easy operation and a lens ring and menu wheel (like the Canon S95) for quickly changing modes and settings.
To keep away the wobblies, there's Dual Image Stabilisation, ISO 6400 sensitivity and an AF illuminator for improved low light performance.
The XZ-1 can also record 720p HD movies, and there's the option to fit an external flash, electronic viewfinder or external stereo microphone.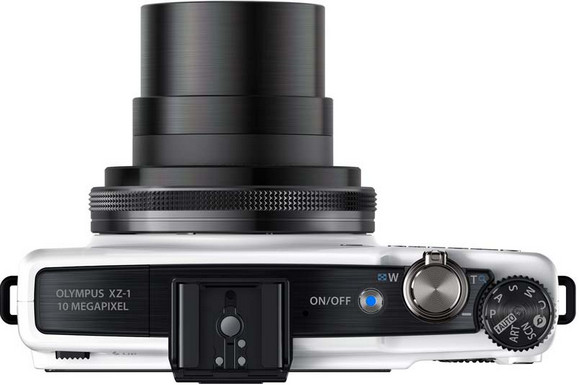 Battling the X5/S95
The Olympus XZ-1 will be available for £399 / €449 from January 2011, and at that price it faces very stiff competition from the well reviewed Panasonic Lumix LX5 and Canon Powershot S95 cameras.
Much as we're loving the fast f1.8 lens, the disappointing wide-angle capabilities (the zoom starts at 28mm rather than the Lumix's 24mm) look unlikely to tempt us away from our current number 1 high end compact camera, the LX5.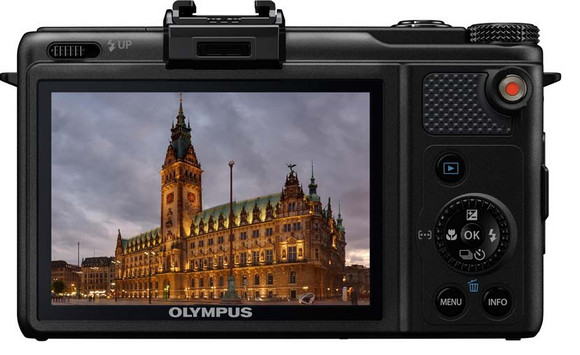 Olympus UK have launched a rather bizarre 'X'-obsessed press release for the XZ-1, insisting that the camera is for 'adults only.'
Olympus' new compact flagship turns camera class on its head

XXX rated: The ultra-bright, ultra-high quality XZ-1 – only for adults

Hamburg, 6 January 2011 – First came the PEN revolution in the Micro Four Thirds camera category, now Olympus has torn up the rule book once more – with the new XZ-1, its game-changing pocket-sized flagship that sets a new benchmark for rival compacts to follow. The XZ-1 is ideal for camera-savvy amateurs and professional photographers looking for a second camera. In addition to Olympus' trademark stunning design, it delivers uniformly clear pictures even in low light, to SLR standards.

The XXX rating that achieves this category-defying quality? A combination of three state-of-the-art features: the x-tremely large, super-sensitive CCD sensor, the x-tremely fast TruePic V image processor and the x-tremely bright 1:1.8-2.5 i.ZUIKO DIGITAL lens. The XZ-1 is the first compact camera to come with a lens from ZUIKO, renowned as a leading manufacturer of the high-end optics that used to be available only in SLRs. It is also compatible with an ever-growing range of dedicated Olympus PEN accessories for mirrorless cameras.

To further boost the quality of stills and movies, users can add an external flash, electronic viewfinder or external stereo microphone, with more accessories still to come. The compact XZ-1 comes in a matt black or white lacquered body with a large 3-inch OLED screen and the sharp looks to match its professional spec. It will be available from late January 2011 for £399.

X-ceptional picture quality
Whether it's High Definition movies or beautiful still photographs, the XZ-1 delivers remarkable image quality for a compact. In fact, for any size of camera. Precious few non-professional cameras can compete with the shining, corner-to-corner clarity of the images it captures – thanks to the unique combination of Olympus lens, large sensor and processor.

The dedicated 1:1.8-2.5 super-bright, 4x wide-angle i.ZUIKO DIGITAL lens ensures a pure supply of light with reduced ghosting and flaring. From 1-cm macro shots to sweeping landscapes, from portraits to groups of friends at a party, its 70-year pedigree is reflected in every shot.

The larger size of the XZ-1's 1/1.63 inch CCD sensor complements the lens. Unlike with regular compacts, users can reduce depth of field in their images to capture close subjects in sharp focus while leaving the background blurred. In combination with Olympus' high sensitivity TruePic V image processor, these top-class components give XZ-1 users the sensational imaging potential of an SLR in a camera not much bigger than a smart phone.

X-cellent low light performance
The holy trinity of lens, processor and sensor combine with an array of high-end features to ensure the XZ-1 captures stills – and movies – that stay sharp and radiant from corner to corner even in low light. Compared to a regular 14 Megapixel CCD sensor, the light-receptive area of each pixel on the Olympus sensor is twice as large. Together with the sensor and ultra-bright lens, Dual Image Stabilisation, ISO 6400 sensitivity and AF illuminator (for focusing in dark conditions) users can shoot clear, low-noise images in poor light without ruining the atmosphere by using a flash. The XZ-1 also performs in very bright conditions. To offset the ultra-bright lens, it features one of the fastest shutter speeds on a compact camera (1/4000 sec.), reducing the risk of over exposure and blurring in sunlight, snow – or when using the flash.

X-treme creativity
The XZ-1 allows every artistic impulse free reign. For ambitious, 'hands-on' users, the front lens control ring and menu wheel give pro-style access to the full complement of manual shooting modes (P/A/S/M). Special options include shooting in RAW mode, Multi-Aspect ratio and six special effect Art Filters that even work in HD Movie mode. With super macro, wireless flash control and high-speed AF Tracking, it's never been easier for compact users to express their creativity.

Style
Celebrated for the classic retro design of the slightly larger, mirrorless PEN series, Olympus designers have created with another masterpiece in the XZ-1, available in matt black or with white lacquering. Compact and lightweight, it slips easily into a pocket, so users can capture sharp and striking images wherever they want to.

The Olympus XZ-1 will be available for €449 from January 2011.

Outstanding features:
Image Quality
• 1:1.8-2.5 super-bright 4x wide i.ZUIKO DIGITAL zoom lens (28-112mm*) for images with uniform clarity from macro to infinity
• 10 Megapixel 1/1.63" HS CCD high sensitivity sensor for outstanding shots with reduced depth of field
• Dual Image Stabilisation for blur-free, fast-moving shots
• TruePic V image processor for supreme colour reproduction and less image noise
• HD Movie with sound for capturing crystal clear movies suitable for playback on a big HD TV

Usability
• 3.0" OLED (610,000 dots) display for improved playback and visibility during shooting with enhanced contrast, brightness and angle of view
• Manual controls for fast and easy professional adjustments
• Live Guide and i-Auto for easy operation – even by beginners
• Lens ring and menu wheel for precise manual control and quick selection of modes and settings

Creativity & Flexibility
• 6 Art Filters for adding creative effects to HD movies and stills: Pop Art, Soft Focus, Grainy Film, Pin Hole, Diorama and Dramatic Tone
• Accessory Port for compatibility with a growing range of accessories including an external flash, electronic viewfinder and external stereo microphone

Other key features
• ISO 6400 for excellent imaging despite poor light
• HDMI TV interface for easy camera operation during playback via the TV remote
• Multi-Aspect ratios for the ideal format (16:9, 3:2, 4:3 or 6:6)
• Bracketing functions for white balance and exposure
• SD memory card (SDHC and SDXC compatible)**