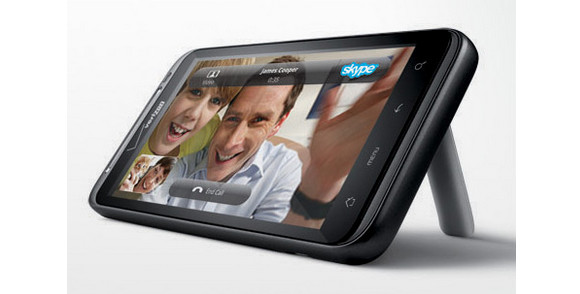 It looks like us Brits may well be deprived of this delightful slab of Android delightfulness, but in the States Verizon customers are rubbing their hands at the prospect of the HTC ThunderBolt.
Hefty screen
Announced as part of Verizon's bulging portfolio of 4G LTE smartphones at CES 2011, the HTC ThunderBolt is a seductive beast of a smartphone, with a whopping 4.3-inch WVGA touchscreen supporting a 800 x 480 resolution.
You want cameras? This fella's got 'em, packing an 8-megapixel number with 720p HD video recording on the back and a front facing camera for Skype mobile video chat.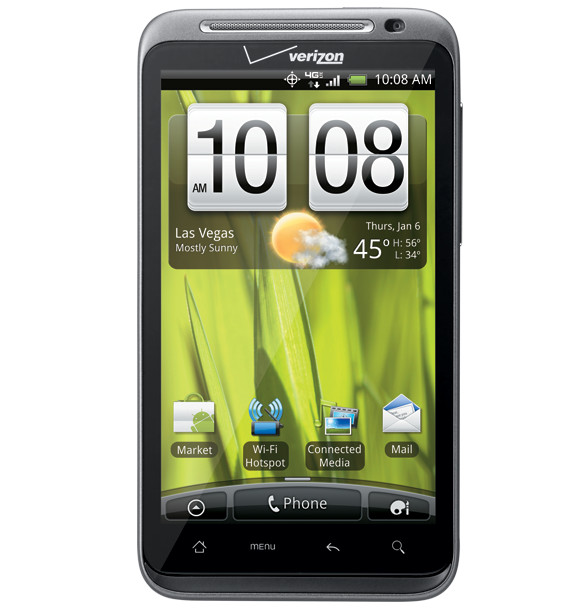 Superfast network
Running Android 2.2 (surely a Gingerbread upgrade will be on its way?), the phone comes with HTC's glossy HTC Sense 2.0 UI bristling new features like Fast Boot.
The HTC hooks up to Verizon's super speedy 4G LTE mobile broadband Internet, with the wireless chipset is designed to switch seamlessly between Verizon's 3G network and the upcoming 4G LTE network.
Tons of memory
Inside there's a 1GHz Snapdragon processor, 8GB + 768 RAM internal storage memory (with a 32 GB microSD card included in the package), providing tons of memory for your multimedia needs, and you can use the built-in kickstand to get the optimum viewing angle and enjoy the onboard Dolby and SRS surround sound.
Other features include Wi-Fi and Bluetooth connectivity, a digital compass, GPS, a proximity sensor, a G-sensor, and a microSD card slot with an included 32 GB card.
Key Features:
4G LTE – customers can expect download speeds of 5 to 12 Mbps and upload speeds of 2 to 5 Mbps in 4G Mobile Broadband coverage areas
4.3-inch WVGA display
Mobile Hotspot capability – share 4G connection with up to 8 Wi-Fi devices
Android 2.2 platform
32GB microSD card included
HTC Sense 2.0 with new features, including Fast Boot
Built-in kickstand for easy media viewing
Dolby and SRS surround sound
Fully integrated Skype mobile experience
720p HD video recording
DLNA streaming multimedia support
HTC haven't announced pricing yet, and we've no idea if this puppy will ever be flapping over to the UK, but for now we just might have to glue on a matchstick to the back of our phone to get the same effect.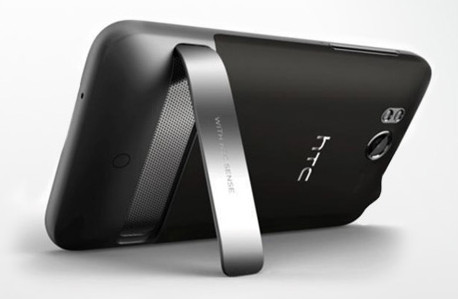 Here's the press release:
HTC ThunderBolt Delivers Style and Speed on Verizon Wireless' 4G LTE Network
LTE-Capable HTC ThunderBolt Enables Sharing at 4G Speeds with Features Including Integrated Skype mobile™ and DLNA Wireless Media Connectivity

LAS VEGAS and BASKING RIDGE, N.J., Jan. 6, 2011 /PRNewswire/ — At the 2011 International Consumer Electronics Show (CES), Verizon Wireless and HTC today unveiled its newest 4G smartphone, the HTC ThunderBolt, one of the world's first 4G LTE Android smartphones, coming soon exclusively to the Verizon Wireless 4G LTE Mobile Broadband network.

Taking advantage of Verizon Wireless' 4G LTE network and the intuitiveness of the HTC Sense user experience, HTC ThunderBolt is one of the first smartphones to integrate Skype mobile™ with video calling. Rather than relying on a standalone application, a Skype mobile with video call can be made as easily as a standard voice call – with features like presence icons that indicate the availability status of friends built into the standard contacts list. A front-facing camera enables simple video calling, and the 4.3-inch display brings friends and family into clear focus.

HTC ThunderBolt features exceptional speed and power with the newest generation of the  blazing-fast 1GHz Snapdragon processor. Verizon Wireless customers will also enjoy the premium HTC Sense user experience, running on the Android 2.2 platform.  Creating and consuming mobile multimedia content is made possible with a stunning 4.3-inch WVGA display, Dolby surround sound, 8-megapixel camera and HD video recording.

With wireless DLNA capability, the HTC ThunderBolt can easily stream and share content directly with compatible home theater components, including HDTVs and stereo receivers that feature built-in DLNA support.
"We are proud to not only be bringing one of the first 4G LTE Android smartphones to the Verizon Wireless network, but to offer people the unprecedented speed and ease of use that the HTC ThunderBolt provides to them," said Jason Mackenzie, president of HTC Americas. "What makes 4G so compelling is not just technology, but what the technology allows people to do.

With HTC ThunderBolt and the Verizon Wireless 4G LTE network, 4G is brought to life as people stay connected with friends, family and content faster than ever before possible."
"Our 4G LTE network and the HTC Sense user experience combine to enable our customers to connect with friends, family and information on a whole new level," said Marni Walden, vice president and chief marketing officer for Verizon Wireless.  "Customers will see the difference of 4G speeds when accessing content via the Web, Android applications or other Verizon Wireless applications."
The Verizon Wireless 4G LTE Mobile Broadband network, launched in December 2010, is the fastest, most advanced 4G network in the United States, providing speeds up to 10 times faster than Verizon Wireless' 3G network.  Verizon Wireless' 4G LTE Mobile Broadband network currently reaches one-third of all Americans, with plans to expand the network to the company's entire 3G coverage area over the next three years.
The HTC ThunderBolt will be on display at CES in Verizon Wireless' booth (#35216 in the South Hall of the Las Vegas Convention Center).

For more information about Verizon Wireless' 4G LTE network, visit www.verizonwireless.com/lte and for more information about Verizon Wireless at CES, please visit www.verizonwireless.com/ces or follow the company on Twitter at http://twitter.com/verizonwireless.  For more information about the HTC ThunderBolt, please visit www.verizonwireless.com/thunderbolt.

For additional information on Verizon Wireless products and services, visit a Verizon Wireless Communications Store, call 1-800-2 JOIN IN or go to www.verizonwireless.com.