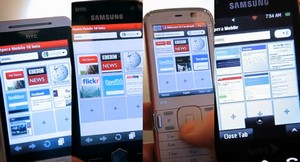 Things are going to get a little more interesting in the browser department for Android users, with Opera announcing that it's offering Opera Mobile to OEMs to replace or accompany the default Android default browser.
OEM's (Original Equipment Manufacturers) are the folks who make your phones, so the browser should start appearing on new phone releases soon, but won't be available in Android Market immediately.
The new browser is sure to be a big improvement on the Java-based (and frankly very average) Opera Mini, which has been in the Android Market for some time
The full fat version of Opera has proved  popular on the Windows Mobile platform, offering server-side page compression for faster loading, and a ton of nifty features.
We're not sure it's any better than Android's WebKit-powered standard browser, but it's great to have the choice. As ever, iPhone users need not apply.