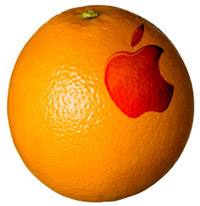 Orange UK customers clamouring to get their clammy mitts on an iPhone 3G or 3GS handset will soon be able to get one-on-one with the desirable little number, with the handset being offered from the 10th November.
Marking the end of a two- year exclusive deal with operator O2, Orange is set to offer the iconic phones on pay as you go, pay monthly and business contracts.
Customers going for the full  24 month contracts on £30 or £45/month tariffs will get the handset for nowt.
"Since we announced the iPhone on Orange we have already seen more than a quarter of a million customers register their interest on our website," purred Tom Alexander, head of Orange UK,  as he rubbed his hands in a gleeful manner.
Since launching on O2 in 2007, over a million iPhone handsets have been shifted in the UK, and Vodafone have also announced that they'll be joining the iPhone party ASAP, and is ready and willing to offer the handset on its network next year.