We feel kind of bad to be contributing to the endless iPhone hype here – it's just a ruddy phone FFS – but it seems there's enough folks out there interested, so here's the lowdown on Orange's new tariffs for the phone.
Anyone hoping for a razor-wielding price war to break out as the networks mercilessly slash their prices can iJog on: there's no particularly brilliant deals on offer here – in fact, Orange's offering is even worse than O2's in some regards.
24 month contracts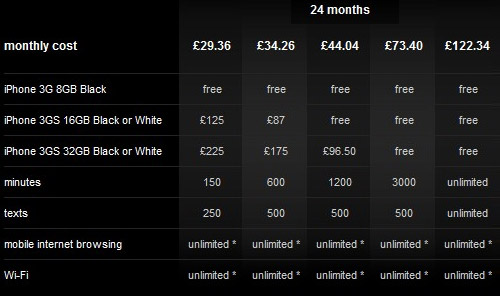 For folks willing to be tied and bound to a lengthy 24 month contract, an 8GB iPhone 3G is all yours for free if you commit to a minimum £29.36 tariff (equalling a £930 total ownership charge), whereas you'll have to step up to a ludicrously expensive £122.34 monthly deal to get the 32GB 3GS for nowt.
Well, we say 'nowt', but 24 months of forking out over a ton and a score every month will leave you nearly three grand down (£2,936) after two years!
18 month contracts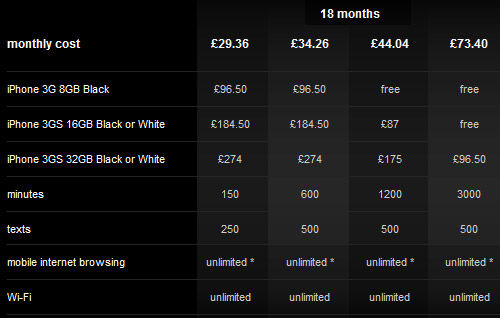 The shorter 18 month tariffs also make for painful reading, with the 32GB 3GS costing £274 on £29.36/month, adding up to £802 total ownership charges.
Users on the £73.40/month tariff are hit even harder, with the £96.50 cost of the handset adding up ao an almighty £1,417 total ownership charge.
'Unlimited', my arse
Heavy interwebbers and data users should focus their peepers swiftly on Orange's terms and conditions where it seems that their definition of 'unlimited' may be at odds with some people.
The company has imposed a 'fair usage policy' which restricts users to just  750MB / month with – no doubt – punitive excess charged waiting in the wings.
Pay as you go
If  'pay as you go' is your thing, the 8GB 3G will slap you down with a wallet-deflating £343, while the 32GB 3GS will set you back a positively ridiculous £539. That may look a better deal, but mobile browsing is restriced to a positively Dickensian 250MB, and that's just for the fiorst 12 months.