We've still no idea when it's heading to the UK yet, but PreCentral has posted up two video walkthoughs, showing the new Palm Pre 2 in action and its shiny new WebOS 2.0 operating system.
No minds blown
Demo'd on a pre-production version of the Pre 2 handset – with the hardware differences described as a 'nice improvement but not mind blowing' – the video shows off all the new features of the webOS.
We've always been big fans of the WebOS – as far as we're concerned it's still the finest multi-tasking mobile OS out there – and the update sees the ability to 'stack' similar app cards together, with an improved universal search feature letting users fire up relevant apps from within search.
The new Text Assist feature finally brings something approaching decent auto-correct typing to the Pre, along with handy customisable text snippet shortcuts.
There's also Flash support onboard, improved Synergy support and the ability to choose what app appears when the Pre is slapped on the Touchstone charger.
Speed improvements
Compared to the sludge-like movement of our original Palm Pre, the new handset and OS combo certainly look a lot nippier than its predecessors.
The folks at PreCentral were keen to see what speed improvements have been brought about by the upgraded 1Ghz CPU, and have created a video showing the Pre 2 flying along with over 50 cards open.
Check out the video below for all the excitement your little heart can stand:
'As good as Apple's iOS4'
Elsewhere,  Joshua Topolsky at Engadget has posted a glowing review of the WebOS, concluding that it's "probably neck and neck with iOS4 when it comes to polish and ease of use," adding, "This isn't just a good OS, it's a great OS."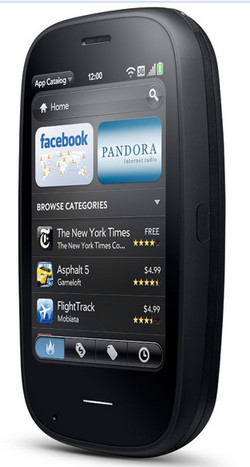 However, he contends that Palm really, really need to get some decent hardware out there now -something we totally agree with:
The Pre 2 is nice, but it's not cutting edge, and it doesn't hold a candle to the iPhone 4 or G2. If Palm wants to survive in this game — let alone truly compete — it needs to push killer hardware into the marketplace now.

The faithful are dwindling, and the smartphone race is getting more crowded every day — webOS 2.0 is a big improvement, but if this and the Pre 2 are Palm's hail mary, they just lost the game.
Palm Pre 2 specs
To wrap up, here's the standout specs for the new Pre 2 handsets:
1GHz CPU
3.1-inch 480×320 HVGA multi-touch display
5-megapixel camera with LED flash
Touch-panel-and-slide-out-QWERTY keyboard
Bluetooth 2.1,
16GB inbuilt storage space
3.5mm headset
5.5 hours continuous talk time
[Engadget]