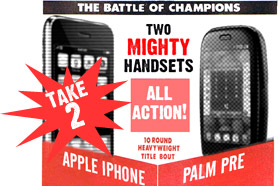 After some fierce fighting in the first five rounds of our titanic battle, the iPhone landed a few mean punches and edged ahead on points, but has it got what it takes to go the full distance?
Or will the Pre surprise the pundits and produce something spectacular in the closing five rounds?
Game on!
Round 6. Features & Accessories

This is another tough one. The basics are covered well – web browsing and email on both devices is superb, and there's a proper 3.5mm headphone sockets to be found on the Pre and iPhone.
Both have decent music and video players and can play back YouTube videos. The Pre is also expected to offer full Flash support soon which will offer a significant advantage over their Apple rival  (The iPhone is unlikely to see Flash any time soon as the company is notoriously sniffy about loosening their power-crazed grip on what is allowed on their device).
When it comes to accessories, there's an immense industry offering a cornucopia of iPhone cases, chargers, docks, widgets and whatnots in a multitude of colours and designs, but the Palm has what we think is a true killer add-on: the Touchstone.
This wireless charger is a fabulous innovation, and although only it's a small touch, going back to plugging in cables or hoisting handsets into cradles suddenly feels very 2008.
Back in the ring, the Pre gets one over the iPhone by having a built-in camera flash, a removable battery and a physical keyboard, but the iPhone hits back hard with video recording, a physically larger screen, more storage (16GB/32GB compared to the Pre's 8GB) and a digital compass.
Both phones have substantial strengths and weaknesses: the iPhone has so many third party apps that just about anything is possible, whereas the Pre's superb card-based multitasking  and Synergy contact management make it a better performer at everyday tasks, leaving this another tied draw.

Round 7. Keyboard
Although Apple have created the best onscreen keyboard we've ever used and backed it up with some very smart auto-correcting software, we still reckon that a proper hardware QWERTY keyboard makes for a more enjoyable experience than banging on unresponsive glass.
That said, the Pre's diminutive slide out keyboards lags behind what you'll find on emailing workhorses like the Blackberry Bold (or even the older Palm Treo 650), but it's still good enough to win the round.

Round 8. Battery life
Let's be honest: both offer pretty dreadful battery lives. We found the Pre to be marginally worse than the iPhone, but at least the Pre lets you change the battery yourself so you can carry around some cheap spares for emergencies. What's the point of having all this wonderful technology in your pocket, if the thing runs out of juice too quickly?
Frankly, it's a poor show from both devices, so we'll call it a dishonourable draw.

Round 9. Screen display
Both offer highly responsive, sharp and bright 480 x 320 pixel displays. There's newer, better OLED displays coming through -some offering much higher resolutions –  but both these screens are still excellent performers and perfect for browsing and reading email.
Although the iPhone's screen is physically larger, the Pre's smaller dimensions makes for a sharper display, so we can only declare this round a glorious draw

Round 10. Value for money
In the UK, o2 crazily priced the Palm Pre at the same rate as the iPhone 3GS – a phone that enjoys far more brand recognition and 'cool' kudos than the relatively unknown Palm. It was an insane decision that we think seriously held back Palm's chances of gaining traction in this lucrative market.
However, in the States, it's a different story, with the Pre being made available on a host of bargain basement deals across multiple carriers, some offering substantial overall cost discounts over the iPhone.
We reckon the iPhone represents slightly better value for UK users and the reverse is true for the States, leaving us with no choice but to make this round another draw.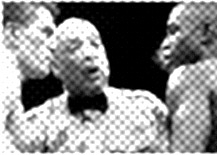 The judge's verdict:
It was an epic fight but neither contender had a big enough punch to blow away the other according to our judges, with the final score being 3 rounds to the iPhone, three rounds to the Palm Pre and the remaining four drawn.
That might make for a rubbish boxing match, but for consumers it's a win-win: both these handsets are superbly capable devices and, in our opinion, represent the best two smartphones available right now.
The iPhone offers a gloriously slick package that is an absolute cinch to use and is backed by thousands of apps to take on just about any task. There's untold accessories available for turning iPhones into an entertainment system, satnav gizmo, remote control and a host of other uses, and it's rapidly growing as a top notch gaming platform.
Funnily enough, the arguments for getting a Pre are almost the same as the ones given by Mac evangelists over PCs:  it may not be able to run as much software or have all the latest games but it offers what we reckon is the best mobile user interface available: and that counts for an awful lot – and when you find yourself in a long line of people all tapping away at their iPhone screens at least you'll be able to say to yourself that you are indeed the one "thinking differently!"
So there you have it: after a lengthy battle both phones have emerged victorious, and we'd be happy to own either. We don't expect everyone to agree with our findings though, so feel free to mail us your opinion below!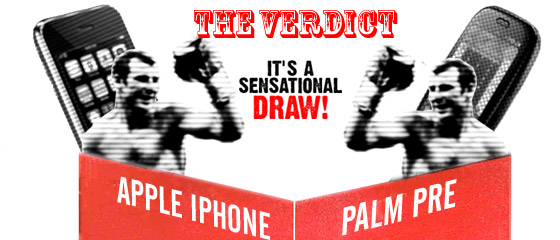 (See the first five rounds of the iPhone vs Pre battle here)