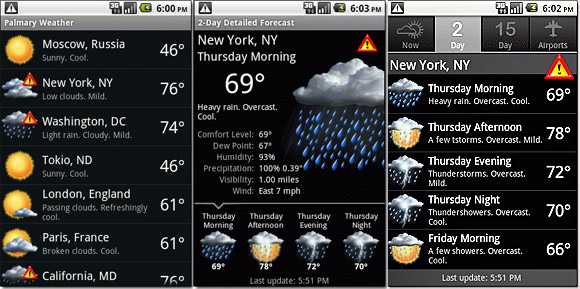 Whatever mobile platform you're using, you can be sure that there'll be no shortage of weather vying for your attention, most of them decidedly average.
A meteorological marvel
The Android platform has a particularly generous selection of apps, but there's only one that's tempted us to dip into our wallets: the Palmary Weather PRO.
Sporting a particularly delightful interface, Palmary serves up a feast of graphically rich screens, raining down just about every weather related statistic you could hope for.
Thousands of locations
With 68,000 world-wide  locations to choose from, you should have no problem finding an accurate forecast, with screens for current conditions, 12-hour hour-by-hour forecasts, 48-hour hour-by-hour forecasts, 48-hours detailed forecasts, 7-day expanded forecasts and 15-days forecasts.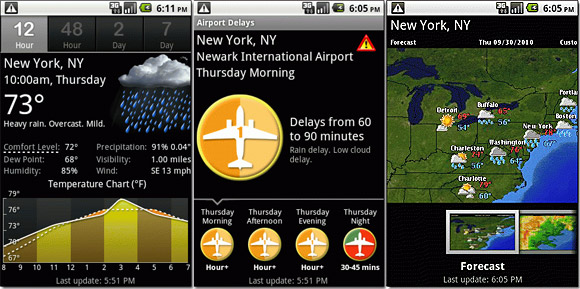 Charts galore
Onscreen charts display temperature, probability of precipitation, precipitation, wind and humidity information, with users able to select how often the app updates and pick their location by GPS.
There's also weather alerts, possible airport delays and a wide selection of weather satellite maps for your perusal.
A host of widgets are available, with status bar notifications keeping youi updated about temperature and weather alerts.
Multiple locations can be viewed at once, with a pleasing flip animation displayed as you swipe between forecasts and locations.
Verdict
We think that Palmary Weather PRO is the best weather app we've come across on the Android platform so far, and heartily recommend it.
The graphics are a treat to look at, the interface intuitive and fun, and there's a ton of information on tap.
Palmary Weather PRO for Android is available for $2.99 in the Android market or from Palmary's website.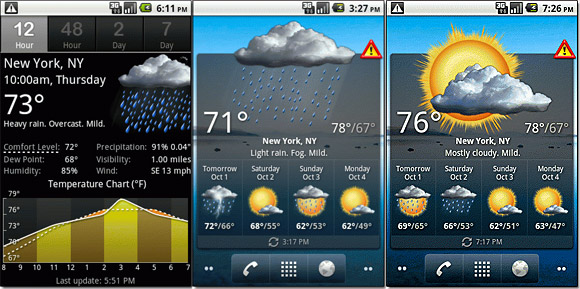 Features
AppWidgets
68000 locations all over the world
Current conditions
12-hour Hour-by-Hour forecast
48-hour Hour-by-Hour forecast
48-hours detailed forecast
7-day Expanded Forecast
15-days forecast
Forecast Charts: temperature, probability of precipitation, precipitation, wind, humidity
Airport delays
Weather alerts
Doppler radar map
Satellite map
Precipitation map
Visibility map
Min temperature map
Max temperature map
Temperature notification on status bar
Weather Alerts notification on status bar
Determining location by GPS
Automatically tracking current location using GPS