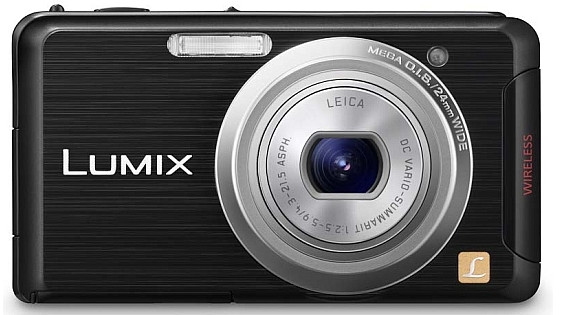 Panasonic has announced its new 12.1-megapixel DMC-FX90 touchscreen compact camera which comes with a wi-fi twist, letting users post photos directly to social networking sites – or upload them using their Android or iPhone phones.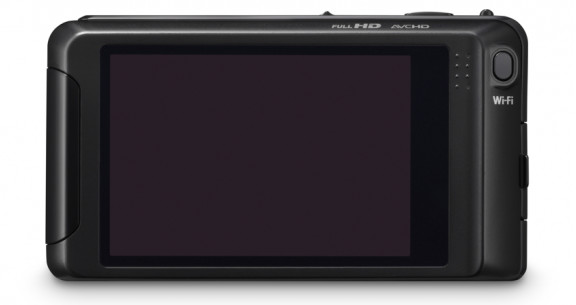 The Lumix DMC-FX90 comes a usefully wide LEICA DC VARIO-SUMMARIT 24-120mm equivalent lens, offering a maximum aperture of f/2.5 at the wide end and f/5.9 at full telephoto.
Also onboard is full HD movie recording, Face Recognition, Intelligent Scene Selector and a 3D photo mode, controlled by touchscreen operation
Connected
The camera comes with a dedicated wi-fi button letting users swiftly share their images online or back them up to their home computers.
The 802.11 b/g/n Wi-Fi connectivity lets users upload their images and videos directly to sites like Facebook, Flickr, Picasa or YouTube, while an intriguing Android and iPhone app called Lumix Link connects to the camera for quick uploading.
The Lumix FX90 will be available in October, with the all important pricing yet to be confirmed.
Panasonic Press Release

Panasonic's new DMC-FX90 with Wi-Fi® connectivity

Not one to rest on its laurels, Panasonic is pleased to announce the new stylish compact DMC-FX90 – that not only offers all the features Panasonic's FX range are well renowned for, but goes one step further by adding Wi-Fi® connectivity (802.11 b/g/n). With the FX90, users can share photos and videos with friends and family effortlessly. Encased within a slim and stylish profile the FX90 is the perfect camera for those on the go and those who enjoy sharing images daily.

Why Wi-Fi?
Taking photos and sharing these photos is an integral part of photography – now even more so thanks to the increased growth of social networking sites and global online image sharing. With this in mind, the DMC-FX90 integrates a Wi-Fi® connectivity (802.11 b/g/n) to encourage users to enjoy it with more ease. With its Wi-Fi capability, users can post images on their chosen image sharing service such as FacebookTM, FlickrTM, PicasaTM or YouTubeTM. Panasonic is also launching a new service called "LUMIX CLUB" for the users of DMC-FX90 (detailed information is available separately) to offer external site link function to easily support SNS posting using the DMC-FX90 without having to worry about complicated settings. Once registered with LUMIX CLUB on the camera, users can compile the log-in information for the social services in it. This means that they don't have to log in to each service separately but they can directly start the activity on the service immediately. It is even possible to share images on different social services simultaneously.

Perfect for the younger market, the FX90 makes uploading photos as quick as possible. When users are out and about they can upload images and videos instantly via the mobile network using a smartphone. Panasonic provides a free, dedicated application program "LUMIX LINK" for both iPhone® and Android™OS smartphones and all control is available with this program. Simply activate the application "LUMIX LINK" and log in "LUMIX CLUB" on the smartphone or on the PC browser, and users can upload the photos and videos they want in the camera anywhere via a mobile network without a need of finding a special access point. Simple! At home, users can directly upload the images to the image sharing service via the access point of the home router.

For instant access, a dedicated Wi-Fi button is provided. Just pressing it directly opens a Wi-Fi Connection mode outside home and gets WPS (Wi-Fi Protected Setup) connection at home. The Wi-Fi module is situated on the opposite side of the grip on the camera so as not to interfere with the connection signal.

Wi-Fi connectivity lets users share their photos instantly, straight from their camera. Users can even back up their images to their PC with the wireless connection – ensuring those special moments are safe and secure!

High Quality Lens
Behind the slim and stylish profile, the FX90 is packed full of technological features offering outstanding performance. The lens, for example, is a newly developed high quality LEICA DC VARIO-SUMMARIT lens that boasts excellent brightness of F2.5. The F2.5 lens is even brighter by approx. 25% than the F2.8 lens which is generally considered a bright lens. It allows the use of higher shutter speed but captures stunningly clear, sharp, blur-free images even in lower lighting situation. Together with the anti-blurring function in the iA mode, the DMC-FX90 powerfully suppress blur caused by the movement of subjects. Also, the 24mm (35mm camera equivalent: 24-120mm ) ultra-wide-angle lens – rare on a compact camera – gives photographers a wider range of composition possibilities with approx. 213% larger viewing space compared to that of 35mm camera. The super-high-quality LEICA DC VARIO-SUMMARIT lens minimizes distortion at the wide end.

Comprising of 7 elements in 6 groups with 3 aspherical lenses with 5 aspherical surfaces, the lens unit in DMC-FX90 realized downsizing of both total length and diameter to fit in the slim, compact body of the camera. It is made possible with its mechanism and the use of Extra High Index Low Dispersion Meniscus Aspherical Lens as thin as 0.3mm. Panasonic succeeded in developing the lens with high refractive index and low dispersion performance which results in the excellent colour reproduction and suppression of chromatic aberration.

This advanced lens unit passes Leica's stringent standards and delivers an exceptional optical performance with its minimal distortion and chromatic aberrations while suppressing ghosting and flaring.

Thanks to the Intelligent Resolution technology, the Intelligent Zoom is available with the DMC-FX90 which extends the zoom ratio by approx. 1.3x maintaining the picture quality even when using a digital zoom. This means the 5x optical can virtually extend to 6.5x equivalent – so you'll never miss that shot in the distance.

The Venus Engine
The advanced image processing LSI, the Venus Engine, assures high picture quality in both photo and video recording thanks to the exceptionally advanced signal processing capabilities. By separating chromatic noise from luminance noise and applying the optimal noise reduction to each, you can capture clear and beautiful images even when shooting at high ISO sensitivity levels
The Venus Engine also provides precisely selective noise reduction to the chromatic noise without affecting the border of colours which is judged from the brightness level of a pixel.

The Sonic Speed AF and a quick start-up time give the DMC-FX90 super high speed response that helps catch even the most fleeting photo opportunities.

Full HD Video
The 12.1-megapixel CCD with 2-channel signal output structure boasts higher signal transfer speed for the operations that require high performance and speed such as 1920 x1080 full HD video recording and high speed continuous shooting. The picture quality is also improved thanks to the approx. 25% higher sensitivity1 which is made possible by highly efficient light condensation adoption larger on-chip micro lenses.

The DMC-FX90 also has recording capability of AVCHD video even in 1,920 x 1,080 60i (NTSC, sensor output 30p) / 50i (PAL, sensor output 25p) full-HD despite its slim, stylish body. Alternately, videos can be recorded in MP4 format to play it back directly on the PC. The DMC-FX90 also boasts Dolby Digital Creator to record high quality audio.

Catering for all your imaging needs, popular features such as the iA (Intelligent Auto) mode – including AF Tracking and MEGA O.I.S (Optical Image Stabilizer), Face Detection, Intelligent Scene Selector and Intelligent Exposure are available in motion image. The 5x optical zoom is available in video recording too. A Wind Cut function is also available to block out most of the noise from background wind.

Control at Your Fingertips
With a Smart Touch operation, the FX90 is technically savvy. All control is possible by the touch operation – Touch AF, Touch Zoom or Touch Shutter – during recording and various playback functions. The functions and settings used most often, such as O.I.S., consecutive shooting, auto focus point, white balance setting, ISO sensitivity level, image size and LCD mode are quickly and easily accessed via the shortcut setting by just dragging the icon to the main menu area.

Taking advantage of the touch operation, various functions, such as Beauty Retouch, Aesthetic Retouch, Make-up Retouch and Art Retouch, are incorporated to add more fun to DMC-FX90. For example, in Aesthetic Retouch, various effects can be applied to the face including clearing the skin texture, lifting up the face, and whitening of teeth.

Full HD (1,920 x 1,080) videos are output by the image sensor at 30p (NTSC) / 25p (PAL), and recorded at 60i (NTSC) / 50i (PAL). HD (1,280 x 720) videos are output by the image sensor at 30p (NTSC) / 25p (PAL), and recorded at 60p (NTSC) / 50p (PAL).

The touch-screen operation excels not only for shooting but also for playing back images with outstanding visibility. You can play back the image you want out of hundreds of stocks by touching in the thumbnails. My Photo Album function lets users sort images in the separate folders allowing quick, direct playback of the images they want without searching a huge collection of photos. For example, you can sort photos into work photos and private photos. This is also convenient when transferring the images because you can just copy the target folder in a SD card to the PC without selecting the photos you need one by one.

The Intelligent LCD automatically adjusts the screen brightness in 11 steps as the surrounding brightness level changes, ensuring easy visibility at all times.

Seamlessly Simple Thanks to iA Mode
Panasonic incorporated the Intelligent Auto mode in pursuit of the ultimate ease of operation and the reduction of misshots. In the iA mode, the camera does all the work, leaving you free to compose shots and capture moments. Just press, aim and shoot.

For more effective countermeasure against blur, the FX90 includes Active Mode for an option of image stabilization in video recording. This mode is especially effective in active video recording at wide angle such as shooting while walking.

With the DMC-FX90, the Motion Deblur mode2 is incorporated to prevent blur due to the subject's
movement even more powerfully by setting the appropriate ISO setting and shutter speed automatically according to the subjects' motion. Combined with the outstanding brightness of the lens and the Active Mode, the DMC-FX90 thoroughly prevents any kind of blur – whether caused by handshake or the subject's motion, whether in photo or video recording.

Additional features also include the Face Recognition function, which remembers registered faces to give an appropriate AF/AE on the people while removing the unwanted red-eye. The Intelligent Scene Selector automatically selects whichever of 6 Scene modes – Macro, Portrait, Scenery, Night Portrait, Night Scenery and Sunset – that best suit the shooting situation. In addition, the Intelligent Resolution technology is always activated in the iA mode which results in the clearer and higher picture quality in every photo and video with extended zoom range equivalent to 6.5x optical zoom by the Intelligent Zoom.

Once you enter the iA mode, these functions happen automatically together with other powerful shooting-assist functions – AF Tracking, Intelligent ISO Control and Intelligent Exposure – so you can shoot without the bother of adjusting settings every time conditions change. You can enjoy easy, trouble-free shooting in any situation and get the satisfaction that comes with capturing clear, beautiful images.

The 3D Photo Mode
The DMC-FX90 features the new 3D Photo mode3, which produces a 3D image in the camera. Take 20 panning shots and the camera automatically selects two most suitable images – one for the right eye and one for the left eye – to synthesize a 3D composite. The 3D image can be viewed on a VIERA HDTV. The format of 3D image is compatible with MPO which can be played back on other MPO-compatible equipment such as TV, Digital Photo Frame or Printing.

Packed full of features, yet remaining easy to use and looking super stylish – the FX90 has all angles covered. The perfect party accompaniment, the FX90 makes sharing images easy and will be available from October.