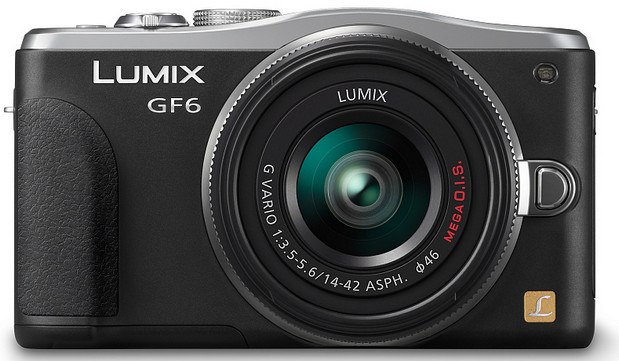 Panasonic has thrown down its new Lumix GF6 Micro Four Thirds camera, packing a 16-megapixel sensor with a 180° tilting touchscreen.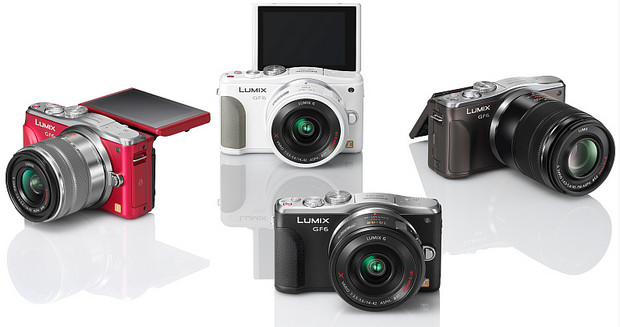 Other headline features include built-in Wi-Fi and NFC support, and the latest-generation Venus image processing engine promising improved noise filtering and dynamic range utilisation.
The Lumix GF6 's swivel-tastic rear screen can be rotated approximately 180° – so you can use it for self portraits – and it stuffs in no less than 1,040,000 pixels and enhanced visibility in sunlight.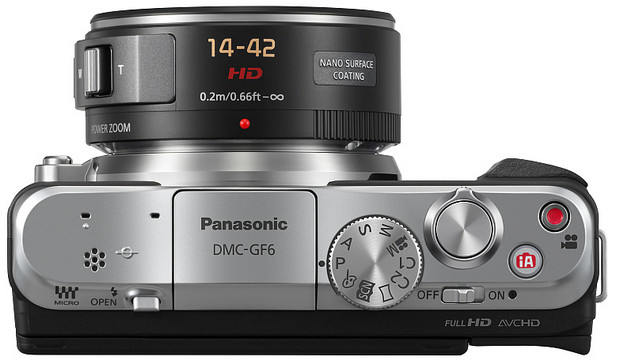 Full HD video recording is also on board, plus a ton of 'Creative Control' features with 19 filters offering effects like Old Days, Sunshine, Bleach Bypass, Toy Pop, Fantasy, Expressive, Retro, High Key, Sepia, High Dynamic, Soft Focus, Dynamic Monochrome, Impressive Art, One Point Color, Cross Process, Low Key, Toy Effect and Star Filter and the now well-overused Miniature Effect.
Available from the end of May, the GF6 will set you back £499 with the 14-42mm II lens and £649 in a double-zoom kit with the 45-150mm Mega O.I.S.
Here's a hands on early review by the folks at What Digital Camera:
Panasonic Press Release
Panasonic Launches Stylish LUMIX GF6 for Capturing Day-to-Day Photographs in High Quality

DIS, Vienna 9th April 2013 – Panasonic's new Digital Single Lens Mirrorless LUMIX DMC-GF6 is the latest camera to join the compact series of Panasonic's LUMIX G category.

The camera boasts a new Live MOS Sensor, newly developed Venus Engine and high precision, 'Light Speed AF' which all contribute to excellent image quality for photographers used to taking creative images with their smartphones but who are looking for a much more sophisticated and professional result by being able to have more control over manual settings such as aperture, shutter speed or lens selection.

With 19 filter effects the DMC-GF6 is not just an interchangeable camera but a creative tool for any user looking to explore and change their photography habits from an amateur point-and-shoot photographer to a step-up user looking to take their photography more seriously.  Wi-Fi connectivity and NFC (Near Field Communication) make it easier than ever to remotely shoot from a tablet or smartphone, transfer images and share their pictures with friends, family and the online world.

Furthermore the DMC-GF6 has a dedicated video record button on the top so you can record full-HD video (1920×1080, 50i) in AVCHD with stereo sound. Contrary to its stylish appearance the camera is robust with a built-in flash (GN6.3 ISO160・m / GN5.0 ISO100・m), has a 3.0 inch, approx. 180 degree tiltable monitor and comes with a fashionable black or white body.

True Picture Quality with New 16.00 Megapixel Live MOS Sensor and Venus Engine

The new Live MOS Sensor enables high resolution and high sensitivity image recording while minimizing the generation of noise. The Venus Engine image processor is also newly developed to feature its advanced noise reduction systems.  The controllable area of noise has been expanded by approx.64x in size. This makes it possible to remove large block of noise which were formally hard to detect and helps produce clear, smooth image especially for night time scenery.  The combination of the new Live MOS Sensor and the Venus Engine achieve ISO3200 (Auto) and max. ISO 25600 (Extended).

An Advanced Photographic Tool for Creative Users

With its wide variety of shooting options such as 'Self Shot' mode; 'Creative Control' providing 19 filters; and Stop Motion Animation function the DMC-GF6 is not just a high quality camera.

Users can shoot their own portraits by stretching an arm to hold the camera with the monitor flipped approx.180 degrees vertically allowing them to fit perfectly into the frame.

The popular 'Creative Control' mode has been upgraded by increasing the number of filters from the 14 of the DMC-GF5 to 19 for the DMC-GF6, adding new Old Days, Sunshine*, Bleach Bypass, Toy Pop, Fantasy in addition to the conventional Expressive, Retro, High Key, Sepia, High Dynamic, Soft Focus*, Dynamic Monochrome, Impressive Art, One Point Color, Cross Process, Low Key, Toy Effect and Star Filter* and Miniature Effect** mode1. A number of these filters can also be applied on the self-portrait taken in 'Self Shot' mode.

Cablefree Connectivity with Wi-Fi and NFC

For the first time integrated Wi-Fi and NFC connectivity offer a more flexible shooting experience and easy image sharing from an interchangeable lens camera.  After the initial setup, tablets and smartphones for remote shooting can be connected with a simple touch without having to re-enter authorisation details every time.

Evolving LUMIX G AF System Speed and Accuracy

All cameras in the LUMIX G category feature Contrast AF for their focus system. Compared with the Phase difference AF system, the Contrast AF boasts higher accuracy especially in shooting with a bright lens and small 'F' (focal ratio) value.

Light Speed AF makes it possible to capture fast-moving subjects clearly. Additionally, AF Tracking enables consecutive shooting to capture moving subject in sharp focus.