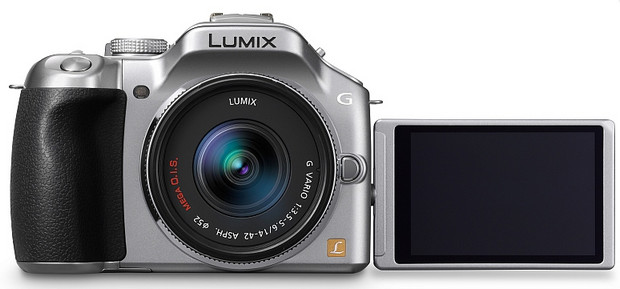 Following on from the announcement of their new Lumix LX7 compact, Panasonic have swished up the details of their Micro Four Thirds compact system camera, the Panasonic G5.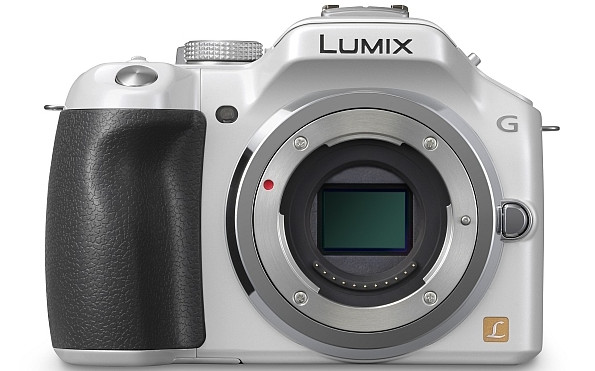 A slightly chunky affair compared to the old school lines of its upmarket rival, the Olympus OM-D, the G5 packs a newly developed 16-megapixel sensor and an ISO range of 160 – 12,800.
Around the back can be found a versatile free-angle 3-inch LCD screen, while the camera struts its stuff with a redesigned grip and integrated electronic viewfinder.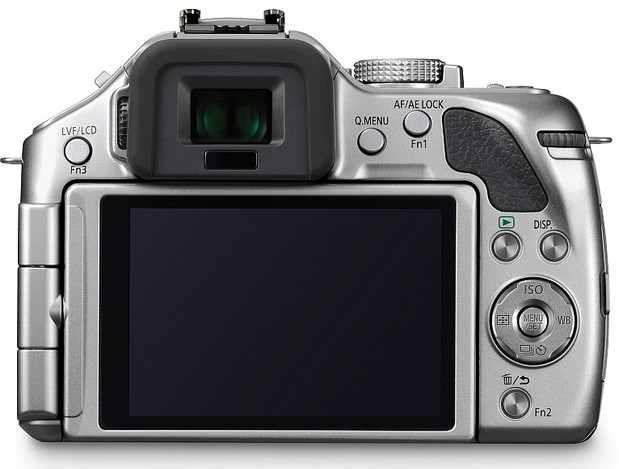 It's a bit of a speed demon too, capable of rattling off full-resolution stills at up to 6 frames per second (fps), with a 20fps burst mode on hand, albeit at a reduced resolution setting.
The camera can record videos in Full HD 1080/50p, and save them to AVCHD Progressive and MP4 formats, while there's an eye proximity sensor for switching EVF/LCD displays.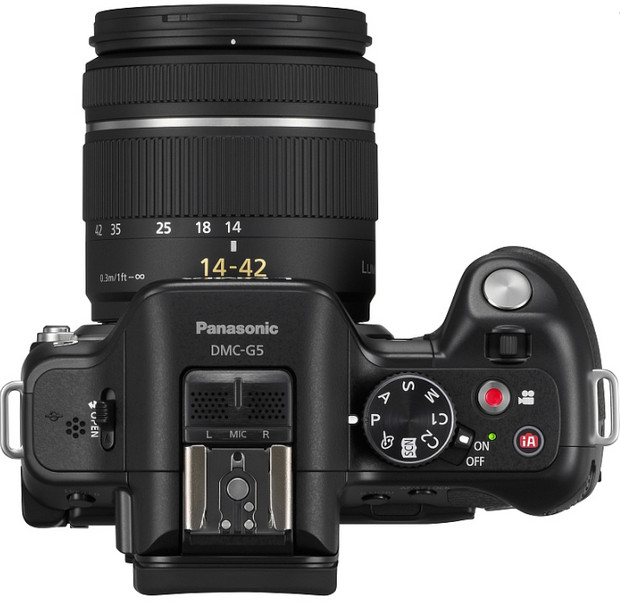 There's also an iA+ (Intelligent Auto Plus) mode onboard, plus one touch Auto Focus, Face Recognition, Intelligent Scene Selector and a new Function Lever allowing users to "intuitively control power zoom lenses; zoom into an image when in playback mode; and navigate the user interface."
The Lumix G5 camera will be made available from mid-August for £599 (body only), or £699 with the 14-42mm Mega O.I.S. lens, £829 with the 14-42mm X power zoom and £879 with the 45-150mm telezoom).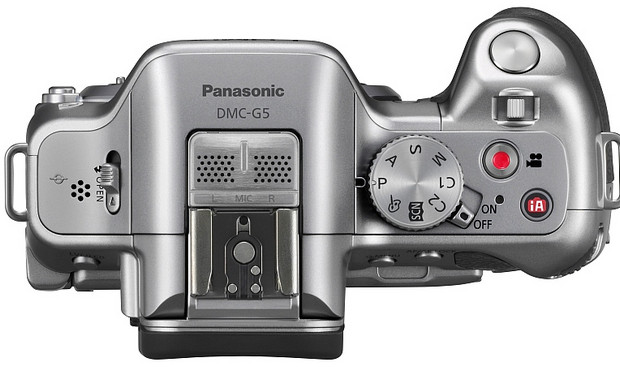 Panasonic Press Release
The Panasonic LUMIX G5: Setting a new standard in Digital Single Lens Mirrorless Cameras

New 16M digital Live MOS sensor & Venus Engine 7 FHD provide superb pictures quality for photo and video taking especially in low light situations

Budapest, Hungary – Panasonic has today launched the LUMIX G5, a truly revolutionary digital single lens mirrorless camera. Offering outstanding image quality delivered by state-of-the-art technology, full creative control, and a wide range of shooting options provided by the LUMIX G system, the LUMIX G5 will help you take your photography to the next level.

Setting a new standard in system camera image quality
The LUMIX G5 demonstrates the true potential of Mirrorless System Camera image quality. The newly designed 16.05-megapixel Live MOS Micro Four Thirds Sensor means images will be cleaner and freer of noise than ever, while the incredible processing power of Venus Engine VII FHD maximises the potential of your images and videos. With the perfect balance between the sensor and image processer, the LUMIX G5 provides an ISO range of 160 – 12,800, allowing stunning image quality even in low-light situations.

Boasting a high speed AF system "Light Speed AF", you'll never miss the perfect moment with the LUMIX G5. A wide range of AF modes are available, including multiple-area AF, Face Detection, and AF Tracking meaning the LUMIX G5 can lock onto any subject and keep it in focus even if it moves. Additionally, the LUMIX G5's rapid burst shooting capability – at six Frames per Second (FPS) at full resolution or up to 20 FPS in reduced resolution – can capture multiple shots of fast-moving subjects with stunning clarity.

The quality advances of the LUMIX G5 are not restricted to still photos. The sensor and Venus Engine enhancements mean that the camera can record in Full HD 1080/50p, with stereo sound, producing professional movie quality with minimal noise. With outputs in both AVCHD progressive and MP4, the LUMIX G5 provides wide compression and compatibility options. The long recording times, instant access controls, advanced AF system and LUMIX G lenses specifically designed for movie shooting, means the LUMIX G5 is the perfect option for capturing beautiful movies with ease.

Putting you in control of your creative photography
The LUMIX G5 provides high precision digital processing functions in a compact, classically designed and easy-to-grip chassis. Its intuitive automatic shooting modes, full range of advanced features, and innovative user interface give you the power to maximise your creativity.

With a choice of using either the Electronic Viewfinder (EVF) with eye sensor, or the high resolution, 3.0-inch free-angle LCD to compose your shots and movies, you can capture the moment as the situation demands. Meanwhile, the revolutionary touch control shooting – including full-area touch focusing where the focus can be set immediately to the subject, or to the background, by just one touch of the large LCD screen even when using the EVF – gives you the control to compose and create stunning images.

Be part of the LUMIX G microsystem
Sebastian Drawert, Product Marketing Manager, for LUMIX at Panasonic Consumer Marketing Europe says: "Since 2008 – when we became the first to launch a digital mirrorless interchangeable-lens camera in the Micro Four Thirds format – our LUMIX G ecosystem has been at the forefront of this revolution in the digital imaging market. The LUMIX G5 is a another significant step forward, firmly establishing digital single lens mirrorless cameras as the optimum choice for high quality, intuitive and creative interchangeable lens photography. Offering an exceptional range of features and stunning image quality packed into a classic camera design, we're proud to launch the LUMIX G5."

As part of the LUMIX G system, the LUMIX G5 will provide you with access to the world's largest range of Micro Four Thirds lenses and accessories, making sure you have the right set-up to capture every moment. These include Panasonic's new LUMIX G X VARIO 12-35mm lens, offering F2.8 brightness throughout its entire zoom range.

Key Features

A new standard in digital single lens mirrorless camera image quality: With a new 16.05-megapixel Live MOS sensor; the Venus Engine VII FHD image processor; and an ISO range of up to 12,800, the LUMIX G5 provides stunning image quality, even in low-light situations.

Never miss the perfect moment: With highly precise, light speed Auto Focus and six FPS burst shooting at full resolution, you'll never miss the perfect shot
Capture your memories with Full HD Movie capability: The LUMIX G5 offers Full HD recording in full stereo in both AVCHD (1080p at 50 FPS) and MP4 (1080p at 25 FPS) formats – widening your editing and storage management options

Creative control: The LUMIX G5 lets you capture great photos from the very first shot with iA+ (Intelligent Auto Plus) mode. Auto Focus can be set with one touch, Face Recognition will remember the settings for your friends and Intelligent Scene Selector will automatically switch to the appropriate mode according to the subject touched. New features on the camera, such as the Function Lever allow you to intuitively control power zoom lenses; zoom into an image when in playback mode; and navigate the user interface

You choose how to shoot: With the in-built Electronic Viewfinder you can frame the perfect portrait with your eye close to the camera, while the 3.0-inch free-angle touch LCD screen means you can take shots from above your head and below your feet with perfect clarity

Classic design: Compact, easy-to-grip and with a classic design, the LUMIX G5 is designed to be your companion on all of your photographic adventures