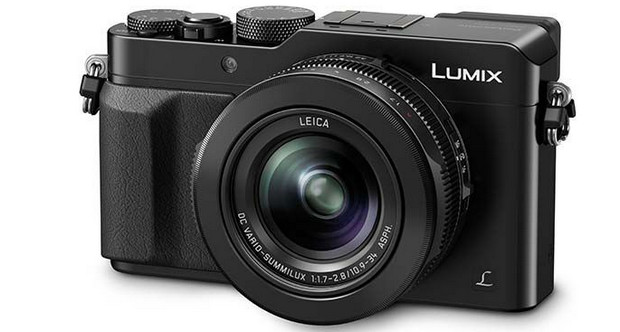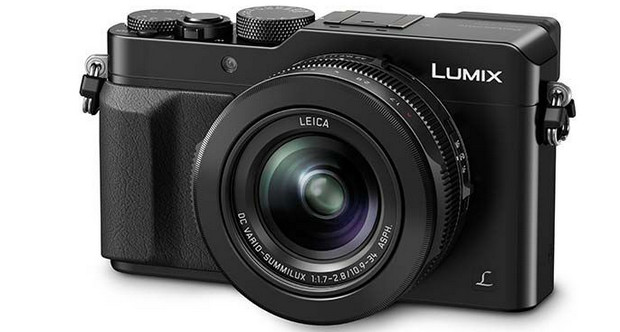 Panasonic have announced their flagship premium compact camera, the LUMIX LX100, which packs a 16MP Micro Four Thirds 4/3-inch MOS sensor and fast zoom lens.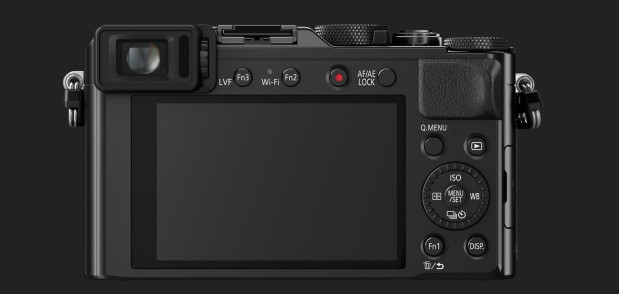 Unusually, the camera comes with a fixed lens in the shape of a speedy 24-75mm F1.7-F2.8 Leica lens, backed by video recording in 4K,  and a live View Finder (LVF) with 2764K-dot equivalent high resolution.
Sadly, the fixed 3″ rear LCD isn't touch sensitive, which seems something of a crazy omission to us,
Capable of high speed burst shooting at a super nippy 11 fps, the LX100 also boasts integrated Wi-Fi and NFC connectivity and comes in a very pleasing retro styled package.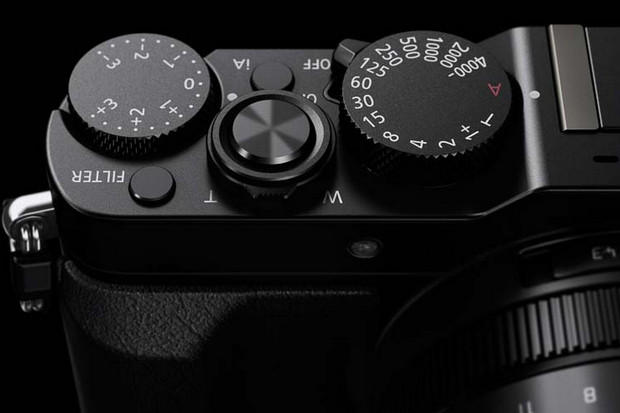 We love the shutter speed and exposure compensation dials on the top plate and the aperture dial around the lens, although the 115 x 66 x 55 mm (4.53 x 2.6 x 2.17″) dimensions mean that this isn't really a pocketable camera (and it's a fair bit bigger than its rival, the Sony RX100 II).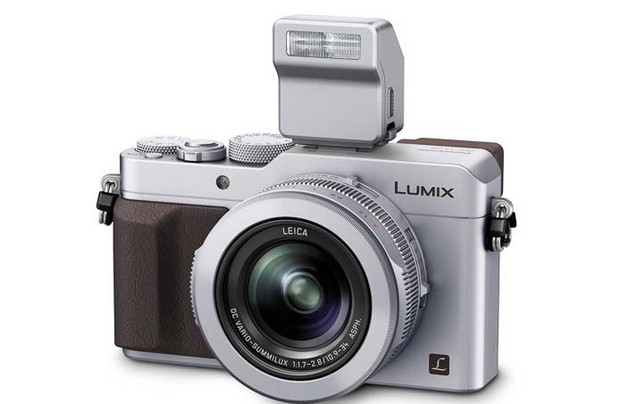 Priced at £799 , the Lumix LX100 is hundreds of pounds less than the Fujifilm X100S – and it comes with the benefit of a fast zoom lens too – but the LX100 loses its good looks when the lens is extended.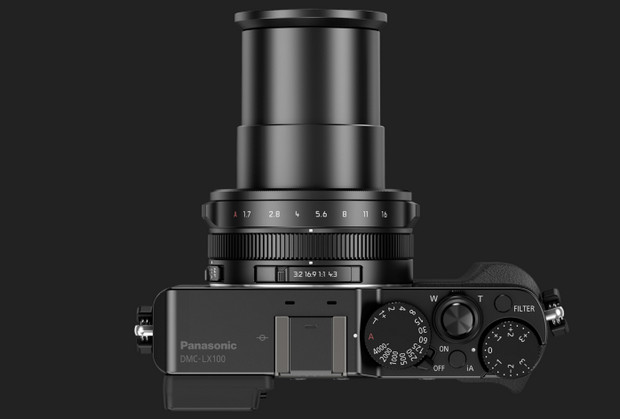 Panasonic LX100 key features
16MP Four Thirds CMOS sensor (Up to 12.7MP used)
24-75mm equiv. F1.7-2.8 lens
Multi-aspect feature maintains diagonal angle-of-view at 4:3, 3:2, and 16:9
Venus Engine from DMC-GH4 and DMC-FZ1000
XGA-resolution electronic viewfinder (1024 x768 pixels)
Aperture and control dials around lens, shutter speed dial on top plate
3″ 921k dot LCD
11 fps continuous shooting (6.5 with C-AF)
4K video recording at 30p, Full HD at 60p
In-camera Raw conversion
Wi-Fi with NFC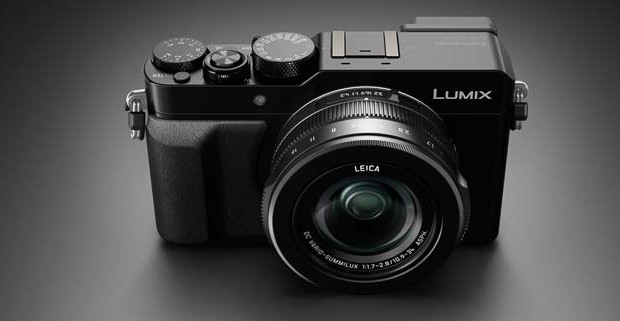 Here's the full Panasonic UK Press Release – more details on their web site.
Panasonic Unveils the LUMIX DMC-LX100, Setting a New standard In Compact Camera Picture Quality

15 September 2014 – Panasonic is today launching the LUMIX DMC-LX100, its new flagship premium compact camera which sets a new standard for fixed lens photography and videography. Combining Panasonic's state-of-the-art digital and optical technologies with advanced manual controls, the camera has been engineered to help you push the boundaries of your photographic creativity.

The LUMIX LX100 is the 6th generation of Panasonic's world-renowned LX high-end compact camera series, and inherits the DNA of the LUMIX LC1 – Panasonic's first fully manual compact camera released in 2004. Featuring a 4/3-inch large High Sensitivity MOS Sensor – more than five times larger than the sensor in the LUMIX LX7 – the LUMIX LX100 boasts image quality you would expect from an interchangeable lens camera.

The new Micro Four Thirds standard in compact camera picture quality

With a 4/3-inch high sensitivity MOS sensor, in combination with a newly developed Venus Engine, the LUMIX LX100 provides superb image quality, whatever the situation. The large sensor means you can achieve superb shallow depth of field shots, and the sensor's excellent signal-to-noise ratio results in a dramatic reduction in noise when shooting at high ISO levels.

The newly developed Venus Engine features a quad-core CPU, boosting performance and enabling the high speed signal processing required for rich video recording in 4K. The new Venus Engine has also been developed to feature multiple noise reduction systems such as Multi Process NR, Random Filter and Aperture Filter ensuring the most natural images, even in extreme low-light.

Bright, high quality LEICA lens for outstanding image clarity

The LUMIX LX100 incorporates Panasonic's newly developed LEICA DC VARIO-SUMMILUX F1.7-F2.8 lens, which allows you to achieve stunning, true-to-life images with outstanding crispness and clarity.

The lens' versatile zoom range of 24-75mm (35mm camera equivalent) is suitable for all kinds of shooting, from street photography to portraits, while landscapes can be captured in dynamic 24mm wide angle in 4:3, 3:2 or 16:9, thanks to the multi-aspect sensor.

The control to maximise your photographic potential

Featuring a wide variety of advanced functions and controls, the LUMIX LX100 has been designed to spur the potential of advanced enthusiasts and seasoned photographers alike. With an integrated Live View Finder (LVF) with 2764K-dot equivalent high resolution, you can have full control over the framing, composition and being able to handle extreme lighting whatever the environment.

The camera also provides superb manual controls so that you can truly hone your photography skills, including dedicated physical rings and dials such as an aperture ring, a control ring, a shutter speed dial and an exposure compensation dial.  The use of physical dials means that you have direct access to settings which can be changed quickly without having to go through a digital menu.

Never miss a moment, wherever you are

Incorporating Panasonic's Depth From Defocus (DFD) technology, the LUMIX LX100's Light Speed Auto Focus (AF) is capable of incredible accuracy and speed. With high speed burst shooting at 11 fps in full resolution, combined with the LUMIX LX100's short release time lag and quick start-up time, you'll never miss those special moments.

The LUMIX LX100 also comes with new focus options to give you more control than ever. The Full Area AF allows you to set the focus on any part of the approximate 100% field of view, while the focus detect area has increased to 49 zones for the most flexible composition possibilities. With Low Light AF, auto focus works in -3EV light situations, so you can achieve perfect focus even when the stars are your only light source.

4K videography in the palm of your hand

A combination of the LUMIX LX100's large sensor and powerful Venus Engine means it is capable of stunning 4K video recording, allowing you to shoot realistic cinematic worlds, full of detail and true colour. The camera offers smooth, high quality video recording in 4K 3840×2160 at 30/25 fps in MP4; as well as high-resolution Full HD 1,920 x 1,080 50p videos in AVCHD Progressive (MPEG-4 / H.264) format. A dedicated button on the top of the camera's body lets you instantly start recording videos while shooting photos, meaning you can always capture the moment as it happens. The LX100 also offers '4KPhoto mode' which allows users to easily capture a still image from 4K video footage shot on the camera – meaning you'll never miss that split second action again.

The LX100 is an addition to Panasonic's a growing range of 4K imaging products which already includes Lumix GH4 and FZ1000 cameras and the A500 Action Camera.

Creative control

In addition to manual controls that enable you to achieve the most flexible and versatile photography, the LUMIX LX100 also features a range of other functions and modes to widen your creative freedom, including Creative Control; Creative Panorama; Focus Peaking; Level Gauge; WB (white balance) bracket; highlight/shadow control; as well as integrated Wi-Fi and NFC connectivity.