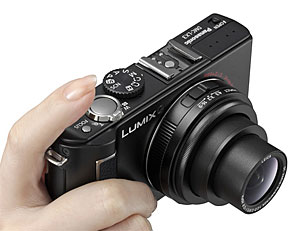 Panasonic's flagship digital compact for mustard-keen photographers and compulsive shutter clickers, the Lumix DMC-LX3 offers up a tempting package.
First reviewed back in February 2009, we're still using the camera every day and it remains our first choice recommendation for any photo enthusiast looking for a fast and compact street-shooter.
The basics
Lurking within the LX3's bijou lines is an 10.1 Megapixel resolution sensor, flash hotshoe, full auto and manual controls and an optically stabilised, bright 2.5x optical wide angle zoom with the drool-inducing LEICA name.
The LX3 improves on its predecessor by extending the focal coverage to an impressively wide 24mm coverage, giving the lens a zoom range of 24mm-60mm – not particularly good for twitchers, sports aficionados and fans of Small Things That Shuffle Around Miles From The Camera, but great for street shooters and landscape photographers.
The lens is pleasingly fast too, boasting a bright maximum aperture of f2.0-2.8, giving it at least a stop advantage over most of its rivals and delivering improved performance in low light.
The Lumix LX3 packs a mighty array of manual controls, offering full control over aperture, shutter and focus settings, backed by RAW shooting and HD movie recording in the 720p format.

The 3 inch 460k LCD screen has been beefed up to a 460k (480×320 pixels) jobbie in a 3:2 ratio, which means it can display the results of the camera's 4:3, 3:3 or 16:9 shooting modes.
With HD movie recording and RAW recording also board, the LX3 looks to be one of the highest spec'd machines on the market.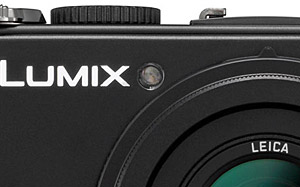 Look and feel
We spent an age weighing up the pros and cons of various high end compacts, finally identifying the LX3's biggest rival as the hugely capable Canon G10 (and now the G11).
In the end, the size advantage of the LX3 proved too compelling, with the Lumix measuring 109 x 60 x 27mm compared to the G10s pocket-busting 109 x 78 x 46mm. It weighs in substantially lighter too, at 265g compared to its rivals 350g.
Fab looks
Most of all, it looks fantastic, with its retro lines, street shooter looks, traditional mode dial and sleek black and silver trimmed lines exuding quality and professionalism.
The camera screams, 'pick me up and get snapping,' and it's easy to keep a hold of, with a raised vertical strip underneath the shutter release offering a comfortable grip, with some raised dots on the back giving some extra purchase.
The camera feels solid and very well built and looks like it might take a few knocks, although we found the top mode selector dial a little plasticky for our tastes and a bit too easy to knock out of position.
The lens barrel continues the trend first seen in the LX1 and includes a switch to adjust the aspect ratio between 4:3, 3:2 and 16:9, while another switch sets the focusing mode between AF (normal range), AF (Macro range) and Manual focus. We found the latter far more useful.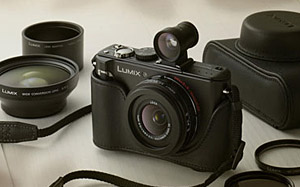 Along the top plate is the aforementioned mode dial, hotshoe and a large silver shutter release surrounded by the rocker zoom. There's also a handy button for auto focusing the lens in manual mode and and on/off slider switch which might be a tad difficult to operate if you've fingers like Bernard Matthews' finest.
The same applies to the wee flash slider switch on the opposite end of the top plate is the pop up flash, although our delicate digits had no problems.
The mode dial offers full Program, Manual, Aperture and Shutter Priority modes, plus a setting for Panasonic's impressive Intelligent Auto mode, plus two Custom settings, Movie Mode and a SCN option for accessing the various scene presets via an on-screen menu.
Joystick joy
The rear of the camera is dominated by the big widescreen LCD, with all the controls shunted to the right. From the top, there's a switch for camera/viewing, an AE/AF lock and Panasonic's natty wee joystick.
Push it in and you'll get the Quick menu superimposed over the top of the screen, letting you quickly access functions depending on the shooting mode.
For example, in Aperture or Shutter Priority modes, you can swiftly adjust the aperture and shutter settings respectively, with both parameters also being adjustable in full manual mode.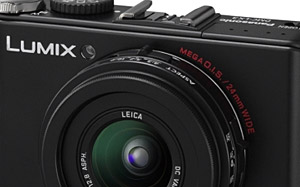 Although some may find the joystick a little fiddly, we found it fairly fast and intuitive to use. Coal miners with shovel hands and heavyweight boxers may need to apply elsewhere, however.
Underneath the joystick is the four way controller for setting the self timer, flash mode and exposure compensation, with options to configure the down button to either review the last photo taken, adjust the film mode, sensitivity, white balance, metering, AF or Intelligent Exposure mode.
An OK button sits in the middle, with a toggle display button and continuous shooting mode/delete button to the right.
The up button is particularly effective at quickly adjusting exposure compensation, and it has a twist too: press it twice and you get Auto Bracketing controls and press it again and you can access Flash Compensation settings, with parameters altered either by using the left/right buttons below, or via the joystick. OK, that's not a twist but a push but you get what we mean.
Connections
The DMC-LX3 has a small door on the right side of the body which accommodates a DC-input, a combined USB/AV port, and a component output for the optional DMW-HDC2 cable.
This lets the camera output a 1080i signal for HDTVs (with HD movies scaled from their native 720p).
Under the camera there's a single door holding the 1150mAh Lithium Ion battery pack and SD memory card slot. We found battery life to be pretty good, and still had juice left after 250 shots.
Conveniently, the battery is exactly the same as the one fitted to our Ricoh GR and GX200 cameras, so – for once – we didn't have to go out and buy more back up batteries.
Lens cap pain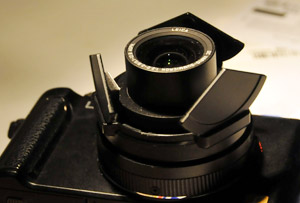 One major irritation with the LX3 is need for a removable lens cap – something we really hate.
It's easy to miss a critical moment when you're fumbling about trying to get the lens cap off, and the lens is too vulnerable to leave it off.
This eaves you with two choices: either attach it with a bit of string and have the cap flapping about when you're snapping or keep it unattached and risk losing it.
Happily, Ricoh came to the rescue again here, with a little bodge letting us wedge in their fantastic 'exploding' LC1 lens cap that automatically opens up when the lens is extended. It doesn't look like it will work – but it does a great job!
Flash
Activated via a small switch on the top plate and standing taller than some of its rivals, the LX3's small built-in flash offers Auto, Auto with red-eye reduction, Forced on and Slow sync with red-eye reduction in auto mode.
Flash compensation can be selected via the up button, and there's also an option to set up rear-curtain sync for some arty effects.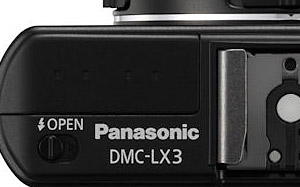 Like all decent prosumer compacts, there's a hotshoe onboard which can take the optional DMW-FL360 or DMW-FL500 flashguns, although they're disappointingly priced.
The DMW-FL360 starts at around a hefty £170 and the DMW-FL500 positively attacks your wallet at around £320. It's a real shame Panasonic don't supply a cheaper and more compact external flash gun for the LX3 as both of these will dwarf the camera and make it uncomfortably top heavy. Sort it out, Panasonic!
Exposure options
In line with its enthusiast/pro leanings, the LX3 packs in a host of exposure options, giving users complete control via Manual, Aperture or Shutter Priority modes, with the maximum f2.0 aperture usable all the way up to 1/2000.
The joystick can be used to quickly make adjustments in Aperture or Shutter Priority modes, with pushes in different directions letting you alter exposure settings on the fly. It's a little fiddly at first, but we got the hang of it pretty quick.
Night photographers are particularly well served by the LX3 with a gloom-illuminating maximum exposure time of 8 seconds in Aperture or Shutter Priority, and a mighty 60 seconds in Manual or the Starry Sky preset.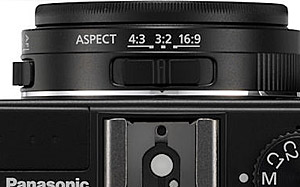 When it comes to scene presets, the Lumix covers just about everything short of Biblical conditions and alien invasions, with a choice of no less than 24 options of varying usefulness (we don't think we'll be needing the Food, Party, Candle Light, Baby1 and Baby2 presets any time soon), but the real star of the show is the Lumix's superb Intelligent Auto (iA) mode.
Intelligent Auto (iA)
This employs a heady mix of Intelligent Scene Detection, Intelligent ISO and Intelligent Exposure to work out what kind of scene it's looking at, and then sets the exposure accordingly.
The mode icon in the top corner changes to reflect the calculated scene and we found this was unnervingly accurate – at a fireworks show, we pointed it at the night sky and it switched to 'starry night' – but as soon as a few rockets went off, it changed to 'fireworks' mode. Very neat.
The Intelligent Auto mode can also call upon Optical Image Stabiliser, face detection, quick AF and digital red-eye correction too and we found it worked superbly well and is probably the smartest automatic mode we've ever tested.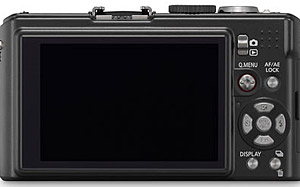 Image quality
We were extremely pleased with the quality of the photos taken on the LX3. We found the Intelligent Auto mode to be so, well, intelligent, that we grew increasingly confident in its ability to handle tricky lighting situations that we left it switched on for a lot of our shooting.
Photographs were bright, crisp, well exposed displaying above average dynamic range with excellent colour reproduction. Any suspicion of a slight softness in some images was easily remedied in Photoshop.
Noise was a vast improvement on previous LX models, with images noise-free at ISO 80, 100 and 200, and only starting to creep in at ISO 400.
At ISO 800 things got a bit noisier with some loss of fine detail – especially in shadow areas – although still usable for smaller prints. Into the heady heights of ISO 16000 and 3200 things got as noisy as you might expect, with image quality suffering major deterioration.
There is also an optional High Sensitivity mode that goes up to Alpine peaks of ISO 6400, but that's really unusable unless you're outputting to a postage stamp print.
Although some may find the reds and oranges a bit on the bright side, there was virtually no sign of chromatic aberration or purple fringing and the white balance was accurate throughout (and easily adjustable).
The 720p HD video recording is a nice touch for a camera so small, and the results were rather impressive, although it'll never replace a proper camcorder.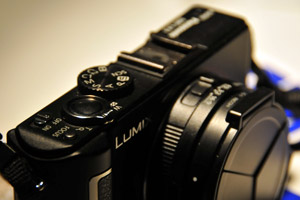 Conclusion
We'll come straight out and say it: we loved this camera. For serious photographers, the feature list is nigh on perfect with lots of manual and creative controls, good ergonomics, a sensible megapixel count, RAW file support and a superfast lens with a useful wide angle range.
Although the 24-60mm zoom range may be restricting for some, we found it to be a decent compromise for the quality of the lens on offer, providing a perfectly usable range for street snappers and everyday shooting.
The new 10 megapixel sensor was a big improvement on other Panasonic compacts, and the fast f2.0 lens and optical stabiliser should help keep you the noisy fug of the high ISO settings at bay.
After nearly a year of using the LX3 in all conditions, we're still in love with it.
It's a well-made, great looking, carry-everywhere camera with a superbly effective auto mode backed up by a comprehensive suite of manual controls. Highly recommended.
Our ratings
Ease of use: 86%
Picture quality: 90%
Features: 91%
Value for money: 84%
Overall: 91%
You can buy the LX3 from Amazon
.
Specifications
Image Sensor 10.1 Mega pixels
Sensor Size 1/1.63″
Optic
Zoom Factor Optical Zoom 2.5x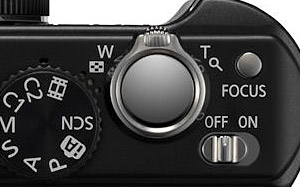 Extra Optical Zoom 4:3 Aspect Ratio: 3.0x for 7Mega, 3.6x for 5Mega, 4.5x for 3Mega, 2Mega, 0.3Mega 3:2 Aspect Ratio: 3.0x for 6.5Mega, 3.6x for 4.5Mega, 4.5x for 3Mega, 2.5Mega 16:9 Aspect Ratio: 3.0x for 6Mega, 3.6x for 4.5Mega, 4.5x for 2.5Mega, 2Mega
Digital Zoom 4x ( Max. 10.0 x combined with Optical Zoom without Extra Optical Zoom ) (Max. 17.9x combined with Extra Optical Zoom)
Focal Distance f=5.1-12.8mm (35mm Equiv.: 24-60mm)
Lens LEICA DC VARIO-SUMMICRON 8 elements in 6 groups (4 Aspherical Lenses / 4 Aspherical surfaces)
Aperture Wide: F2.0 – F8.0 Tele: F2.8 – F8
Optical Image Stabilizer
MEGA O.I.S. (Auto/Mode1/ Mode2)
Conversion lens Compatibility Yes
Focusing Area Normal: Wide 50cm/ Tele 50cm – infinity / Intelligent AUTO / Macro: Wide 1cm / Tele 30cm – infinity
AF Metering Face / AF tracking / multi-area / 1-area high speed / 1-area / spot
Focus Mode Normal / Macro, Quick AF On/Off (On in Intelligent Auto), Continuous AF On/Off AF/MF Switchable, Manual Focus(Joystick), One Shot AF, AF Area Select, AF Tracking
AF Assist Lamp Yes
ISO Sensitivity Auto / 80 / 100 / 200 / 400 / 800 / 1600 / 3200 (High Sensitivity Mode : Auto (1600 – 6400) )
ISO Limit Set Yes
White Balance Auto / Daylight / Cloudy / Shade / Flash / Halogen / Color Temperature / White Set 1 / White Set 2 / (Selectable at Portrait, Soft Skin, Transform, Self-Portrait, Sports, Baby1, Baby2, Pet, High Sensitivity, Hi-Speed Burst, Pinhole modes) / White Balance Adjustment (2-axis adjustable, ±9steps each, Blue/Amber and Magenta/Green bias)
Exposure
Program AE, Aperture Priority AE, Shutter Priority AE, Manual, Program Shift(Program AE mode)
Exposure Compensation 1/3 EV step, +/-2 EV
Backlight Compensation Yes (auto in Intelligent AUTO mode)
Multi-Exposure Yes
Multi-Aspect Yes
Auto (AE) Bracketing +/- 1/3 EV ~1EV step, 3 frames
Light Metering Intelligent Multiple / Centre Weighted / Spot
Rec Mode[Mode Dial]
Intelligent AUTO, P(Program) mode, A(AperturePriority) mode, S(Shutter Priority) mode, M(Manual) mode, Motion Picture, Custom1, Custom2, Scene mode
Scene Mode Portrait, Soft Skin, Self-Portrait, Scenery, Sports, Night Portrait, Night Scenery, Food, Party, Candle Light, Baby1, Baby2, Pet, Sunset, High sensitivity, Starry Sky, Fireworks, Beach, Snow, Aerial photo, Hi-Speed Burst, Flash-Burst, Film Grain, Pin Hole
Shutter Speed
P:1-1/2000sec (Selectable minimum shutter speed) A/S:8-1/2000sec, M:60-1/2000sec Starry Sky Mode : 15, 30, 60sec.
Flash System
Built-in-Flash Auto, Auto/Red-eye Reduction, Forced On, Slow Sync./Red-eye Reduction, Forced Off / Flash Synchro ; 1st / 2nd / Flash output Adjustment (1/3EV step, -2 – +2 EV) / 0.8 – 8.3m (Wide/Macro/ISO Auto), 0.3 – 5.9m (Tele/ISO Auto)
Self Timer 2sec, 10sec
Auto Review
1sec, 2sec, Zoom, Hold
Review 1x, 4x, 8x
Picture Adjustment Contrast: ±2steps / Sharpness: ±2steps / Saturation: ±2steps / Noise Reduction: ±2steps / (can be adjusted in Film Mode)
Film Mode Standard, Dynamic, Natural, Smooth, Vibrant, Nostalgic, WB/Standard, WB/Dynamic, WB/Smooth, My Film1, MyFilm2, Multi Film
Recording Format Still Image: JPEG(Design rule for Camera File system, based on Exif 2.21 standard), RAW, DPOF corresponding / image with audio: JPEG (Design rule for Camera File system, based on Exif 2.21 standard)+ QuickTime / Motion picture: QuickTime Motion JPEG
Recording Image Size Still Image: 4:3 Aspect Ratio: 3648x 2736 pixels, 3072 x 2304 pixels, 2560 x 1920 pixels, 2048 x 1536 pixels, 1600 x 1200 pixels, 640 x 480 pixels / 3:2 Aspect Ratio: 3776 x 2520 pixels, 3168 x 2112 pixels, 2656 x 1768 pixels, 2112 x 1408pixels, 2048 x 1360 pixels / 16:9 Aspect Ratio: 3968 x 2232 pixels, 3328 x 1872 pixels, 2784 x 1568 pixels, 2208 x 1248 pixels, 1920 x 1080
Image Quality Fine / Standard / RAW / RAW+Standard JPEG / RAW+Fine JPEG
Motion Picture 4:3 Aspect Ratio: 640 x 480 pixels 30 fps, 320 x 240 pixels 30 fps/10 fps / 16:9 Aspect Ratio: 848 x 480 pixels 30 fps / HD(16:9 Aspect Ratio): 1280×720 pixels 24fps
Burst Shooting Mode
Full-Resolution Image, 2.5 frames/sec Max. 8 images (Standard mode), Max 4 images (Fine), Max 3images (RAW) / High-speed Burst Mode: approx. 6 frames/sec (recorded in 3M for 4:3, 2.5M for 3:2, 2M for 16:9)
Unlimited Consecutive Shooting yes
Digital Red Eye Correction yes
Intelligent Exposure yes
Intelligent Exposure_ Off / Low / Standard / High
Still Image Rec. with Audio 5 sec
Audio Dubbing Max. 10sec
Real-time Histogram yes
Highlight Display Yes
Composition Guide line yes
Composition Guide line_ 2 patterns
Built-in-Memory [Capacity] approx. 50MB
Scene Mode Help Screen yes
Auto Angle Detection yes
Travel Date yes
World Time yes
Title Edit yes
Text Stamp yes
LCD Monitor 3.0″, 3:2 Polycrystalline TFT LCD Display (460K dots) / Field of View : approx. 100% / AUTO Power LCD mode, Power LCD mode
Playback mode [REC]/[Play] Selector switch / 30-thumbnail display, 12-thumbnail display, calendar display, zoomed playback (16x max.), Playback of favourite pictures, Category Playback (playback and slideshow of pictures in category) / Slide show (duration and effect with music is selectable), image rotation / Resizing (selectable number of pixels), trimming, protection, aspect conv. DPOF print setting / Creating still pictures from a motion picture, Dual image playback / Enlarge focus area, image leveling
Category Playback playback and slideshow of pictures in category
Slideshow Mode (duration & effect with music is selectable), image rotation
Recording Media
Built-in Memory, SD Memory Card, SDHC Memory Card, MultiMediaCard(Still image only)
Microphone yes
Speaker yes
Interface DC Input, AV Output (NTSC/PAL), HD AV Output (Component), USB2.0 High speed
Direct Print PictBridge
Battery Li-ion Battery Pack (3.7V, 1150mAh) (Included)
AC Adaptor AC Adaptor (Input: 110-240V AC) (Optional)
Battery life (approx.) 380 pictures (CIPA standard)
Dimensions [mm]
Width 108.7
Height 59.5
Depth 27.1
Weight [g]
Body 290.0
Including Battery and SD Memory Card 265.0
Included Software PHOTOfunSTUDIO viewer 2.1E / ArcSoft (MediaImpression / Panorama Maker) / SilkyPix Developer Studio 3.0SE / QuickTime / USB Driver
Standard Accessories Battery Charger / Battery Pack / Battery carrying case / AV Cable / USB Connection Cable / AC Cable Strap / CD-ROM