After being sold a second-hand wireless router as new, having our email ignored and generally having a thoroughly unpleasant experience with PC World, we wrote up our sad story here and invited the company to respond.
Underwhelmed
We got a reply from their Head of Consumer PR earlier this week, and we're very underwhelmed by their response:
Our Customer Solutions team have looked into the issue with your router and have spoken to the managers at the store. It is certainly not our intention to sell second hand goods as new.  We would normally have 'second hand'/display models marked as such but it seems this one may have slipped through the net.

I understand you have had a full refund for the product in question as you reported it as faulty when you returned it.  However, as a goodwill gesture for the inconvenience caused, the store manager would like to offer you a £20 gift voucher.

If you could please provide more contact details we will arrange for the Customer Solutions Team to post it to you.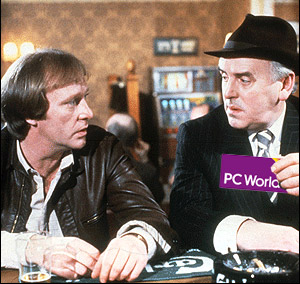 Fobbed off
We don't want to seem ungrateful, but we'd like to think most companies would take this matter a little more seriously – selling used goods as new seems a fairly serious thing to us – and it's not the first time PC World have been caught out undertaking such dodgy practices either.
Seeing as we took the trouble to raise several points about their customer service (including their frustrating policy of responding from 'no-reply' email addresses) we expected a more considered reply, and perhaps even an apology for their continued poor customer service.
Officially rubbish
After all, with a 2005 Which? survey ranking PC World joint last for customer satisfaction, a 2008 survey by the same organisation declaring them one of the worst brands on the High Street, and the latest 2010 survey placing them 97th out of 100 retailers you'd think they"d be keen to show that things are improving.
Our motive certainly wasn't about the money either, although £20 seems a derisory amount of "goodwill" for our inconvenience, barely covering the transport costs for the two return journeys we've made to their store – and now we've got to make a third trip to cash the thing in.
Jumping through hoops
It seems that PC World like to go that extra mile to make things difficult for their customers, so they won't let us do something useful like spend the voucher online.
Instead, we now have to print off the letter, and then physically take it to one of their stores to be redeemed.
As if that wasn't a big enough pain in the arse, PC World also insist that we cart around two forms of ID before we can spend that goodwill-packed £20 voucher:
Please take this letter with you to any of the above stores along with two different forms of
identification (matching the name and address on this letter) from the list below who will be
able to help
Acceptable forms of ID – Driving Licence, Passport, ID card, Medical Card, Utility Bill,
Pension or Allowance Book.
They're the worst. Really
So that'll be a total of three trips made to PC World, a load of hassle, time and expense  – and we still haven't got a ruddy  router!
We're beginning to understand why PC World have such a stunningly awful reputation for customer service, and on our recent experiences our advice to readers is simple: avoid at all costs!