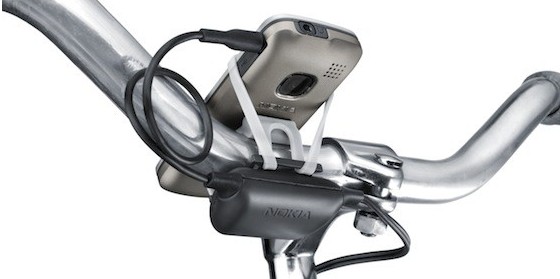 We love cycling and we love gadgets, so Nokia looks to be pedalling into a world of win with their new bicycle charging kit.
Their dynamo-powered gizmo retails at a very reasonable €15 (£12.50), and a mere 10 minute 6mph (10kph) spin should be enough to produce  juice for 28 minutes of talk time or 37 hours of standby.
By our reckoning, this means that Lance Armstrong should be able to power a small country during the Tour De France on one of these things.
GPS friendly
The kit  should provide a useful cheap source of energy for developing markets, and be a boon for perambulating Brits using their phone's GPS on their cycles.
The Nokia charging kit comes with a handlebar mount, wheel-rim rubbing metal dynamo – like the ones you already see on regular bike light dynamos – and a 2mm charger jack.
Although designed for Nokia handsets, there's nothing stopping you bagging an adapter for your own bog standard handset/hoity toity smartphone and whipping up some volts as you pedal around town.
The kit should be available before the year's out. We like it very much.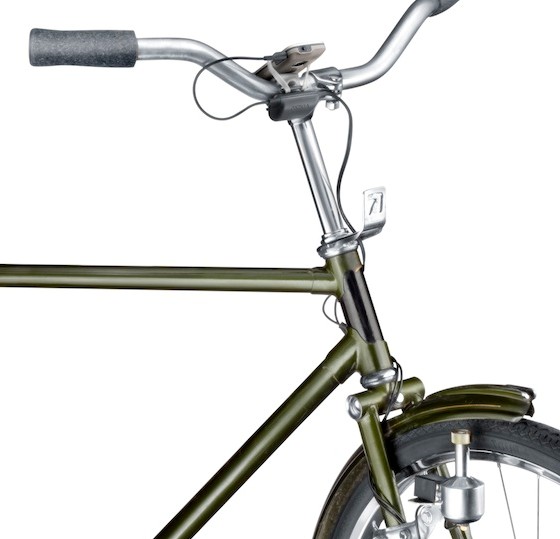 Here's the full press release:
Cycle power; Nokia launches new Nokia Bicycle Charger Kit to power Ovi Maps

03 June 2010: Today Nokia launches a Nokia Bicycle Charger Kit which captures free and eco-friendly energy from bicycling to power your Nokia mobile on the move. Great for use with Ovi Maps, the Nokia Bicycle Charger Kit will ensure that you will never be caught out when navigating through unfamiliar locations. The kit consists of Nokia Bicycle Charger DC-14, Nokia Phone Holder for Bicycle CR-124, and a Bottle Dynamo.

Users will get free and efficient charging from cycling as the dynamo starts charging when a bicycle speed of 6 km/h is reached and stops at 50 km/h, matching the efficiency of a normal charger when the bike is traveling at 12kmh. The charger can be fitted onto any Nokia handset with a 2mm charger jack, such as the Nokia E72 or Nokia X6.

Want to listen to music when cycling but worry that headphones block out road noise? With the Nokia Bicycle Charger Kit you can play music aloud to keep the motivation up on long or repetitive journeys.

John Nichols, Head of Marketing, Nokia UK commented: "The innovative Nokia Bicycle Charger Kit gives people even more freedom to use their Nokia handset without worrying about battery life.

"A growing number of people in the UK cycle for leisure, exercise or as a daily means of transport so this simple innovation is about convenience and getting the most out of your Nokia while you're on your bike. It's also the perfect piece of kit for those that care about the environment."

The kit will be available before the end of the year in selected retailers and Nokia online and branded retail.