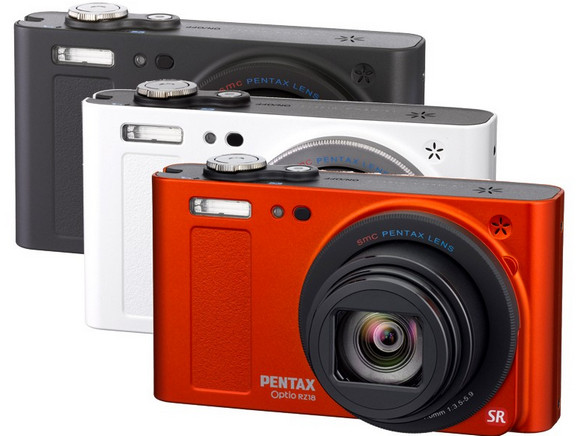 Proving that big zoomed compacts can still be pocketable creatures is Pentax's new point'n'shooter, the Optio RZ18 which packs in a mighty 18x optical zoom lens, covering an impressively wide 25-450mm (equivalent) range.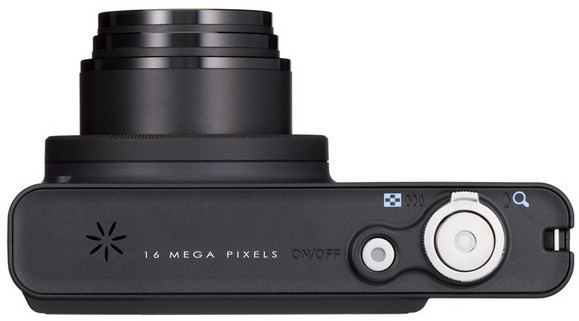 There's also a 16MP sensor onboard, backed by a range of image stabilisation options all squeezed into a modest sized package, set to retail for $299.95 when it launches Stateside in October 2011.
Around the back is a generous 3 inch LCD with HVGA resolution (460,000 dots), with the camera offering a nine-point autofocus system, face detection algorithms and a HD video mode capable of bagging 720p clips at 30 frames per second, with an SDXC card slot for storage.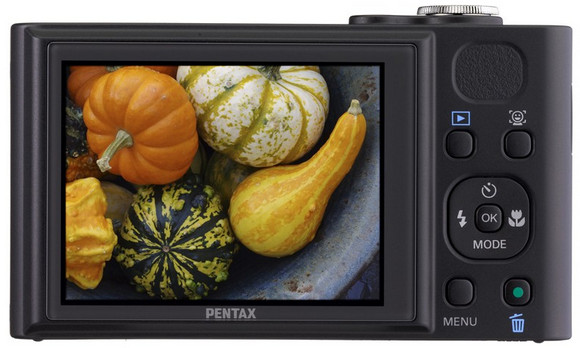 Woof!
Along with full auto and the usual slew of scene modes modes, there's also a suite of built-in 'creative special effects filters' to add add (ahem) 'artistic flair' to snapshots – and a particularly daft sounding " dedicated pet recognition feature."
Although the specs sound good, we're thinking that 16MP on such a small sensor is going to be noisier than a Motorhead soundcheck and that big zoom isn't going to be particularly bright either.
Still, with the camera aimed at the kind of folks who like their photography to involve just two actions – that's a  'point' followed by a 'click' – we imagine it may prove a handy snapper for everyday shots.
The Optio RZ18 should be shunting into a shop near you in shades of black, pearl white or metallic orange, with the UK price set at  £199.99 RRP with a release date of mid October 2011.
Read on for the full press blather:
PENTAX ANNOUNCES THE OPTIO RZ18 WITH 18X ZOOM

GOLDEN, CO. (September 12, 2011)…PENTAX Imaging Company announced the Optio RZ18 digital compact camera. Featuring a slim, lightweight body, the new model offers a powerful 18X optical zoom lens covering focal lengths from 25mm wide angle to 450mm super-telephoto (in the 35mm format). The Optio RZ18 is the latest addition to the PENTAX Optio RZ zoom lens series, which provides photographers simple, effortless shooting of a wide variety of subjects and occasions, from travel and landscape to action and spectator sports.

The Optio RZ18 features include:

• Generous 18X zoom (equivalent to 25-450mm) with extra wide angle lens captures subjects near and far.
• High resolution 16 megapixel sensor for large prints or aggressive image cropping.
• Slim footprint for outstanding portability and inconspicuous use.
• Multiple PENTAX Shake Reduction (SR) image stabilization options, including sensor-shift SR, for sharp images in any lighting.
• Large 3 inch LCD with HVGA resolution (460,000 dots).
• Powerful automatic shooting modes such as Auto Picture and scene modes take the guesswork out of great photography.
• Creative special effects filters add artistic flair to the common snapshot.
• Advanced 9-point autofocus with a 4cm super macro mode.
• Face detection for perfectly focused and exposed portraits, includes a dedicated pet recognition feature.
• Widescreen HD video in 720p at 30 frames per second.
The Optio RZ18 will be available in black, pearl white or metallic orange for $299.95 USD in October 2011.

PENTAX Imaging Company is a leader in the production of a variety of adventure ready digital cameras including weather-resistant digital SLRs and stylish, compact, waterproof cameras, as well as lenses, flash units, binoculars, scopes, and eyepieces. For more than 90 years, PENTAX has developed durable, reliable products that meet the needs of adventurous consumers and businesses. With headquarters in Golden, Colorado, PENTAX Imaging Company is a division of Hoya Corporation.
On July 1, 2011, Hoya announced an agreement to transfer the PENTAX Imaging Systems business to RICOH Corporation. The effective date of the sale is set for October 1, 2011. Additional details may be found here: www.pentaximaging.com/news