If, like us, you love the music they play on BBC Radio 6 Music but can't bear the incessant, irrelevant  blather generated by some of their  'personality' DJs like Lauren "Tweet  Me" Laverne, salvation is at hand.
A fantastic website called BRITify (formerly BBCify) uses radio listings from the BBC to create Spotify playlists containing nothing but the lovely songs. With no 'hilarious' pop-tastic banter in-between..
The free site provides new playlists for each broadcast, as well as a single 'magic' playlist that gets updated every day with the latest tracks:
Add a magic playlist to your phone, set it to sync offline and each morning you'll awake to great playlists lovingly crafted by the awesome BBC people.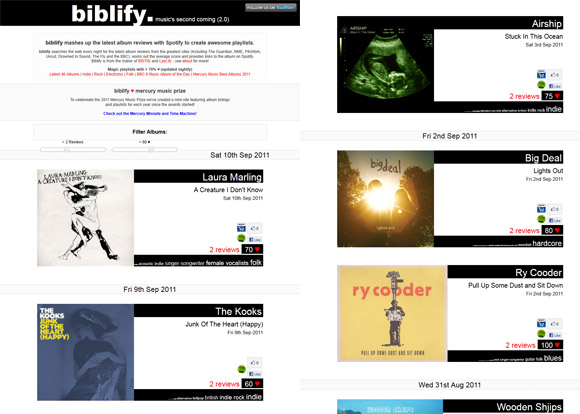 Independent of the BBC and Spotify, the developers also provide two other similarly useful sites:
Biblify, which searches the web every night for the latest album reviews from sites like The Guardian, NME,  Uncut, Drowned In Sound and the BBC, and then "works out the average score and provides links to the album on Spotify. "
The other site, is last.ify, which they describe thus:
We use information from last.fm to create personalised playlists of recommended artists in Spotify. It's like iTunes Genius but less smug.
We love it
We here at Wirefresh would like to extend a big thank you to the folks behind these ventures.
It's great not to find ourselves shouting "SHUT UP AND PLAY SOME RUDDY MUSIC!" at the radio any more.