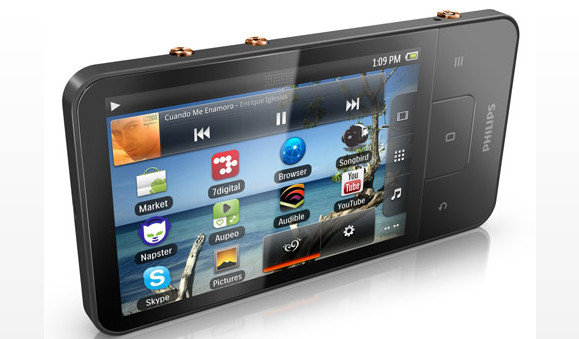 Philips are just swimming in Android love at the moment, with the announcement of a new GoGear media player following hot on the tail of their range of Android Fidelio speaker docks.
Powered by the slick Android 2.3 Gingerbread OS, the new GoGear Connect 3 media player packs a 3.2-inch capacitive touchscreen with Wi-Fi connectivity.
The device comes with all the codecs you'll need to play back a wide range of popular video formats and there's support for 720p HD clips – quite an achievements for such a wee fella (although you're only ever going to notice if you hook it up to a big TV).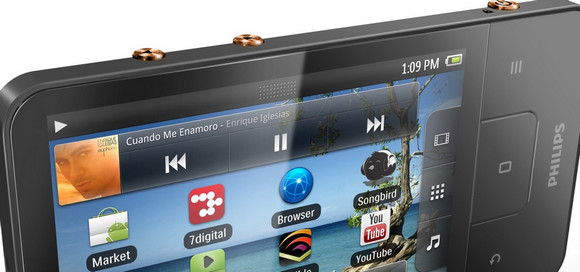 There's a built-in Pandora-esque app for discovering new music, with the built-in 'FullSound', 'Sound Personalisation' and 'Surround for Movies' technology making up a decent audio experience.
Bundled with the player is the PC software Philips Songbird – which is used for syncing music from your PC – with the onboard Philips' SimplyShare app allowing you to share music via DLNA-enabled devices.
Disappointingly, there's no camera to be found, although access to the Android Market means that there'll be shortage of apps to view on the bijou screen.
The player is expected to shunt out into shops in October/November with pricing thought to be hovering around the £160 mark for the 16GB model and £130 for the 8GB version.
Press release ahoy!
Philips introduces GoGear Connect 3 with Wi-Fi based on Android 2.3

Berlin, Germany – The most advanced portable devices from the Philips GoGear range will be unveiled at this year's IFA. The GoGear Connect 3 with Wi-Fi has been designed with Android™ 2.3 Gingerbread, the latest Android operating system for small portable devices. Philips GoGear Connect 3 brings you high speed internet via Wi-Fi to your finger tips and the opportunity to delve into over 300,000 apps and games available on the Android Market™.

Boasting a bright and capacitive 3.2" touch-screen, you can quickly and easily browse the internet as well as your own selection of games, music and movies. The Google functions like search, Gmail, Google Talk or YouTube are easily accessible from the home screen.

Videos can be enjoyed with high-definition playback up to 720 p. And of course you have wide codec support, which means the GoGear Connect 3 will play almost any music or video format.

Of course the GoGear Connect 3 offers you all the advantages of the Android experience:

– Customizable home screen, keyboard and widgets
– Use as mass storage device
– Easy access to the Android market without need of credit card details
– Unlimited gaming fun

Created with the best in Philips sound technology, including FullSound™, Sound Personalization and Surround for Movies, it delivers the superior sound that the Philips GoGear range is renowned for and is a fantastic new product for all music lovers and gamers.

To perfectly enjoy your music, the GoGear Connect 3 comes with the PC software Philips Songbird, an easy-to-use program that makes syncing music from your PC hassle free. Plus, there's no need to sort through your music library to find the perfect tracks. Just pick one, click the LikeMusic icon and the Philips patented technology will instantly build a smart playlist by matching music with similar characteristics.

The Philips SimplyShare app enables you to share content through a variety of Philips and third party DLNA enabled products, such as the GoGear Connect 3, Network Music Players, Wi-Fi enabled cameras and photoframes, wireless speakers, home cinema systems or your TV. Between Philips products a simple swipe is enough to watch your personal photos or videos on a larger TV screen, streaming e.g. from your GoGear Connect 3.

Visit www.philips.com/gogear for more information on Philips portable audio and video players.