Just spotted strutting into the UK Argos catalogue is Philips' new GoGear Connect portable media player, a fully-featured Android-powered device available in 8GB and 16GB flavours.
Both models run on the Android 2.1 operating system, pack a built in camera, a 3.2″ touchscreen display, an integrated FM radio tuner with 20 presets, and a battery life of up to 5 and 25 hours for video and audio playback, respectively.
There's a microSD memory card slot for your memory expansion needs and built in GPS navigation too.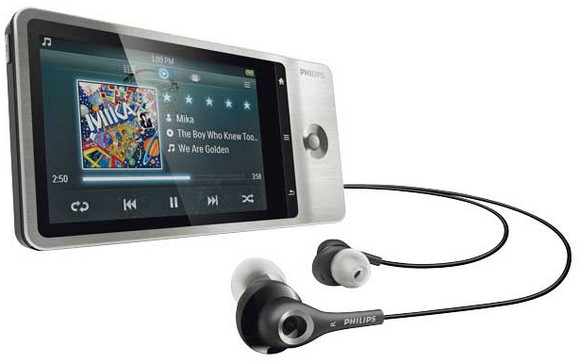 The player is priced at £199.99 for the 16GB model and £179.99 for the 8GB jobbie, with the silver beastie measuring up at (H)5.9, (W)11.3, (D)1.3cm.
Here's a short'n'shaky video showing off the music player interface. Either the screen is a giant sized one or it's a very, very small man doing the pointing.
Feature list
Silver with touch screen.
Screen size 3.2in.
Stores up to 3,600 tracks.
Stores up to 4,000 photos.
25 hours playback.
5 hours video playback.
Rechargeable via AC/DC adaptor and USB port.
Size (H)5.9, (W)11.3, (D)1.3cm.
2.0 USB port.
8GB/16GB memory.
MP3/WMA/AAC/OggVorbis compatible.
USB cable supplied.
FM tuner.
20 station pre-sets.
Minimum PC specification: Windows Vista or XP.
MicroSD card slot.
GPS.
Built-in camera.
Android 2.1 marketplace.
Includes headphones.
Weight 128g.