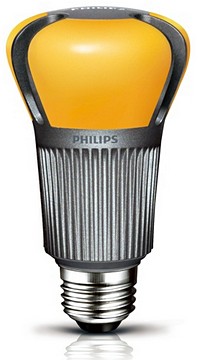 Philips Electronics have unveiled a fabulously steampunk-looking LED light that is set to replace the common 60-watt light bulb.
According to Philips' calculations, their natty 12-watt Endura LED manages to reduce energy use by 80 percent and will last 25 times longer than the common-or-garden 60-watt incandescent bulb.
Three years of life
Their new long-life LED bulb is claimed to last 25,000 hours (that's 2.8519864656130287 years!), a huge improvement on the measly 1,000 hours that most consumers eke out of their old school 60-watt incandescent bulbs.
It's a softy
Philips say that the Endura LED offers the "same soft white light" as incandescent bulbs, and they're so chuffed with it that they've entered it for the 'L Prize'.
Going for gold
This is a competition by the U.S. Department of Energy inviting entrants to "develop high-quality, high-efficiency solid-state lighting products to replace the common light bulb."
The bulb is set to go on general sale by the fourth quarter of this year. Although pricing hasn't been announced, it's sure to be considerably higher than the 'umble light bulb, although prices are expected to tumble in the near future as mass manufacturing kicks in.
[Via]