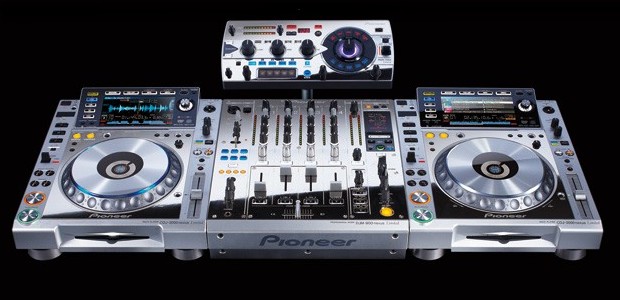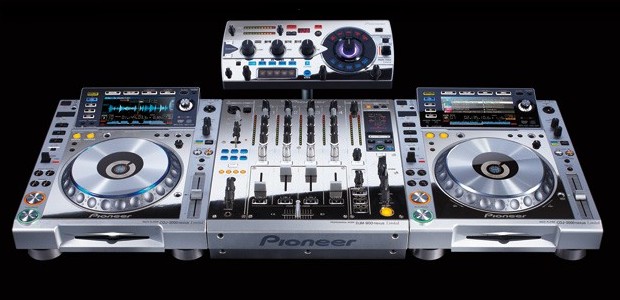 For DJs with more money than sense and serious shortcomings in the taste department, Pioneer's ghastly 'Platinum Editions' gear may prove irresistible.
The limited Platinum Edition series products will strut into nightclubs with a  mirror chrome finish, and a plaque engraved with the production run and serial number to indicate its authenticity – like that's going to make the songs sound any better.
The system comprises of two CDJ-2000 Nexus-M and one DJM-900 Nexus-M which will set you back an eye watering $8499.
The Platinum Edition RMX-1000-M will also be offered separately for an equally daft $1199.
In an attempt to conjure up feelings of exclusivity, a total of 4,000 CDJ-2000 Nexus will be manufactured with the DJM-900 Nexus and RMX-1000 both limited to 2,000 units.
We hope we never find ourselves in a club that has wasted money on this tack – what matters is the sound quality of the equipment not the show-off bling.
Oh, and the music of course.
Here's the press release:
PIONEER OFFERS PLATINUM LIMITED EDITION OF ITS FLAGSHIP DJ GEAR – CDJ-2000NEXUS PLAYER, DJM-900NEXUS MIXER AND RMX-1000 REMIX STATION

Pioneer DJ today announced the creation of "Platinum Editions" of the CDJ-2000nexus professional multi-player, DJM-900nexus performance digital mixer, and RMX-1000 Remix Station. The Platinum Edition models will have a limited run of 4,000 units for the CDJ-2000nexus, 2,000 units for the DJM-900nexus, and 2,000 units for the RMX-1000, which will be available at Pioneer DJ authorized retailers worldwide and released in February 2013.

The limited Platinum Edition series products will feature an ultra-sleek mirror chrome finish, each with a distinctive plaque engraved with the production run and serial number to indicate its authenticity. A system, which includes two CDJ-2000nexus-M and one DJM-900nexus-M, will be sold as a set with a suggested retail price of $8499, while the Platinum Edition RMX-1000-M will be offered separately with a suggested retail price of $1199.

CDJ-2000nexus-M features include:

• Users can choose their media source from a USB storage device, SD memory card, CD- or DVD-ROM Disc, DJ software via MIDI/HID or even using music stored inside Wi-Fi®1/USB-connected smartphones and tablets
• rekordbox™ music management software for analysis, management, and playback of music files.
• Pioneer's PRO DJ LINK2, which enables up to four digital CDJ players to be connected for sharing music files stored on a single USB device and/or SD card
• High efficiency Wolfson® Microelectronics digital-to-analog (D/A) converter for accurate sound reproduction, faithful to source material
• Slip and Quantize functions, which enable reliable performance without changing the flow of the original track. Using the My Settings feature, the function settings of a player can be saved to an iPhone®, iPad® or iPod touch®, USB storage device, or SD memory card. For additional convenience, the settings can also be can be made ahead of time on the rekordbox app or software, allowing users switch to their settings when a connection is made to the CDJ-2000nexus.
• Up to 35 controls on the surface of each player can be used to trigger other devices, such as DJ effectors and software by way of HID and/or MIDI
• Active Loop function automatically starts loops when playback begins from a specified point
• Load Previous Track feature provides playback of prior music that has been loaded to the player
• Rating on the Go function allows users to rate tracks during play for easy reference or sorting
• Auto Standby function switches power to standby mode when no operation or input is detected for a certain period of time

DJM-900nexus-M features include:

• Multitude of effects options including six types of Sound Color FX and 13 types of Beat Effect
• Built-in 24-Bit / 96 kHz high performance USB soundcard3
• Built-in "X-Pad" for controlling multiple parameters with a touch to enhance the user's performance
• Ability to connect Pioneer® digital players that support the PRO DJ LINK feature for highly accurate BPM and beat location information, resulting in precise beat matching4
• Built-in high performance 32-bit digital signal processor to suppress digital and analog circuit noise
• Highly durable high-performance channel fader
• Auto Standby function
• Gold-plated RCA PIN ports

RMX-1000-M features include:

• Knobs, buttons and layout of unit ensure intuitive operation and control
• Remixing options are virtually endless with Scene FX, Isolate FX, X-PAD FX, and Release FX controls
• Supports VST5/AU6/RTAS®7 plug-ins to utilize effects from DJ play for song production
• Includes special remixbox™ editing software, enabling effects and customization
• High-quality sound design delivers clear and powerful DJ sound
• QUANTIZE function enables real-time music analysis and synchronization of effects along with the beat of the music
• AUTO BPM function automatically measures and follows the tempo of music
• Compact design for portability
• Ability to be used as MIDI controller via included USB-MIDI standard
[Via]