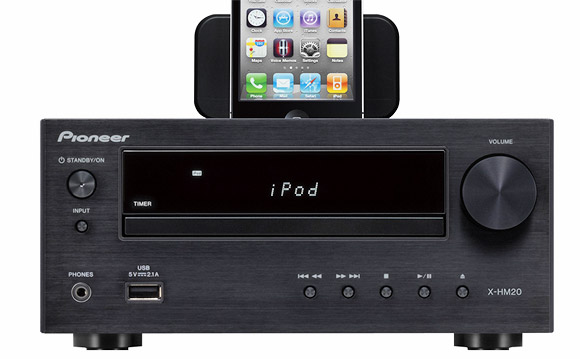 Pioneer has sent a range of four new micro-stereo systems thundering down their new product slipway, regaling under the product names X-HM10, X-HM20DAB, X-HM70DAB CD and XC-HM70DAB CD.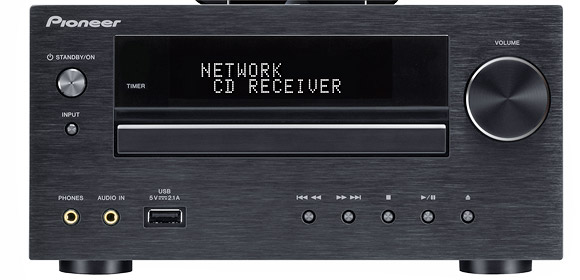 The cheapest of the range is the basic X-HM10 CD receiver, with the next model up – the X-HM20DAB – lobbing in a DAB radio, higher grade speakers and iPhone / iPod docking capability .
Things get more interesting at the top of the range with the X-HM70DAB CD receiver packing an internet radio, home network music playback from a PC or media server connected to the same LAN and DLNA v1.5 support. The model can be bought with or without speakers.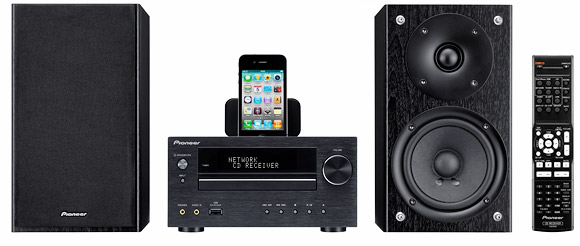 All the micro systems come with a front USB slot for playing back MP3 or WMA audio, with all the but the cheapest model offering  digital direct audio connectivity for iPhone and iPod1 via a docking slot integrated in the top of the cabinet.
The units are scheduled for release in Autumn, whenever that is.
Here's the full press release and specs:
PRESS RELEASE
PIONEER LAUNCHES FULL RANGE OF NEW MICRO-STEREO SYSTEMS

Pioneer GB is proud to launch 4 NEW MICRO-STEREO SYSTEMS into the European market. Each one offers great sound and perfect styling.

With its heritage and life-long specialisation in great sound reproduction, Pioneer has put all its know-how into creating a great small "micro-hifi" package. Building on the successful launch of the X-HM50 model, introduced in September 2010, the range has been further extended and enhanced.

The new range starts with the very affordable X-HM10 CD receiver with front USB. The range then continues with the X-HM20DAB that adds DAB radio, higher grade speakers and iPhone / iPod docking capability as well as support for iPad through USB.

At the top of Pioneer's micro systems line-up now comes the X-HM70DAB CD receiver featuring internet radio and home network music playback. The X-HM70DAB will also be available without the speakers as model number XC-HM70DAB.

Superb sound
No compromises have been made to deliver superb sound, after all it's what makes Pioneer Pioneer. As an example, the X-HM70DAB speakers are tuned to optimal performance with their respective main unit, featuring a rigid cabinet made with extra thick wood and selected speaker drivers to give stronger sound across all the frequencies.
Those in search of an enhanced bass experience will appreciate the X-HM70DAB's subwoofer pre-out.
The new line-up's power output ranges from 2×15 W through to 2×50 W, reflecting the target positioning.

Style and sophistication
Powerful, precise and clear sound doesn't need to be big nor bulky though, the look and style of these systems matches the sound quality to perfection. They are ideal for a second room or a student's bedroom and can easily be set-up on a bookshelf or a desk. They are at home in any surrounding.

Smart connectivity
All new micro systems feature front USB connectivity for convenient playback of MP3 or WMA audio and – except for the entry model – they feature digital direct audio connectivity for iPhone and iPod1 through the docking slot integrated in the top of the cabinet. Starting from the X-HM20DAB, iPad owners can enjoy playback with charging support through the front USB connector. These models also feature composite video input for visual content from a connected iPad, iPhone or iPod.

The X-HM70DAB also adds Networking features with Internet radio – turning your 'small' hifi system into a 'big' world of sound – and DLNA v1.5. Connected to a home network, the X-HM70DAB supports playback of music content from a PC or media server connected to the same LAN and featuring multimedia server functionality.

Availability

The new micro-stereo systems will be available this Autumn. Check your local Pioneer distributor for exact launch date.

Specifications

 

X-HM70DAB

XC-HM70DAB

X-HM20DAB

X-HM10

Model name

X-HM70DAB-K

XC-HM70DAB-K

X-HM20DAB-K

X-HM10-K

Body colour

Black

Black

Black

Black

Front material

Aluminium

Aluminium

Aluminium

Aluminium

Amplifier

Class D

Class D

Digital

Digital

iPod/iPhone/iPad playback

Yes

Yes

Yes

—

Disc

CD

CD

CD

CD

USB

1 (front)

1 (front)

1 (front)

1 (front)

Internet Radio

Yes

Yes

—

—

DLNA

Yes

Yes

—

—

Video out

Composite (iPhone/ iPad/ iPod)

Composite (iPhone/ iPad/ iPod)

Composite (iPhone/ iPad/ iPod)

—

Headphones out

Yes

Yes

Yes

Yes

Subwoofer pre-out

Yes

Yes

—

—

Tuner: AM/FM/DAB+/RDS

n/y/y/y

n/y/y/y

n/y/y/y

n/y/y/y

Dimensions main unit (mm) (WxHxD)

215 x 111 x 320 mm

215 x 11 x 320 mm

215 x 90 x 300 mm

215 x 90 x 300 mm

Speaker

2,5 cm soft dome tweeter

12 cm woofer

(n.a.)

5 cm tweeter

10 cm woofer

piezoelectric device

10 cm woofer

Speaker dimensions (mm) (WxHxD)

148 x 260 x 208,5

–

132 x 260 x 173

132 x 260 x 158