Man, we love this – and what  a perfect toy for those folks sitting in long iPad2 queues to play with while they wait!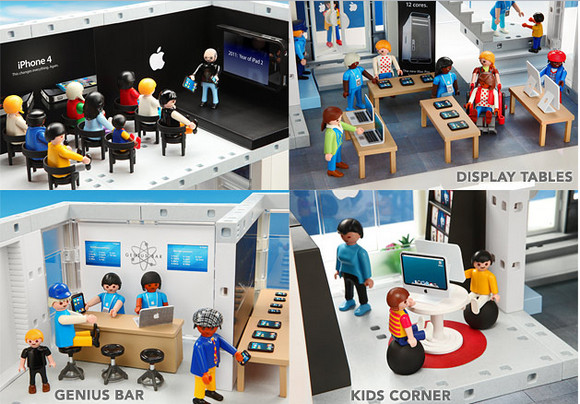 Claimed to "introduce children to the magic of Apple," the Playmobile set includes a two floor Apple store, figures, and 60+ accessories, with the option to, "use your own real iPhone 4 as the screen behind Steve Jobs in the Keynote Theatre."
The top floor comes with a Genius Bar as well as the Keynote Theatre, and for that extra touch of authenticity, it's possible to download a simulated keynote presentation from the PLAYMOBIL website.
Yes, you too can be Steve Jobs for the day.
Recreate the queue
Said to, "teach important social interaction skills" there's also an optional Line Pack available to make your own Apple Device launch party.
We haven't confirmed if there was a downloadable audio pack to play back the sound of over-excited whooping and mass fives from folks getting into the store after 5 days in the line, but you could always make your own.
An officially licensed Apple product, the store measures 72 cm long x 36 cm deep x 40 cm high and is available from today, April 1st.
[Via]