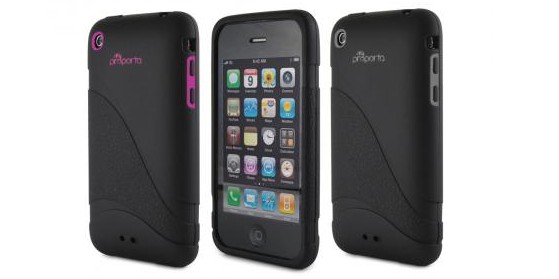 We're normally not fans of sticking plastic surrounds, see-through protectors and sundry rubbery things around our phones, but Proporta's keenly-priced Silicon iPhone case looks more attractive than most.
Attractively packaged in a stiff card box sporting a de rigeur magnetic catch, the silicon case is thin enough to be barely noticeable, adding very little bulk to the handset.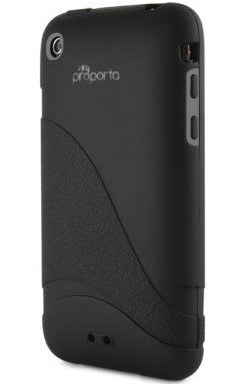 Unlike some elasticated cases which need the force of ten strong men to squeeze them on to the handset,  Proporta's case slips on very easily – perhaps a little too easy as it takes little pressure  to pull it away from the handset on the sides (and makes it easier for dust to accumulate).
That said, it does make for a snug fit and the phone would be unlikely to fall out in regular use
Proporta also bundle a screen protector with the case, but we can't stand using phone screens covered in extra plastic, so we kept that in the box.
Keep a firm grip
The textured, rubberised back of the case makes it easier to keep a firm grip on your phone and is a vast improvement on the iPhone's super-shiny back, which has probably contributed to the million or so phones dropped down Britain's loos every year.
There's a cut-out on the back for the camera, and thankfully Proporta haven't introduced a pointless hole to show off the Apple logo (we're not fans of walking around advertising logos for free).
On the top of the case, there's a hole for the headphone socket, and a raised area covering the on/off switch, while the left hand side has the same raised areas for volume up/down and a cut-out for the mute switch.
As you might expect, there's also a cutaway for the connector at the base of the case.
The verdict
The case certainly felt secure in use, with the rubberised grip adding a sense of security when conducting important phone conversations whilst, err, 'occupied' in our smallest office.
Despite most of the controls being covered in protective silicon, they all functioned perfectly and we had no issues using the phone as normal. We did have some reservations with the tightness of the case, and would have liked it to grip the phone a little harder.
Available online for as little as £8 – see Amazon's listing
– it's hardly a big investment, so we can recommend Proporta's silicon case as a capable and affordable way to protect your precious iPhone.
Ratings

– Build quality


– Fit


– Value for money


– Overall
[Proporta]