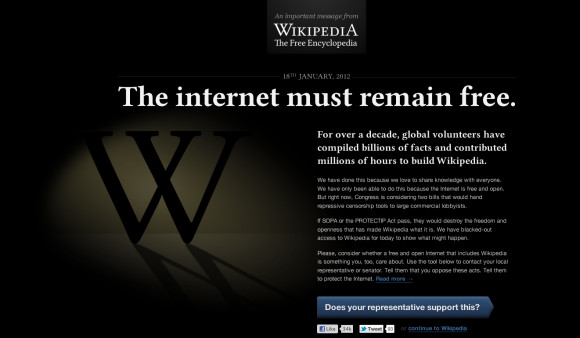 Wikipedia has announced that it will be lending its weight to the campaign against two bloody awful internet censorship bills currently being considered in the US.
Wikipedia head honcho Jimmy Wales said he wanted to send a "big message" to the U.S. government, and will be joining many other sites and organisations by suspending operations for one day in an effort raise awareness about at the SOPA and PIPA bills.
The protest will see the Wikipedia site going 'dark' at midnight on Wednesday, January 18 for 24 hours, with all the content going offline to be replaced by a  landing page containing a letter of protest and a call to action urging readers to get involved with the gift against the proposed bills.
About the bills
The two bills – the Stop Online Piracy Act and the PROTECT IP Act – are intended to blacklist 'renegade' sites like Pirate Bay that share copyrighted films and music, and make the uploading clips of movies or TV shows to Facebook or YouTube a criminal act.
Users streaming copyrighted content could face a five-year jail term, with sites offering pirated content being punished by being delisted on search engines – and potentially have their IP address blacklisted.
It won't just be US users affected either: Stop Online Piracy Act (Sopa): how it could affect UK-based websites like Urban 75.
Campaign site Avaaz have posted up an online petition which has already collected over 1,250,000 signatures so far.
More info:
Find out more about the Stop Piracy Act in this interesting and rather scary video below or check out this article written by Aaron Wang, a 16-year-old junior at Lincoln High School in California, USA:  Why You Should Be Worried About SOPA .