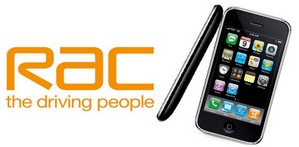 The RAC, the UK's longest-established motoring organisation, has released iPhone and Android apps to help drivers avoid traffic congestion.
The location-aware free app serves up views of local traffic conditions, displaying the start and end points of congestion overlaid on to Google Maps.
Text and audio summaries of traffic conditions are also available, powered by traffic updates from Trafficlink.
The RAC reckon that their new app will give motorists, "the most precise and accurate view of live traffic conditions on the UK's roads that is currently available on a mobile phone app."
Saj Arshad, director of RAC sales and marketing, was ready to spread the love: "RAC's first app is a natural companion for motorists who frequently feel thwarted by the growing problem of congestion on the UK's roads."
"Given the popularity of our Route Planner online, we know motorists trust RAC when it comes to all things motoring. We're delighted to build on this legacy with a free app to help motorists plan their journeys using live traffic information."
"It's already proving popular, too. Within hours of launching the app on Android Market, we saw a download rate of more than one a minute, and notched up a couple of five star ratings. Watch this space for more developments – for both apps and online."
The free app can be downloaded from the the iTunes App Store and Android Market.