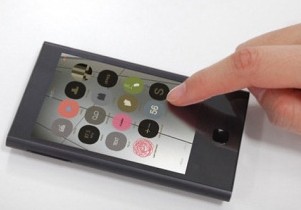 Korean media player whizzes iriver have released details of their Smart HD touchscreen PMP, which looks rather a dandy affair to our eyes.
The Smart HD – previously seen lurking under the codename "K1″ –  is a slick looking PMP packing a ton of features including a FM tuner/recorder, voice recorder and a 3.5" touchscreen (480 x 320 resolution, 16M colours) interface.
The Smart HD looks set to be released in four different versions, starting at the frill-reduced basic number up to the DMB tuner and Wi-Fi-totin' premium model.
There's support for a veritable cornucopia of audio/video file formats and, rather more surprisingly, support for work related documents like PDF, DOC and XLS.

Storage capacity comes in 8 or 16GB flavours backed by a microSD slot, with battery life pegged at 18 hours for audio and 6 hours for video.
Developers will also be given the opportunity to design their own themes and widget, courtesy of a SDK from iriver.
There's no sign of an official release date being unveiled quite yet, but prices are expected to hover around the $200 – $300 mark, depending on the storage capacity and model.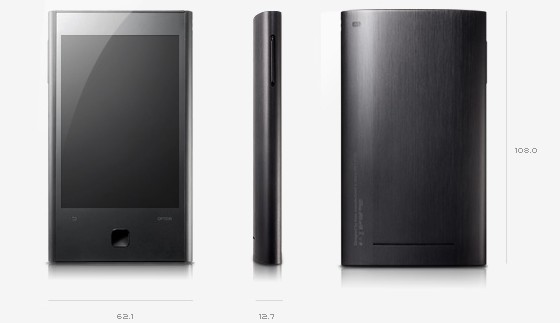 iriver Smart HD Specs
Capacity: 8 or 16GB with microSD expansion
Display: 3.5″ touchscreen (480 x 320 resolution, 16M colors)
Audio: MP3, WMA, OGG, FLAC, APE, WAV, AC3
Video: MKV, AVI, WMV, MP4, TP, MPG, ASF (max resolution 1280 x 720P, 30fps)
Other files supported: txt, DOC, XLS, PPT, PDF, HWP, HTML, HTM, MHTML
Extras: Flash 3.0, FM Tune/Recorder, Voice Recorder, Outlook Sync, Dictionary
Built-in WiFi and DMB on some models
Battery Life: 18 hours for audio, 6 hours for video
Dimensions: 108 × 62.1 × 12.7 mm (120 grams)