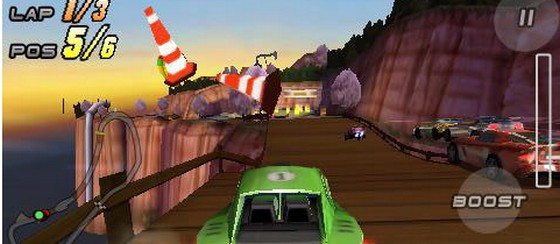 Enthusiastically billed as, "the most adrenaline pumping 3D street racer ever on a handheld platform," Raging Thunder 2 certainly looks to be a high speed treat, serving up super slick graphics and snappy gameplay.
Awarded a generous 4.7 out of 5 in AndroidTapp.com's review, the reviewer frothed that the game was, "fun, challenging and addictive," offering "amazing graphics, sound and smooth game play."
Players (or should that be playaz?) use the accelerometer to control their cars and can rack up bonuses on their travels while avoiding obstacles and other drivers to win the race.
The game comes in single play with Time Attack, Survival, Career Mode, Instant Race or Arcade flavours, with the option to go online for some multi-player action.
Not for the elderly
However, those of you on Ye Olde Android devices may be in for a disappointment, as the performance intensive game really requires one of the newer, beefier handsets.
Here's a couple of videos of the game in action, which can be yours, all yours, for €4.00 (or you can download a free demo version).