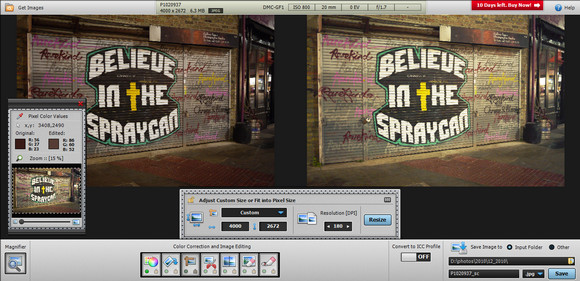 It may be a lightweight app, but the Windows-only PhotoEQ application aims to be the app you reach for when you need some quick image editing tasks done.
Interface
Opening up in a simple, if somewhat dated-looking two-pane interface, PhotoEQ packs tools for colour correction, image editing and colour management.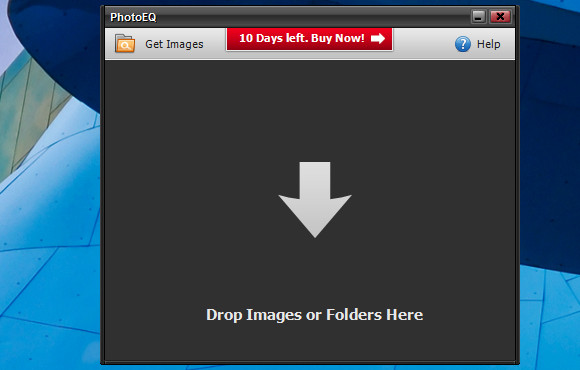 Images are simply dragged over into a small window, which opens up to provide 'before' and 'after' views, with PhotoEQ using "non-destructive layer based processing" for editing operations. An 'auto-correction' button automates the process of tweaking images.
A row of seven buttons underneath provide further colour correction options, plus rotate/straighten, crop, resize, sharpen, de-noise, blur and red-eye fix tools and there's also a secondary magnifier and eye dropper window.
Batch feature

What makes PhotoEQ stand out from the pack is the easy-to-use batch feature, which lets users process multiple images in one go.
This is great if you have a large folder of images that need a quick bit of a shine before being uploaded.
It seemed fairly quick in operation when run in auto correct' mode – which corrects white balance, exposure and contrast problems in single step – and the results were pretty good overall.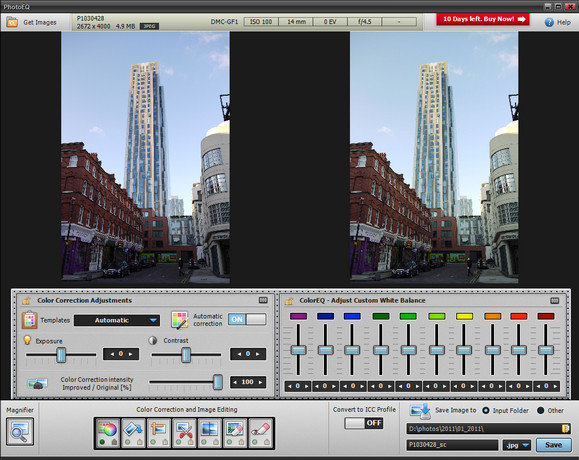 Cramped UI
Even though we were using the app on a large 24″ monitor, the interface made for a very cramped working environment.
When working on an image, half the screen would be permanently taken up with the unedited version, while non-moveable and non- resizeable tool bars hogged the bottom of the screen.
When working on portrait mode images, the problem became even worse, with the editing interface completely dominating the view – a full screen/no tool bar option and the ability to just view the edited image would have been most welcome for checking details.
Poor zoom/scroll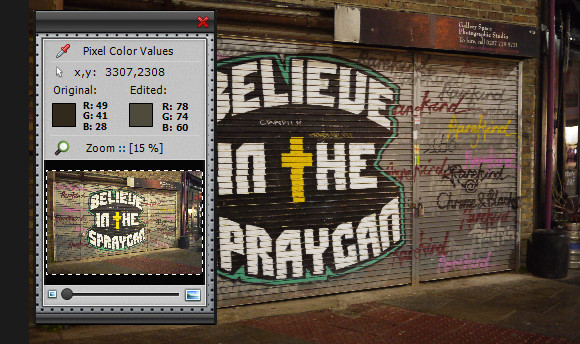 Another annoyance was the way that it wasn't possible to scroll within a zoomed-in image – instead we had to navigate around photos via the small (and non-resizeable) secondary window
We also became a little too familiar with the 'processing image' timer that popped up with alarming regularity during several editing operations.
Adding a 62 per cent blur effect to a single 4MB image took up to 17.3 seconds, and with no preview option available, any kind of experimentation was discouraged – and we were testing the app on a Windows 64 bit Intel i7 quad-core CPU machine.
Verdict
The cramped and space-hogging interface meant that we can't recommend this app for notebook users – surely the target audience for such a lightweight editing app – and although we liked the auto correcting feature, some other editing operations were unacceptably slow.
We really wanted to like this app, and if all you're after is a simple, auto correcting, batch processing image app then it might be worth a look, but at $33 it's hard to recommend for regular users.
Ratings:
Ease of use: 



Features: 


Image quality: 


Value for money: 



Overall: 

[PhotoEQ]