People can talk about the death of the music industry and throw figures around, but nothing brings its demise into sharp focus more succinctly than this graphic plotting sales over various formats from 1973 to 2009.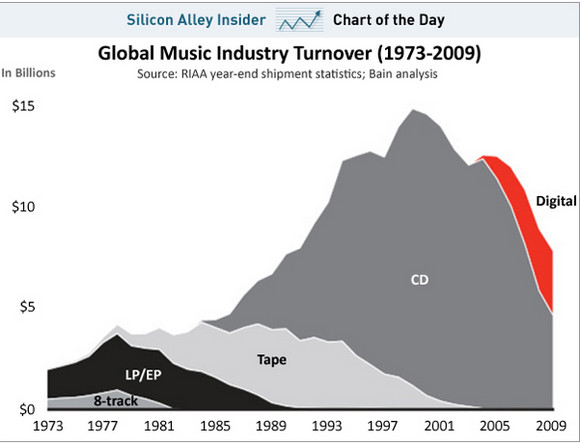 Eight tracks are but a mere blip of the 1970s, with LPs and EPs peaking during punk and new wave, while CD rose like an erupting volcano from the mid-80s onwards.
Since its towering peak on 2000/1, it's been downhill all the way for  CDs, with digital sales not doing enough to compensate for fast-falling physical sales.
Not a good time to be in the music industry then – especially with big acts like Radiohead not even troubling themselves to get them involved.
Happily, the live music scene is alive and well and kicking very hard – and if you were in any doubt about that, come down to the Brixton Offline Club tonight and see two great bands for free!
[Via]