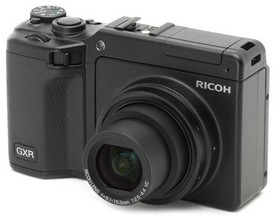 We've always been big fans of Ricoh's approach to compact cameras, and their fixed lens GR Digital compact remains one of our favourite cameras ever.
A while ago Ricoh pulled something even more innovative out of the bag with their revolutionary GXR camera system, touted as the world's first "interchangeable unit camera system."
Module system
Unlike any other compact before it, Ricoh's new compact camera system put the lens, image sensor and image processing engine into a integrated camera unit, so the camera body itself contains no image sensor.
Various camera units (containing different lens/sensor configurations) could then be slotted into the GXR body, making for an extremely compact and dust-sealed system.
It's a bag most mixed
Top photo site DPReview has just finished a comprehensive 30-page review of the Ricoh GXR equipped with the S10 24-72mm F2.5-4.4 lens module, and their findings proved to be something of a mixed bag.
Although impressed with the build quality and handling of the camera, the low-spec video, duff battery life and slow continuous shooting quickly marked the camera down.
The 3.0 inch, 920,000 pixel TFT screen and high-res optional electronic viewfinder proved a hit,  and the output was found to produce a 'decent resolution' in ideal shooting conditions.
And the bad news
However, their reviewer disliked the blurring of detail in low contrast scenes and the heavy noise reduction at high ISOs and, crucially, thought that the GXR/S10 combo couldn't "quite keep up with the class leaders Canon G11 and Panasonic LX3" – both of which are substantially cheaper.
Awarding the camera a rather lowly final mark of 57%, we have to admit to being disappointed.
In world of "me too" cameras, it's great  to see less well known manufacturers like Ricoh pushing the envelope and coming up with something genuinely different.
Much as love the idea of the GXR, it looks like we'll be sticking with our Lumix LX3 for some time yet – it's still the best compact camera for us.