With our lengthy mobile contract finally coming to an end and a wide selection of juicy Android handsets looming up, we decided to take a look around to see what kind of deals we could find in the meantime.
We wanted to keep our handset for a bit, so were looking to see what great SIM-only deals we could get, while keeping our options open by only committing to a rolling one month deal.
We gorge on data
When it comes to mobile data, we love to consume tons of the ruddy stuff, so we needed something offering a minimum of 500MB/month, but really would prefer something a bit more generous.
Although we text like teenagers, we're not that bothered about talk minutes, so this comparison concentrates more on data/text deals. Here's some of the more notable deals we found.
SIM-only, rolling monthly contract deals:
o2's modest offerings

First up was our current network providers, o2, whose rolling monthly tariffs didn't really excite:
500 texts/100mins/500MB and unlimited BT/cloud wi-fi = £16.50
500 texts/100mins/1GB and unlimited BT/cloud wi-fi = £20.50
Unlimited texts/300mins/500MB and unlimited BT/cloud wi-fi = £21.50/month
Unlimited texts/300mins/1GB and unlimited BT/cloud wi-fi = £25.50/month
Orange's not-so generous Dolphin

Offering much the same kind of deal, Orange's website offered two SIM only deals:
Unlimited texts/500mins/500MB = £20 ('Dolphin 20 SIM')
Unlimited texts/600mins/500MB = £25 ('Dolphin 20 SIM')
3 slams down the cheapo deals

Things get a lot more interesting and competitive with 3, who have some very keenly priced deals on offer:
3000 texts/100mins/1GB Internet = £10 (SIM 100)
3000 texts/300mins/1GB Internet = £15 (SIM 300)
3000 texts/600mins/1GB Internet = £20 (SIM 600)
Vodafone runs with the pack

Offering a very similar deal to its rivals, Vodafone confusingly lists its SIM-free tariffs for Blackberry and iPhone separately, although they're identical to each other.
Unlimited texts/300mins/1GB Internet/BT Openzone = £20
Unlimited texts/600mins/1GB Internet/BT Openzone = £25
T-Mobile's annoying site sends us packing

Can we be honest here? We couldn't find anywhere on T-Mobile's site that gave a simple, straightforward listing of all their SIM-only deals.
With the company insisting that we fiddled about with radio buttons and drop down menus, we ran out of time and patience and gave up.
Here's the link to their site if you want to have a go yourself.
Giffgaff gets us going

We've kept the best till last, as the best deal of all looks like it's coming from the 'member-run' network Giffgaff.
Unlimited texts/250mins/unlimited mobile Internet = £10
Unlimited texts/400mins/unlimited mobile Internet = £15
Unlimited texts/600mins/unlimited mobile Internet = £20
So, who provides the best coverage?
It's all well and good getting a great data deal, but it's a fat lot of good if your coverage is crap.
Although performance is hugely dependant on your precise location (if you live in a basement surrounded by skyscrapers you may be in trouble, whatever the network), this site offers comprehensive network coverage comparisons.
The graphic below is accurate as of January 2011: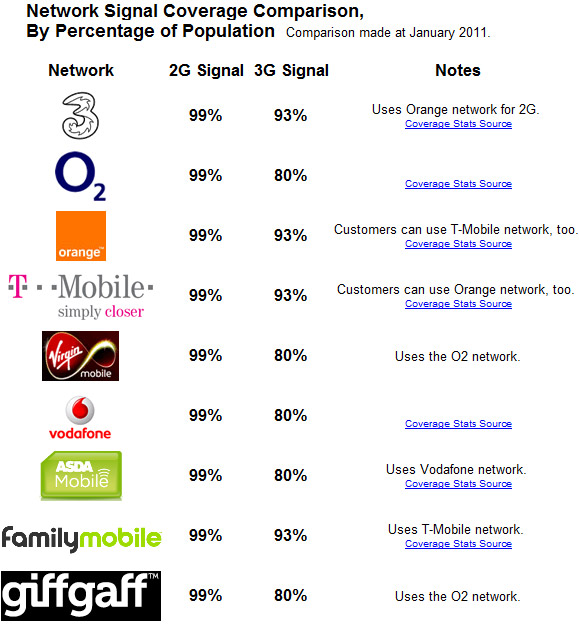 Is the network provider any good?
Perhaps also worth considering when you're making your choice is Ofcom's latest report which revealed that 3UK and T-mobile were the most complained about mobile providers in the UK, while o2 emerged as the best.
Wrap up
Finally, please note that we've only scratched the surface of the deals that are out there, but hopefully you'll find this listing useful.
Prices can change rapidly and networks sometimes stump up short-lived, one-off deals, so keep your eyes open – and please post up any great deals you hear about!
As for us, if we don't go with a bundled deal to get a swanky new Android handset, we'll be pushing our hard-earned in the direction of Giffgaff.