Samsung's new Wave S8500 smartphone has popped in to say hi at the Mobile World Congress, packing an impressive 3.3-inch SUPER AMOLED screen, supporting an 800 x 480 resolution.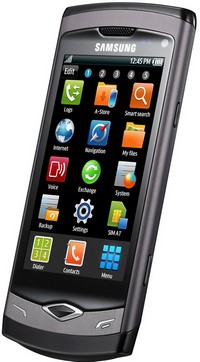 Running on the new Bada OS, the S8500 is the first phone to have Bluetooth 3.0, using the 802.11 protocol for hurtling data around at a positively breakneck speed of 24Mbps.
Widgety lineman
The phone comes with the TouchWiz 3.0 user interface, whipping up 10 customisable homescreen and widgets for taking care of all your widgety needs.
There's also integrated contacts, busily yanking in info from social networks online, and what Samsung like to call the "ultimate inbox," which merges communications streams.
There's also a push calender which works with third party calendars online.
Some specs
Inside the 118 x 56 x 10.9mm case, there's a 1Ghz processor and 2GB of storage (plus microSD card support) and a 5.0-megapixel camera with autofocus and LED flash, capable of shooting video at 720p.
Rounding off the spec sheet is Wi-Fi, GPS and HSDPA connectivity, a 3.5mm headphone jack, aGPS and a compass all wrapped up in Samsung's usual functional but 'meh'-worthy bland'n'black design.
Check out the demo of Samsung's new Bada operating system below: