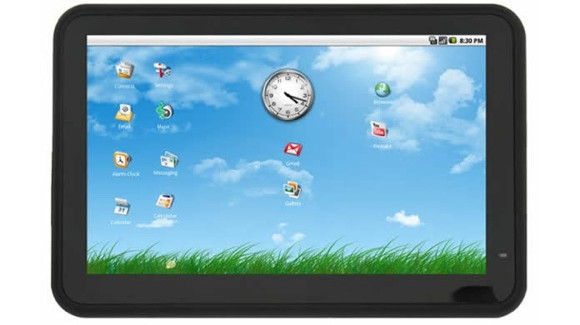 If you felt that the £180 Disgo and Next Android tablets were a little rich for your frugal tastes, then a new device being sold by Morgan Computers should get your pockets jangling with joy, with the apparently nameless 7″ tablet retaining for a preposterously cheap £85.
The tablet is being offered by bargain basement resellers Morgan Computers and comes with the kind of feature set you might expect for the price.
The tablet-with-no-name musters up a 128MB minuscule slither of RAM backed by a decidedly pedestrian ARM9 VIA8505+ 400MHz processor running the somewhat obscure 1.7.4 iteration of Google's Android OS.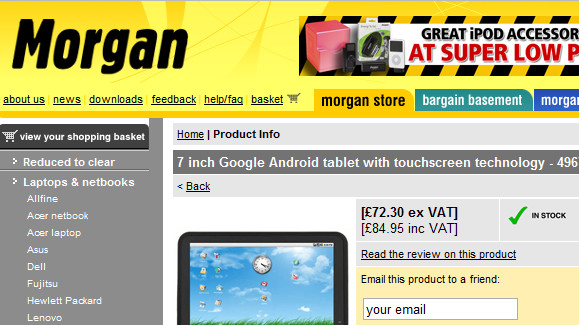 There's 2GB of on board storage (expandable via SD or USB), with the 7-inch touchscreen mustering a 800 x 480, QVGA resolution. Users can expect the battery to run out of puff after a disappointingly brief 3 hours.
Rounding off the no frills feature set is Wi-Fi 802.11 b/g/n, a 0.3-megapixel webcam, and support for H.263 AVI files.
Beastly. But cheap.
Although we expect the tablet to be truly beastly to use – anyone expecting slick on-screen animations and a super responsive touch screen is unlikely to feel a warm glow of happiness – but for a mere £85, some users may find it perfect as a cheap and very basic internet device (think email, Twitter and Facebook rather than online gaming and multimedia sessions).
If you're keeping a place in your heart for a dirt cheap, ultra basic, slow'n'sluggish Android tablet, Morgan say that stock is due to arrive, "around the 18th October 2010."
Feast your eyes on these specs:
CPU: ARM9 -VIA8505+  400MHz
OS: Google android 1.7.4
Memory: 128M
Storage: 2Gb
LCD: 7″ 16:9  TouchPanel
Resolution ratio: 800*480 QVGA
WIFI: WiFi 802.11b/g
USB Port: YES
SD Card Port: YES
Earphone: YES
Built in Stereo Speaker: YES
Built-in Camera: 0.3 M/Pixel
Battery: 7.4V 1800mAh
Stand-by time: 3Hrs
Size: 195*120*16 mm
Codecs Supported: H263 /avi
CPU: ARM9 -VIA8505+  400MHzOS: Google android 1.7.4 Memory: 128MStorage: 2GbLCD: 7″ 16:9  TouchPanel Resolution ratio: 800*480 QVGAWIFI: WiFi 802.11b/gUSB Port: YESSD Card Port: YESEarphone: YESBuilt in Stereo Speaker: YESBuilt-in Camera: 0.3 M/PixelBattery: 7.4V 1800mAhStand-by time: 3HrsSize: 195*120*16 mmCodecs Supported: H263 /avi