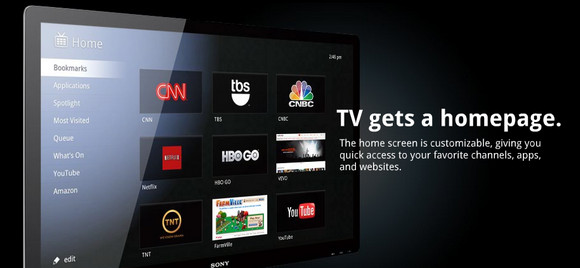 Google has released a new website and video showing off what's coming up with Google TV – and we're getting pretty excited by what we've seen so far.
The 90 second video below shows a seamless web-on-TV experience, with loads of slick dedicated apps, a built in Chrome browser and easy-peasy audio/video media playback.

The new google.com/tv site shows off some of the features coming to the platform, including the ability to use your phone as a voice controlled TV remote, customisable homepages for your tele, full sofa-based web browsing, and a shedload of apps for your gogglebox – and more.
Google say that they've been "been overwhelmed by interest" from third parties about Google TV, and users can expect apps like Netflix, Twitter, CNBC, Pandora, Napster, NBA Game Time, Amazon Video On Demand and Gallery to be available at launch.
Have they cracked it?
Combining TV and the web has always proved a bit of a tough challenge, but we're thinking that Google may be on to something here.
What do you reckon? Are Google going to crack this potentially massive market?
Read more on their blog.