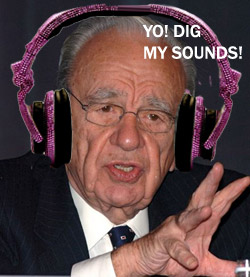 Media mogul Rupert Murdoch has thrown down his expensive leather gauntlet and announced his intention to do battle with the digital music industry, launching the new Sky Songs service next Monday (Oct 19).
The subscription service will enter a market dominated by Apple's all-conquering iTunes and have to face competition from streaming music upstarts like  such as Spotify and Last.fm, but with Murdoch's pockets being diamond-mine deep, Sky Songs could well prove a serious contender.
Sky has secured deals with the four major music labels – EMI, Sony, Universal and Warner – along with a number of smaller independents, with the service also set to arrive on mobile phones and set-top boxes.
Subscribers to the Sky Songs service  – which is only available to existing Sky customers – will shell out a fixed fee of up to £7.99 a month, letting them gorge themselves on as much music as they like from over 4 million tunes, with the option to download either a full album or fifteen separate songs to keep every month.
The cheaper £6.49 per month option lets users download one "£6.49 album" or 10 individual songs, and also stream as much music as they wish, with additional downloads costing extra on both tariffs.
Neil Martin, Sky's business development director, is looking to score a mainstream hit with the service, saying that he wants "millions of homes using this regularly… We're looking at a lot of the things out there, and you need to know a hell of a lot about music, or a hell of a lot about technology. For a mainstream audience, it needs to be pulled back a notch."
Apple's iTunes still rules the online music sales market, but there's been a growing amount of rivals snapping at their heels, but Sky's efforts may be hampered by the lack of a free, advertising-funded streaming service like Spotify.