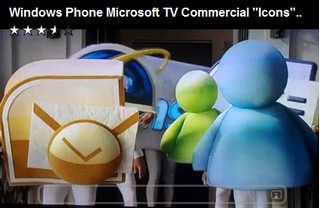 Currently making an appearance on UK TV screens is an advert by Microsoft plugging their Windows Mobile operating system.
You might think that the company would be keen to plug their freshly released Windows Mobile 6.5 update, but the advert makes no mention of the version numbers, instead hoping folks will be compelled to bag themselves a "Windows phone".
The advert shows a bloke walking out of  his house to get in his car, while unhappy Word, MSN, Outlook and Twitter human mascots linger by the doorway.
Then – to ram home the point that thanks to a Windows phone they can all come with him – he waves them on and they joyfully leap in his car.
The music adds to the slightly surreal tone of the advert, but it made us pay attention when it came on the gogglebox (mainly because our first thoughts were, "WTF?!"), so we like it.
Here's a rather scratchy copy of the advert:
What do you think of it? Win? Fail? Or just a long 'meeeeh'?