It's been a long time coming, but Skype 2.0 for the Apple iPhone has finally shimmied into town, adding 3G calling.
The latest update lets users make Skype-to-Skype calls over 3G connections, with the calls being free until at least end of August 2010.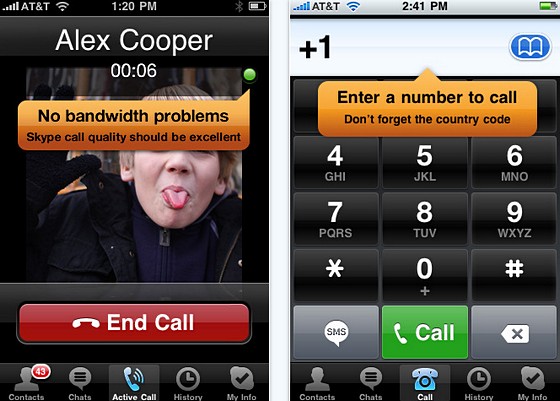 From then on in, there'll be an as yet unspecified "small monthly fee" (and, of course, operator charges for data will still apply).
You can download the app from the iTunes now.
Here's all the blurb from the Skype people:
Skype 2.0 Description

With Skype on your iPhone or iPod touch you can call and instant message anyone else on Skype for free. You can also call landlines and mobiles and send SMS anywhere in the world, at great rates. Skype is free to download and easy to use.
Free Skype-to-Skype calls
Simply sign into Skype on a WiFi connection and call friends and family on Skype, wherever they are in the world, totally free.
See who's online and instant message
Check who's online – then instant message them whenever, and wherever the mood strikes.
Calls and SMS phones abroad
Call phones anywhere in the world at great rates, and send low cost SMS (text messages).
Skype website http://www.skype.com/go/iphone

This version works on iPhone, iPhone 3G, iPhone 3GS, iPad and iPod touch. Skype requires software version 3.0 or above.
Calling functionality is available on iPhone, iPhone 3G, iPhone 3GS, iPad and 2nd generation iPod touch. iPod touch requires a compatible headset with a microphone.
Skype Software S.a.r.l Web Site Skype Support Application License Agreement
What's New in Version 2.0.0

Upgrades / improvements include:
– Call using your 3G connection. Skype-to-Skype calls on 3G are free until the end of 2010, after which there will be a small monthly fee (operator charges for data will still apply).
– Near CD-quality sound for Skype-to-Skype calls using wideband audio (SILK codec) on iPhone 3GS, iPad and 2nd & 3rd generation iPod touch.
– Enhanced call quality indicator.
– Improved start-up time.
– Fast access to the dial pad from iPhone home screen.