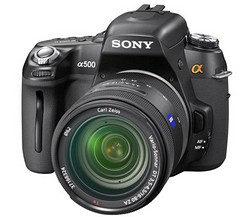 Sat pretty in the middle of their dSLR range is Sony's new A500, a 12.3 megapixel snapper serving up enhanced Live View, Auto HDR functionality and some nippy high-speed continuous shooting capabilities.
The Sony Alpha A500 uses the new Exmor CMOS sensor for better low-light images, serving up an improved ISO range which now covers a hefty range of 200-12800 ISO, backed by the SteadyShot anti-shake system.
The camera comes with a handy articulated 3″ LCD screen as well as a trusty optical viewfinder, and can ratchet up 5fps continuous shooting when using the latter, notching down to 4fps for LCD snapping.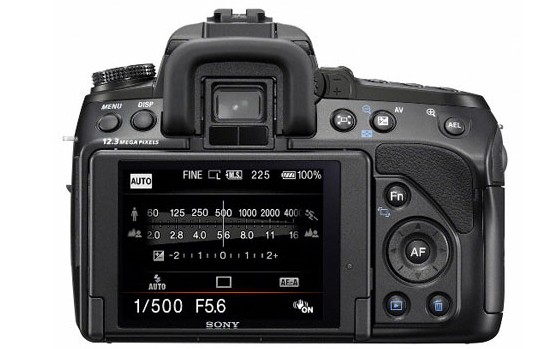 Sony reckon that their new Auto HDR mode can capture a 'huge range of shadow and highlight detail in landscapes, interiors and other scene,' with a new Manual Focus Check Live View mode letting you fine tune composition and focus.
There's a 9-point AF Sensor on-board featuring eye-start auto-focus, with built-in dust reduction, face detection, smile shutter, a pop-up flash and up to 1000 shot battery life wrapping up the A500's main specs.
The pricing is pretty competitive, with the A500L plus 18-55mm 3.5-5.6 kit lens
knocking out for around £515.
Note that the Alpha A550 – which is often lumped together in reviews – is basically the same camera, but has a slightly higher resolution sensor, a higher resolution LCD, faster maximum frame rate, bigger buffer depth and longer battery life.
The reviews
A review in ePhotoZone pitched the A500 up against the Canon EOS 50D and Nikon D90 in a three way test of the best mid priced challengers.
Sony's offering was praised for its, "brilliant noise control, articulating screen and live view," but the reviewer wasn't so impressed with the lost detail in backlit shots, pale flesh tones, some overexposure issues and the dedicated hotshoe system, awarding the Nikon D90  the top honours.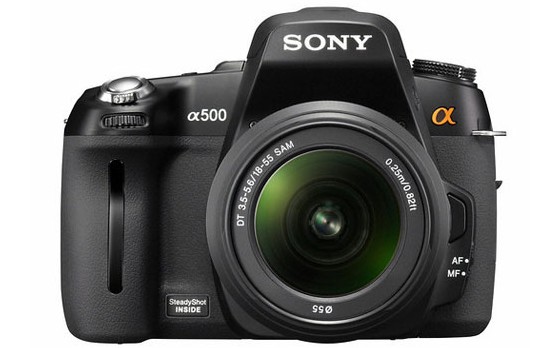 The PhotographyBlog were perhaps more impressed, declaring the Sony A500 "a return to form for Sony in the mid-range DSLR market," praising the Face Detection and Smile Shutter technologies, the Manual Focus Check Live View feature and the overall image quality.
Giving the camera a 'Highly Recommended' rating, the reviewer concluded that the A500 is a, "user-friendly DSLR camera that delivers excellent results for both beginners and shutterbugs alike."
Awarding it four stars out of five, ElectricPig felt that the A500 had made great improvements in low light performance, and described the camera as a, "superb all-rounder packed with features and user-friendliness."
Overall picture quality is excellent, and usability is similarly impressive. The Sony A500's autofocus is extremely fast in viewfinder mode, and much quicker than any of Sony rival cameras when using live view on the tiltable rear 3-inch LCD. The abundance of buttons means you can quickly tweak most settings, and Sony's revamped menu system successfully balances user-friendliness with a huge range of options.

The Sony A500's main problem may be its lack of HD video support, which puts it in an unfavourable light when stacked against some rival models. That's a shame, because it's a very impressive stills shooter that shoot suit the intermediate DSLR photographer perfectly.
Photocrati found that the A500 (or the A550) would be a, "fine choice for DSLR novices thanks to the many digicam-style features, but the great versatility and advanced functions make it just as suitable for photo enthusiasts".
More reviews:
Imaging resource
What Digital Camera video review
Specifications
Camera Type    Sony a Digital SLR camera with built-in flash and inter-changeable lenses
Color Filter System    RGB primary color filters
Effective Picture Resolution    Approx. 12.3 megapixels
Imaging Sensor    APS-C size Exmor CMOS sensor (23.5 X 15.6mm)
Lens Mount Type    Sony a lens, Minolta and Konica Minolta AF lens
Pixel Gross    Approx. 12.9 megapixels
Processor    BIONZ image processor
Flash Compensation   +/-2EV (in 1/3 EV-stop increments)
Flash Coverage    18mm in focal-length of lens attached
Flash Metering System    ADI flash (automatic change for Pre-flash TTL)
Guide Number    12 (in meters at ISO100)
Flash Modes    Auto, Fill-flash, Slow sync, Rear sync, Wireless
Flash Recycling Time    Approx. 4 sec.
Flash Type    Auto Pop-up
Memory Card Slot    Dual memory card slot: Memory Stick PRO Duo media SD and SDHC memory card
Tripod Mount    Yes, 1/4″-20
USB Port(s)    USB2.0 Hi-speed (mass-storage, PTP)
Anti-dust function    Charge protection coating on low pass filter and image-sensor shift mechanism
BRAVIA Sync    Yes, via HDMI with compatible BRAVIA HDTV
Creative Style    Standard, Vivid, Portrait, Landscape, Sunset, B/W Setting Adj. for; Contrast, Saturation, Sharpness
Dynamic Range Optimizer    DRO; off, Auto/Level (Lv1-5) Auto HDR; off, Auto Exp. (Up to 3EV between 1.0-3.0EV in 0.5EV steps)
Live View    Quick Auto Focus Live View Manual Focus Check Live View
Scene Mode(s)    Flash Off, Portrait, Landscape, Macro, Sports Action, Sunset, Night portrait
User Interface    Easy-to-understand Graphic Display and on-screen Help Guide User-friendly function menu
Recording Media Type    Memory Stick PRO Duo media, SD and SDHC memory card
Recording Mode    RAW, RAW+JPEG, JPEG Fine, JPEG Standard
Still Actual 16:9    L (10M): 4272 x 2400 M (5.4M): 3104 x 1744 S (2.5M): 2128 x 1192
Still Actual 3:2    L (12M): 4272 x 2848 M (6.4M): 3104 x 2072 S (3.0M): 2128 x 1416
Operating System Compatibility    Microsoft Windows 2000 Professional, Windows XP SP2, Windows Vista, Mac OS X(v10.1.3) or later
Supplied Software    PMB (Picture Motion Browser) 4.3.01 Image Data Converter SR 3.1 Image Data Lightbox SR
AF modes    Single-shot AF, Automatic AF, Continuous AF, (AF/MF selectable)
Drive Mode    Single-shot, Continuous, Self-timer, Bracketong; Cont./ WB, Remote Commander
Exposure Compensation    +/-2EV (in 1/3 EV steps)
Exposure settings    Auto, Auto Flash Off, Program Auto (P), Aperture priority (A), Shutter priority (S), Manual (M)
Focus Area    Wide (Up to 9 active focus points), Spot, Local (9 local areas selectable)
Focus Features    Manual Focus Check Live View Predictive control, Focus lock, Eye-start AF, AF illuminator
Focus Points    9 points
Focus Sensitivity    EV0 – 18 (ISO100)
Focus System    TTL phase detection system
ISO    Auto, 200 to 12800
Metering    TTL metering w/ 40-segment honeycomb-pattern SPC
Metering Modes    Multi-segment, Center-weighted, Spot
Metering Sensitivity    2EV to 20EV (4EV to 20EV with Spot metering), (at ISO 100 conversion with F1.4 lens)
Scene Selection Modes    Flash Off, Portrait,Landscape,Macro,Sports action,Sunset,Night portrait
White Balance    Auto,Daylight, Shade, Cloudy, Incandescent, Fluorescent, Flash, Color temp.,Color Filter, Custom
Diopter Adjustment    -2.5 – +1.0m-1
Eye relief    Approx. 19 mm from the eyepiece, Approx. 15 mm from the eyepiece frame at -1 diopter
Field of View    0.95
Focusing Screen    Spherical Acute Matte Screen
Magnification    0.80x (with 50mm lens at infinity)
Viewfinder Type    Fixed eye-level, penta-Dach-mirror
Angle Adjustment    Yes (upward by up to 90 degrees, downward by up to 90 degrees)
Brightness Control    Auto Brightness Control (Auto setting in 2 steps, manual setting in 5 steps)
Coverage    100% (Playback), 90% (Live View)
LCD Display Type    3″ TFT Clear Photo Plus LCD4 (230,400 pixels)
Operating Temperature    32 – 104 degrees F (0 – 40 degrees C)
Battery Type    NP-FM500H
Number of Shots    Approx. 1000 images with viewfinder, approx. 520 images in live view mode (CIPA standard)
Dimensions (Approx.)    Approx. 137 x 104 x 84mm (W/H/D, excluding protrusions)
Weight (Approx.)    Approx. 597g (without battery, memory card, accessories)
Warranty    Sony 1 year parts and labour limited warranty