Looking suitably business-like and packing Microsoft's brand new, all finger friendly Windows Mobile 6.5.3 mobile operating system is the Sony Ericsson Aspen (also known as the Sony Ericsson Faith).
Clad in moody black and ready to strike a pose in the boardroom, the Aspen candybar handset packs a full QWERTY keyboard for rattling off super-important businessy emails and sports a 2.4-inch QVGA TFT touchscreen LCD (that works out as 320 × 240 pixel resolution if you're not hip to the acronyms).
Ready and waiting to capture some of those dress-down Friday crazy moments is a 3.2 megapixel camera (sadly, sans flash), with WiFi, A-GPS with Google Maps, a 3.5-mm audio jack and microSD expansion rounding off the feature set.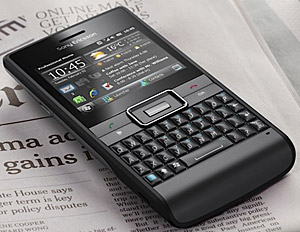 Finger love
Although the phone is rather a lovely looking thing, the real news is the debut of Microsoft's latest update to Windows Mobile.
Version 6.5.3 serves up a fully finger-friendly experience with no need to whip out a stylus – even when you're deep within fiddly configuration menus (the place where Microsoft's beastly old interfaces traditionally lurk).
The new OS also offers support for capacitive touchscreens, has the ability to enable multitouch and comes with improved browser performance promising faster page load times and better memory management, with enhanced pan and flick gestures and zoom and rotational speeds.
Packing quad-band GSM/EDGE with either HSPA 900/2100 or 850/900/2100 radios (depending on region), the handset is a new addition to Sony Ericsson's GreenHeart eco range, and is also available in white silver.
We've never been in a hurry to return to Windows Mobile, but as business phones go, this certainly seems a reasonable alternativeto the ubiquitous Nokias.
[Via]